Whether the stay-at-home dad you know is tending to a newborn or preschool toddlers, or perhaps deep in the taxi-cab mode of tooling adolescents around to school and various recitals, practices and other activities, he deserves a little something special for Christmas. Perhaps it's a present that lets him enjoy a new hobby during his rare free time, or a tool for making his "dadding" more efficient. Here are a few options:
TECHNICS SL-1300 TURNTABLE (a)
A quality turntable is great for a stay-at-home dad for a couple reasons. One, the 15 or 20 minutes one side of a record takes to listen to might be all the relaxation Dad gets over the course of a day. Also, building a quality vinyl collection is something he can do online or in person at one of our local record stores when he can pull a quick pop-in while the kids are at a playdate. $350 • Go! Records • 635 W. Garland Ave.
BASIC BREW KIT (b)
I'm not suggesting parenthood drives people to drink, but I'm not not suggesting that, either. If the kids are a little older and take a bit less on-hands parenting minute by minute, perhaps dear ol' Dad would take to a new hobby like brewing his own tasty beverages. These all-in-one kits will get him started, and he'll be sipping (after the kids are in bed, of course!) in no time. $90 • Jim's Homebrew Supply • 2619 N. Division St.
CUISINART AIRFRYER TOASTER OVEN (c)
You know what kids love? Tots. Know who else loves tots? Dads. Airfryers are all the rage because of their ability to deliver delicious "fried" goodies without all the oil from traditional frying. This bad boy does so much more, though — it's a full-on toaster oven that can also bake cupcakes for the kids or make up to six slices of toast at a time if Dad is tending to a large brood at breakfast. $199 • Huppin's • 8016 N. Division St.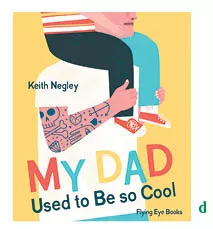 MY DAD USED TO BE SO COOL (d)
Reading is obviously vital to a child's development, and your stay-at-home dad is on the case early with this most excellent picture book by Bellingham author Keith Negley. The book's dad has tattoos, played in a rock band and rode motorcycles, but something's changed. Father and child can explore what happened together in this fun, colorful tome. $18 • Order it from your favorite local bookstore. ♦