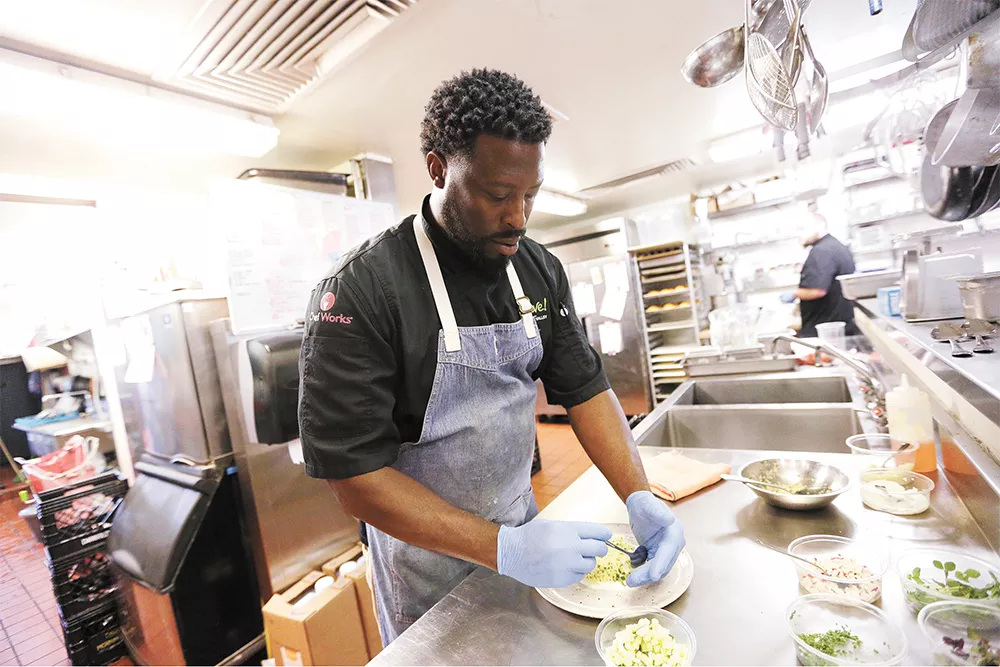 Most of us aren't chefs, but that doesn't mean we can't cook like them. We talked to four local culinary professionals about some of the tips and tricks they've picked up along the way to make cooking more delicious, efficient and less stressful.
Think like a Chef
Joseph Morris, executive chef at Luna restaurant on Spokane's South Hill, wants home cooks to know that preparation is key, both mental and physical.
"Tip numero uno is mise en place, which simply means 'everything in its place.' Mise en place will make you a faster, more efficient cook," Morris says. "When your ingredients are prepped and laid out, then you can just cook. You can give your dish focus because you're able to just concentrate on cooking rather than prepping."
Morris is also an advocate of seeking out knowledge.
"The more you read and learn, the better off you'll be. Give yourself an understanding about whatever you are going to undertake," he says. "If you want to learn how to do something, take the time to research and learn it. It'll make the cooking and prepping process that much easier."
"Cookbooks are great, especially ones meant for the professional kitchen," Morris adds.
Some of his favorites are from well-known restaurants like the French Laundry, Eleven Madison Park and NoMad. Morris can also often be found watching Chef's Table or looking something up on YouTube.
Keep it Fresh
For Nicole Frickle, co-owner of the Kitchen Engine culinary supply shop in the Flour Mill, it's all about refusing to cut corners on fresh ingredients.
"Two things that I never use canned or jarred or bottled are lemon juice and garlic," she says. "You can't substitute jarred garlic for fresh. It just has a completely different finish."
"Lemons are my secret go-to ingredient," she continues. "They are the best thing to brighten any dish. You can add less salt. You also use less salad dressing if you use fresh lemon, which is great if you're trying to cut calories. Most people go to vinegar, but it's a little heavier."
Frickle isn't much for kitchen gadgets with only one purpose, but citrus juicers and garlic presses are exceptions for her; plus, she's also found other ways to use them. These tools are in her kitchen because, with them, it's nearly as convenient to choose fresh rather than pre-batched.
"There is no substitute for fresh herbs, especially cilantro and parsley," says Frickle.
But what to do with the rest of the bunch, when you're done with the recipe?
"Any fresh herbs that are left over go into whatever I'm making for dinner, either in a salad or in a rub," she says.
Truly pressed for time but want to make a dish your own?
"Even if it's not homemade, add a fresh ingredient," Frickle advises. "Add fresh parsley to a pasta salad. I always add fresh garlic and sautéed onion even to pre-made pasta sauce."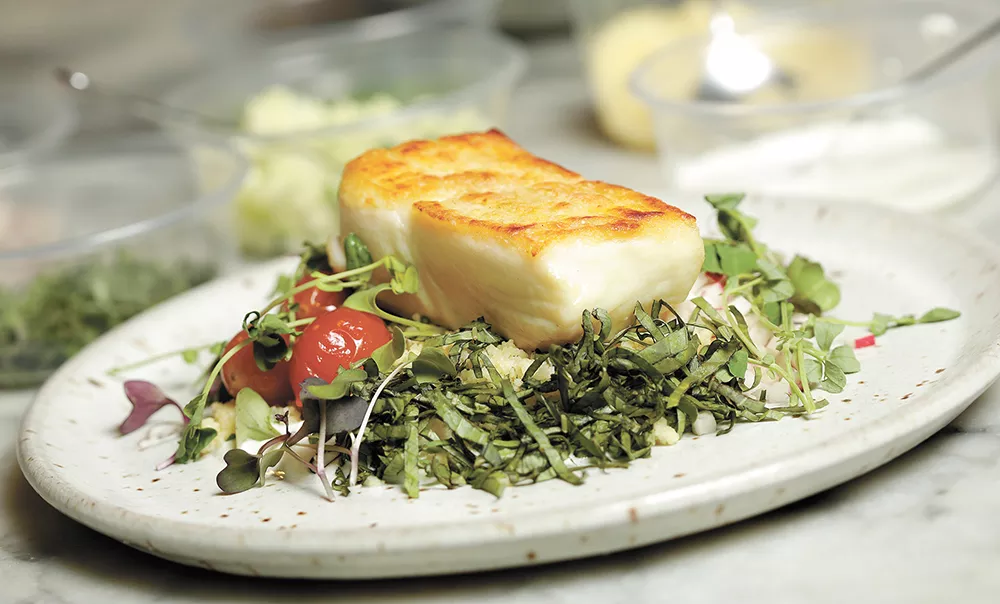 Scratch That
Celeste Shaw, owner of Chaps restaurant in south Spokane, knows that scratch cooking can be intimidating. That's why her top tip, similar to advice from Luna's Morris, is preparation.
"Organization and planning are number one for me, both for efficiency and safety," Shaw says. She recommends thoroughly reading through a recipe before beginning to cook or bake, and writing in the margins of your cookbooks.
She also shared with us a few specific tricks that save time and waste.
Hard boiling eggs? "Add baking soda or vinegar to water when boiling eggs for easier shell removal. Both substances permeate the eggshells and help the albumen [egg whites] separate from the shell," Shaw says.
She's also a fan of cutting down waste by using the freezer.
"When your spinach or kale is on the verge of going bad and you have more than you'll be able to use tonight, freeze it in a zip-top freezer bag. Next time you need greens for a cooked application — sauté, soup, omelet, stir fry — just pull them out of the freezer and toss them in."
For all the bakers out there, she suggests trying this swap: "Consider using cake flour for all purpose flour. Cake flour is a finely milled, delicate flour with a low protein content; it's usually bleached. When used in cakes, it results in a super tender texture with a fine crumb, and a good rise."

"Tip numero uno is mise en place, which simply means 'everything in its place.'" ~ Chef Jospeh Morris
Kick up the Flavor
If you've been to any of Mika Maloney's classes at her West Central bakeshop, A Small Batch (formerly Batch Bakeshop), you know she's constantly offering tips to boost baking success and the flavor of said baked goods.
Consider this hack Maloney uses for high quality vanilla extract: "Vanilla extract is basically just vanilla beans in alcohol, plus time, so it's super simple to make from scratch."
To make your own, start with "spent" vanilla bean pods; pods you've already scraped the seeds from and used for another project.
"I like to use vodka for a straightforward extract, but you could also use whiskey or bourbon for a bit warmer extract," says Maloney. "You can add your vanilla bean pods directly into the bottle, shake and set aside — simple as that — or, you can decant the alcohol into Mason jars or some other smaller containers."
Either way, you'll want to give it a good shake at least once a week and let it sit for at least six weeks before using. The more vanilla bean pods, the faster an extract will develop, but even a few give a good start.
Maloney's next tip won't come as a surprise for fans of her salted chocolate chip cookies.
"Use more salt! Use better salt! Use different salts for different things!" she says. "I've always loved sweet and salty combinations, and salt on and in things helps us actually taste the sweetness more and brings out the flavors."
She suggests keeping a bowl of coarse salt on your counter that's big enough for you reach in to grab a handful of. She also likes keeping a nice, big flaky salt handy for finishing things.
"I usually have Maldon sea salt in a little bowl as well, to add pinches on the top of pretty much everything from tomatoes, to meat, to ice cream." ♦