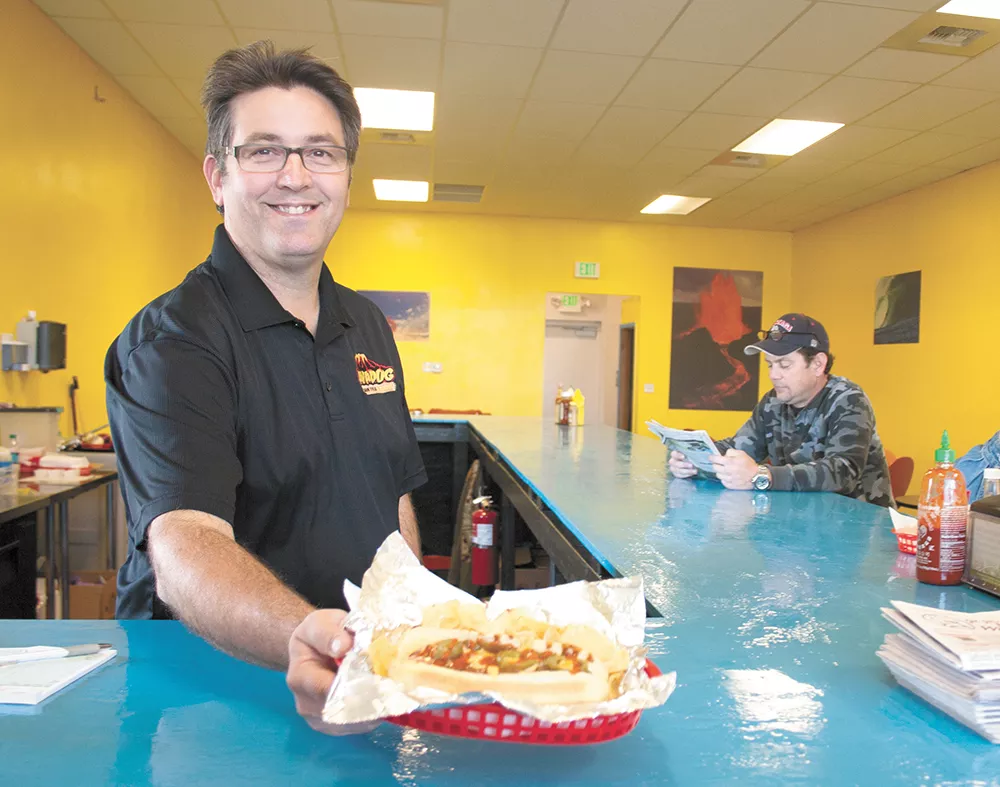 The island theme inside Lavadog is apparent once you take in the bright yellow walls covered with images of crisp ocean waves and erupting volcanoes. The blue countertop is even painted in such a way that it looks perpetually wet. You quickly realize that this isn't your typical hot dog spot with the typical fixings. Instead, think pineapple relish and guava mustard.
Eric and Sabra Burkholder opened Lavadog in Hayden in mid-July to fulfill their ambition of starting some kind of Hawaiian-style business. Sabra grew up on Oahu, so the couple modeled their shop after local island joints like Puka Dog.
"We're just trying to bring a little local flavor to Idaho," Eric says.
For the most part, each dog on the menu ($3.50) has a sauce, mustard and relish, all of which are homemade by Sabra. There are combos like lemon garlic sauce, pineapple relish and guava mustard on the Maui Dog, or mango relish and wasabi mustard with the lemon garlic sauce for the Big Island Dog.
Other options range from sweet — banana relish and passionfruit mustard — to flavors with more of a kick, like jalapeño mustard and hot chili pepper sauce. Weekly specials feature alternatives, such as the Kalua Pig, a Hawaiian-style pulled pork sandwich with or without the dog.
If you've already pictured yourself with tropical fruits running down your hand as you take bites out of your hot dog, you'll have to reimagine that image.
The hot dogs at Lavadog don't come in the customary top-split bun. Each whole roll is impaled on a prong of a spike toaster and toasted from the inside. It comes out sitting in a basket alongside Hawaiian kettle chips and a couple of extra cups of the fixings for dipping, in case you still desire the dripping-topping effect. ♦
Lavadog • 180 W. Hayden Ave., Hayden, Idaho • Open Mon-Sat, 11 am-5 pm • facebook.com/Lavadoghawaiianhotdogs • 208-818-9564