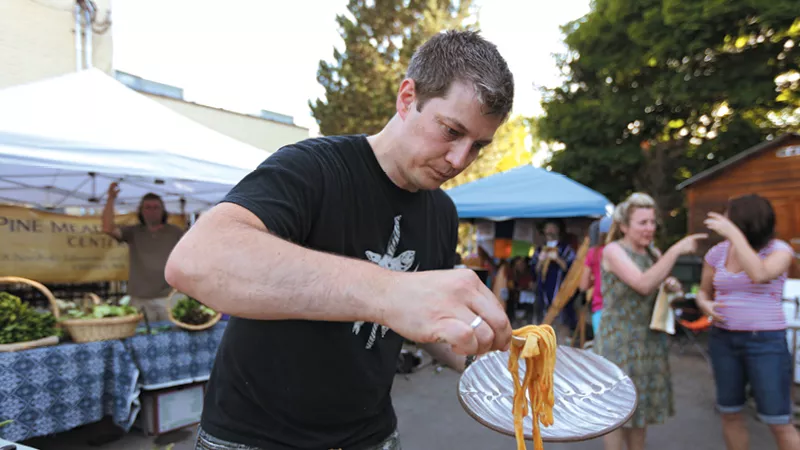 As anyone who's shared a memorable meal with interesting companions knows, food is a great connector. But what if instead of just connecting people at mealtimes, food becomes a catalyst for sustaining a whole community, enhancing the local economy and bringing better health and sense of belonging along with it? And what better time to explore our regional food network than when the crops are coming in?
To help us out, we recruited chef Jeremy Hansen of Spokane's Santé Restaurant and Charcuterie. "Chefs have a moral responsibility to ensure their guests eat real food," says Hansen. To him, that means chefs do best when they source ingredients "ethically, and cook with earth and human health in mind."
Hansen's story is typical of the industry: He fell into the business as a teenager, discovered he loved it, realized he needed to know more, and set about learning everything he could.
During his formal education at Le Cordon Bleu Portland, he interned around every six weeks — Greek, Spanish, French, Italian restaurants — sharpening his skills and defining his food philosophy of farm-to-table cooking. It's the centerpiece of his restaurant, earning him an invite to cook for the prestigious James Beard House in August.
For our challenge, we armed Hansen with $100 to shop the market, invent a menu based on what was available, and then prepare a multicourse meal on-site, to be shared by representatives of our local food chain.
Picking a location was sort of like throwing a dart at a day of the week. Farmers markets abound across Eastern Washington and North Idaho; they are so plentiful, in fact, that you can shop at one somewhere almost every day of the week.
Spokane's South Perry Thursday Market fit our needs exactly, and manager Karyna Hamilton helped out on the big day — even hauling locally made serving pieces from Trackside Studio's Mark Moore for our outdoor table.
Then it was time to shop. Rather than selecting a central protein — poultry, beef, fish, etc.— and adding vegetable "side dishes," Hansen often starts menu-planning with produce. It's a philosophy that is gaining adherents — from Meatless Mondays to Mark Bittman's latest book VB6, in which he details the benefits of eating a vegan diet before 6 pm.
At Gourmet Foragables & More, fiddleheads are out of season; morel mushrooms are in. For owner Josh Yake, a 200-mile round trip and several hours hiking above Priest Lake might yield as many as 10 pounds of the alien-looking mushrooms he sells directly to restaurants, including Santé, Luna and Casper Fry. He's parlayed 25 years of foraging — mushrooms, miner's lettuce, wild asparagus, huckleberries — into a growing business. We buy one morel for the salad.
David Bautista and his friend Oscar Medina have driven three hours from Sunnyside, Wash., to set up crates — asparagus, zucchini, onions, fava beans — from Bautista's 20-plus-acre family-owned farm, started by David's father in 2002. We buy apricots, cherries and bright-green zucchini.
"Come back in August for green peanuts," says David, grinning.
Unfortunately, Davenport, Wash.-based JJ Goats has only frozen meat — ideal for shoppers, but we're cooking on-site. Super-lean, protein-rich and consumed by more than three-quarters of the world's population, goat meat is prevalent in Indian, Mexican and Middle Eastern cooking.
Instead, we choose Rocky Ridge Ranch, whose owner Gary Angell will join us later for dinner. His 400-acre farm is well-known for pastured Berkshire pigs, grass-fed Angus-cross cows, free-range chickens, turkeys, ducks and geese. They also sell directly to restaurants and through Community Supported Agriculture (CSA).
"People ask me why the meat is so good," Angell confides. "I feed 'em only real food."
That includes supplements from the ranch's two-acre garden, run by Gary's wife YiDeuke, nicknamed So.
We get onions, duck eggs (for scratch-made pasta), Wagyu beef, lamb and pork that Jeremy will grind for meatballs.
Tom and Louise Tuffin's Arabesque Farms & Bakery provides bread, while Dan and Lauri Sproule's Full Bushel Farms fills our basket to overflowing with more veggies and greens.
At SavorX, owner Pete Taylor opens little cans of spice blends. We sample (sniff) the pink peppercorn lemon thyme before Jeremy snags Tandoori Glory Moroccan Rub mix.
Last stop: Wild & Sweet Rich Honey.
It's time to cook. Hansen's in his element, selecting a knife from his kit, arranging his cutting board, and chatting with onlookers. Little kids stand mesmerized by the spectacle of this man and his lightning-fast blade, their little hands shooting out to accept bits of fresh fruit to sample.
Passersby share how they've changed their shopping habits since discovering how much better the food can be at the farmers market.
"It stays fresher longer," says one woman, rushing after her grandson before I can catch her name.
Turns out there are several reasons for that. The Harvard School of Public Health notes that food from farmers markets can be higher in nutrient value and lower in pesticides and preservatives than that found in large-scale groceries. That's because they tend to travel shorter distances from farm to table, are picked when ripe (instead of ripening in transit) and are handled less, so they're less likely to be contaminated. They're also more likely to be sustainably grown, which consumers can easily ascertain by just asking the farmer.
Before long, we dish up salad with a finger-licking cherry dressing, and pasta with meatballs swimming in a rich, Moroccan fruit-based sauce, and toast each other.
Over dinner, we discuss why it's often hard to eat healthy.
"Americans don't have time," says Hansen, a father of two. Market manager Hamilton, who strapped on her infant daughter earlier in the day, nods agreement. Rancher Angell admits he doesn't eat as well working 10-to-12-hour days on the ranch or at market.
Despite her busy schedule, Hamilton says she still cooks with her daughters frequently and wants to instill in them the important role healthy eating plays in disease prevention. "Food in its true form is… medicine," she says.
It's medicine that might just heal the local economic engine as well. Angell suggests that if every local restaurant bought directly from farms, operations like his would thrive, even expand. He says even one restaurant, depending on a particular farm, can help make that farm sustainable.
But in any business, time is money, and buying from a single source such as Food Services of America or Sysco is easier than running around to farmers markets or dealing with multiple vendors.
"I understand the business behind it," says Hansen, "but cooking isn't just a business; it's a lifestyle."
We turn to the subject of education, where there are bright hopes. Washington State University offers courses in sustainable agriculture with its Small Farms Team and Graduate Certificate in Sustainable Agriculture in the College of Agricultural, Human and Natural Resource Sciences.
Through its Extension program, WSU provides food producers — both existing and would-be startups — with access to vital research and support in its Cultivating Success classes, including Sustainable Small Farming and Ranching.
Supporting local farmers makes sense, says Patricia J. Munts, WSU Extension's Small Farms and Acreage Coordinator.
"When people buy locally, the money stays here to prime the economy," she says. "The farmer gets paid and he/she then buys seed, equipment, tools, labor and household supplies from a local business. That local business then restocks its shelves and hires staff to sell, fix equipment or help other businesses buy more and sell. When we all buy from the big grocery store, most of the money goes elsewhere."