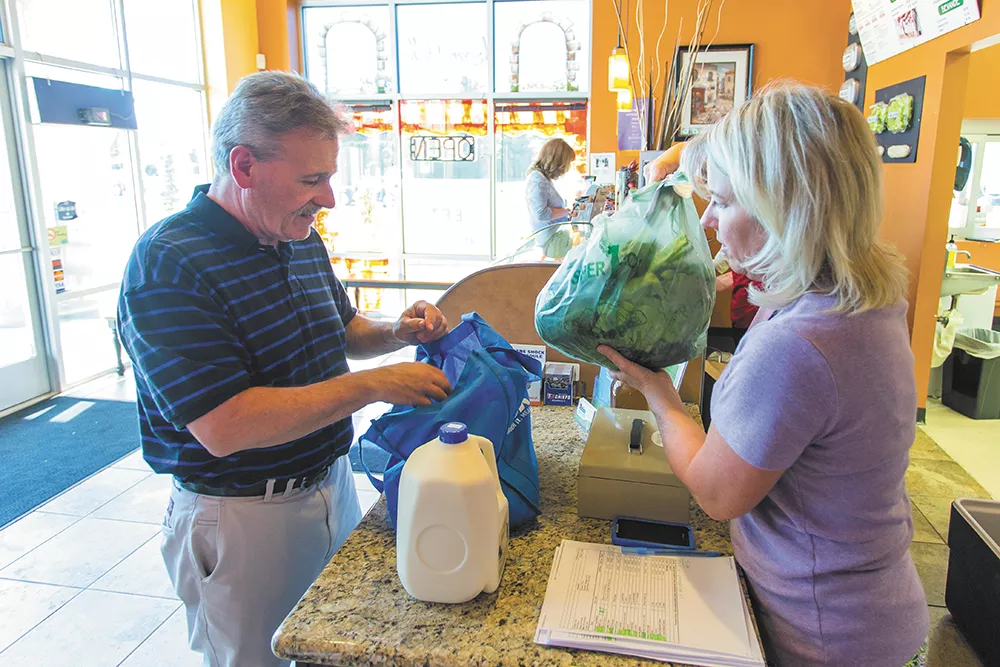 There's a certain charm to toting your reusable grocery bags to the farmers market, perusing the booths and chatting up the farmers. Yet there's also a convenience factor that keeps many of us from making that our regular shopping spot. That's where produce delivery services come in. These services drop a weekly box of fresh (mostly local) produce at your door or nearby, giving you variety with the seasons and at least some of those socially responsible vibes that come with buying at the farmers market.
Alianna Busby, who owns GARDEN DELIVERED (gardendeliveredspokane.com), says she knows that getting started with a delivery service like hers can be intimidating for some people. The delivery of a box of seasonal fruits and vegetables means cooking based on what you have, rather than shopping based on what you plan to cook. But that switch can lead to a more creative and healthy diet, Busby says. Garden Delivered delivers boxes of almost exclusively local organic produce at customers' doorsteps each week ($35-$45 each, depending on size), but also offers shoppers the chance to stop in for just one box (Tuesdays at Gluten Busters bakery, 2015 N. Division) to check out the service before committing to a $35 yearlong membership. Each box also includes a recipe using one of the ingredients, in hopes of helping people learn to cook with things they may have never used before.
"We're heading somebody in the right direction to use something like daikon or celery root that they are just not used to using," Busby says.
A similar service, Seattle-based FULL CIRCLE (fullcircle.com), delivers produce from its own farm and others throughout the West to customers' doorsteps or to a central neighborhood location. Full Circle serves Spokane and North Idaho, and offers some box customization that Garden Delivered doesn't. Both allow customers to select items they never want in their box, so you don't end up with something you know will go to waste.
Where those services deliver a set amount to your doorstep each week, NORTHWEST FARM FRESH (nwfarmfresh.com), is pure customization. Shoppers can visit the company's website and select anything that's available, ranging from spinach to honey to handmade soap, with choices from about 20 local farmers available each week. Farm Fresh isn't meant to replace the traditional farmers market, says owner Shelly Stevens, but to be another resource for getting local produce to more people, even if all they want is "one bell pepper." Stevens delivers orders to one location in North Spokane and another in Chewelah each week for customers to pick up, with an eye toward quality throughout the process. ♦