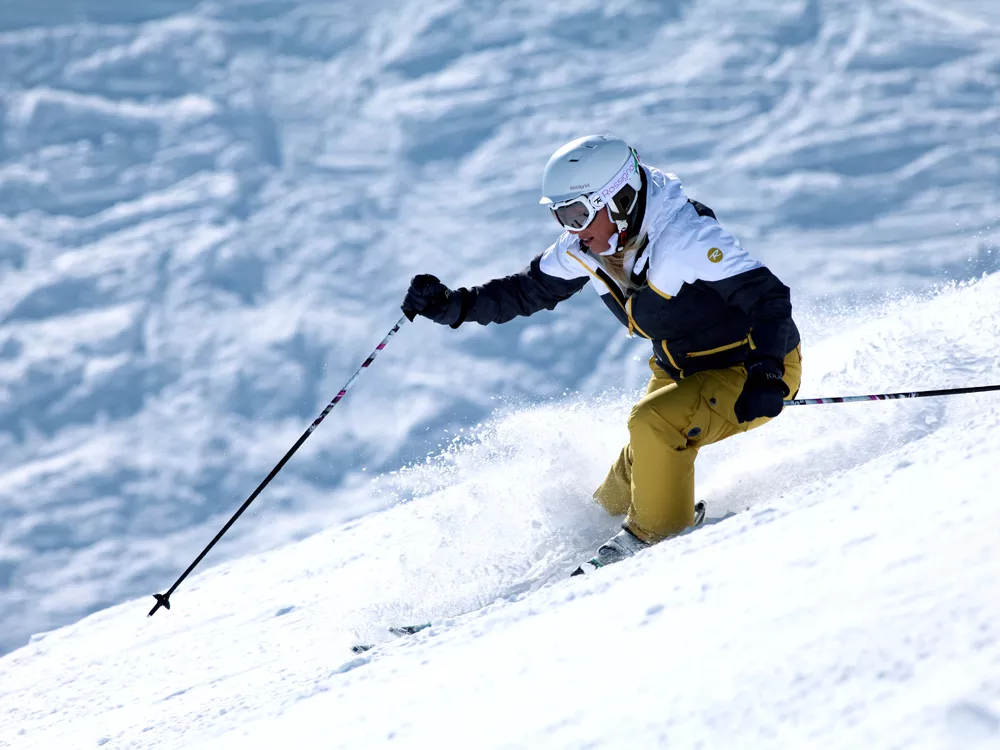 Last February, hundreds of retailers, factory reps and ski testers convened outside of Wenatchee for two days of hot lapping the slopes of Mission Ridge Ski & Board Resort, in search of the best ski and snowboard out there. Testing skis, like tasting wine, is a short moment in time, when you try to learn as much as you can about a ski before quickly moving on to the next one. After back-to-back days, many skis and snowboards start to feel the same, until you find the one — you know, the one that stands out from the hundreds of others. Here's a quick review of the boards that stood out to our gang of testers from the Inland Northwest.
---
Jen Forsyth
Snowlander Editor, age 37

Years skiing: 16
Favorite terrain: Wide-open glades
Best day last season: March 19 at Canyons Resort, skiing aspen groves with 14 inches of Utah powder.
Favorite Tester: Atomic Millennium
Stats: 177cm / 132-110-124 / 18m
Category: Powder
Notes: I'm a simple girl who wants a one-ski quiver — one ski that can handle deep snow but can also perform on the groomers, crud and variable snow conditions. This is the one that won't hurt my performance, no matter what Mother Nature brings my way.
---
Kim Loosemore
Professional Ski Patroller, age 38
Years skiing: 35
Favorite terrain: Steeps
Best day last season: I can't even remember when I bought my house. They were all good.
Favorite Tester: Line Influence 105
Stats: 179cm / 141-105-131 / 18.6m
Category: 50 percent all-mountain/50 percent powder
Notes: The Line tent was one of the last ones I went to because I was under the impression that they were all park skis. I really liked their rep, Andrew Eugster, so I decided to give them a try. Once I got on their skis, I had a blast. My favorite was the Influence, although many of their all-mountain skis were solid. I had the most fun on these skis, and I wasn't in the park.
---
Matt Gibbs
Sales/PR, age 39
Years skiing: 33
Favorite Terrain: Any hill with snow on it
Best day last season: Storm skiing at Grand Targhee, Feb. 28, 2012.
Favorite Tester: Klint Krypto
Stats: 182cm / 140-118-135 / Multi
Category: Big mountain/powder
Notes: This ski, with its fat shape and early rise, has no problem floating high in the deepest and softest powder or making tracked-up crud feel like buttery goodness. However, with its traditional camber and relatively mild tail rocker, you can still set an edge and rip the groomers on your way back. The ideal run for the Krypto is anywhere you can find a powder stash.
---
Patrick Galles
Real estate appraiser, age 51
Years skiing: 43
Favorite terrain: High-speed groomed/Super G style runs
Best day last season: Any day that was sunny with three inches of fresh, and groomed to a tee.
Favorite Tester: Volkl RTM 84
Stats: 171cm / 111-84-129 / 16.9m
Category: 70 percent groomed/ 30 percent powder
Notes: This is a fun ski that handles well all around. It is stable, has good edge bite, but a little lacking in the rebound department. This is a great all-mountain/intermediate ski.
---
Tommy Letourneau
Ski tuner, age 51
Years skiing: 48
Favorite terrain: 35+ degree pitch, eight to 10 new inches in a wide-open bowl.
Best day last season: After reviewing my daily ski report, I did find my run of the year: It was Jan. 21 at Schweitzer on a beautiful, sunny Sunday morning, fresh powder, untracked, non-stop down Shot 9 to Stella chair. A perfect mix of fast and smooth.
Favorite Tester: Nordica Steadfast
Stats: 178cm / 132-90-118 / 18m
Category: All-mountain
Notes: I demoed these skis two years in a row, and they never failed. They are solid and fun on groomers, with enough stiffness to provide energy, but not so much to wear you out. Excels in fresh snow and day-old crud where it's smooth, steady and quick. If you have to be monogamous, this is a good choice.
---
Suzanne Letourneau
Semi-retired, age 52,364 (in dog years)
Years skiing: 25-ish
Favorite terrain: Steep crud. Why cruise when you can sweat and grin at the same time?
Best day last season: There were a few "Powder Tuesdays" that were pretty epic — sunshine, fresh pow, lapping lakeside triple before everyone else finished their lattes.
Favorite Tester: Nordica Belle to Belle
Stats: 162 cm / 124-78-108 / 13.5m
Category: Front-side carver
Notes: This is the queen of groomer skis. They are nimble, snappy, super easy to initiate turns and are not your mama's skis. These little beauties haul ass — no chatter from these girls! The Belle to Belle skis are a little light for the crud, but in a pinch, they will do the trick.
---
Bruce Deming
Senior Account Executive (at the Inlander), age 57
Years skiing: 45
Favorite terrain: White
Best day last season: Any day on skis.
Favorite testers: I had a three-way tie between Rossignol Experience 98, Volkl RTM 84 and Blizzard Magnum 8.5
Stats: From 170-176cm / from 84-98 underfoot
Category: All-mountain
Notes: I loved every one of these skis and made the Rossignol Experience 98 my daily driver. Surprisingly, for the width underfoot, these skis are awesome carvers and will rail the gnarliest GS turns you can hang to. While they aren't powder skis, a stronger skier with skills will find that they work reasonably well in the crud and junk. For the person who wants just one pair of skis, any of these would be solid.
---
Chad Cadnum
Custom homebuilder, age 40
Years snowboarding: 27
Favorite terrain: Steep and deep
Best day last season: May 5, 2012, on a backcountry trip to Roman Nose with Bob Legasa and his posse for two days.
Favorite Tester: Burton Custom X
Stats: 164cm / 252mm / 8.46m
Category: All-terrain
Notes: This is best snowboard ever! Responsive, light, fast, very stiff and stable, even at jacket flapping speeds.