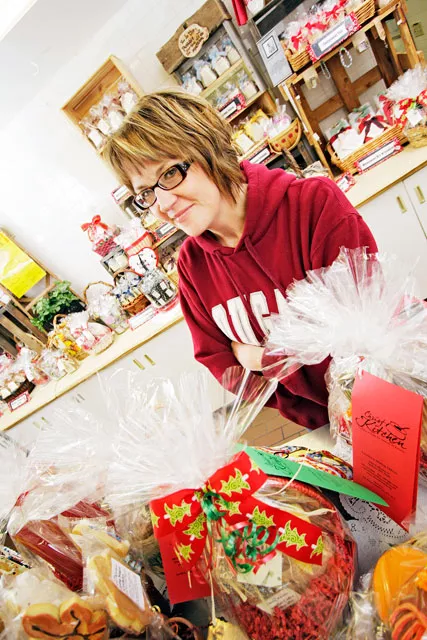 Kari Kelly doesn't look like a meth addict. At least, not anymore.
The before and after snapshots of Kelly's life couldn't be in starker contrast. They may seem to belong in different albums for different lives entirely.
Now: Sitting, smiling and laughing, a full-time manager at Christ Kitchen, a job-discipleship program for Spokane women. She's hopeful, confident and laden with purpose.
Then: An emaciated broken shell, addicted to heroin and meth. A high-level drug dealer jetting state to state, working major deals for the Mexican Mafia, a violent Californian prison gang. A woman arrested, a busted headlight tipping off a cop to the piles of money and drugs in her car. A prisoner, sitting alone, no one willing to even accept her collect-call charges in order to ask for bail.
"I spent 20 years of my life in active addiction, running from any kind of sense of pain. I had this huge hole in my heart — this vacuum. I couldn't get rid of it." Kelly says. "For quite a while, drugs and alcohol filled that void."
Before it completely fell apart, Kelly's life looked pretty put-together. She was in her early 20s, had a husband, four kids, a nice car and a job at a medical lab. But it was a thin veneer, constantly cracking. "All of that went up into smoke because of my drug addiction and alcohol addiction," Kelly says.
When her first husband left her, that addiction kicked into overdrive.
She was smoking pot, doing cocaine and then, when that ran out, she tried something new.
"I was probably 24, 25, when I first tried methamphetamine. I went, 'Oh, my gosh, this is the love of my life.'" Kelly says. "Once I tried meth, nothing else did for me what meth did."
Her life kept spinning further out of control, wobbling in an increasingly elliptical orbit.
"After my first marriage split up, I got married and divorced three more times," Kelly says. She started hanging out with a drug dealer for the Mexican Mafia. When that friend was arrested, she took his spot in the business. She left her kids — the drug business required constant relocation — and lost her job in the medical lab, but by then that didn't matter to her.
"I made a lot better money dealing massive amounts of drugs," Kelly says. "I took this as a sign I should just be a drug dealer."
Then came her arrest.
"Maybe this is finally over," Kelly remembers thinking. "This crazy, crazy lifestyle I was in."
But it got worse. She reached her friend, Jonny, a fellow drug dealer. He had made a big mistake — fronting out $12,000 worth of drugs — and blamed it on her. "If you ever show up at your house again, I'll kill you," he said.
"My thought in my crazy mind was: I was going to go to a motel room get a gun, kill Jonny… and carry on," Kelly says.
But her plan — and her life — changed in the days after her release.
It all started in Room No. 3 at the Bel Air 7 Motel in Spokane. She had no ID and no money, just a duffle bag and the clothes on her back. But each day, the hotel owner dropped off a bag of groceries at her door.
"The hotel owner felt that God told him, 'Don't ask this girl any questions. Give her a room. You're the first person in a long line of people that's going to turn her life around,'" Kelly says. "So that's what he did."
Just that glimmer of compassion mattered.
"I weighed 100 pounds… I wasn't a pretty sight," Kelly says. "He just loved me."
After 12 days, the owner sent her on her way.
"I did the last of my drugs, he gave me five dollars, a Bible and paid for a cab to [Anna] Ogden Hall," Kelly says.
The next day was January 25, 1998. Her first day clean.
"I remember laying on the floor, crying out to God, and daring him to do something with my life — not believing that anything good can come out of my life," Kelly says. "That's when my life started to change."
Kelly thanks the people who helped her become clean — the motel manager, the women at Ogden Hall who taught her how to eat again, the Life Center pastor who welcomed her despite her gaunt appearance. She thanks Jan Martinez, the woman who gave her a job at Christ Kitchen packaging "Prayerful Pintos." And she thanks God. For the people who repeatedly rode to her rescue. For her first clean urinalysis in years. For hope.
The fingernail-by-fingernail climb back to sobriety has been a rough one — she attended many Narcotics Anonymous meetings — but she points to a powerful ally.
"God enabled us to get clean and stay clean." Kelly says. "I tried to do things on my own willpower — the white-knuckled holding on — and it never worked."
She's been drug-free for 11 years.
She's talking to her kids again. "My relationship with my kids has been restored," Kelly says. She hasn't quite made up with her 18-year-old daughter, who saw the worst of her drug addiction, but she hasn't lost hope.
"God promised me that I would have a relationship with my children again," Kelly says.
She's quitting smoking as well; she chews a wad of nicotine gum as she talks.
"One of the biggest things I would have wanted to hear is not to give up," Kelly says. "Don't quit trying."
Today, she's giving that message to others. After more than 10 years, she's still working at Christ Kitchen, though now as a manager. Christ Kitchen provides women with the tools to become self-sufficient — a temporary job, a caring community, and some direction. They sell products — mainly food mixes and gift baskets — and pay troubled women to put them together. The Kitchen offers a Bible study for its employees as well.
"Really, it's about offering people a sense of hope," Kelly says. "My passion is working with drug-addicted, alcoholic men or women who really feel trapped and stuck."
Kelly says Christ Kitchen's chock-full of tales similar to hers.
"My story's just the tip of the iceberg. There're lots of hopeful, successful stories of women whose lives have been changed from the inside out."