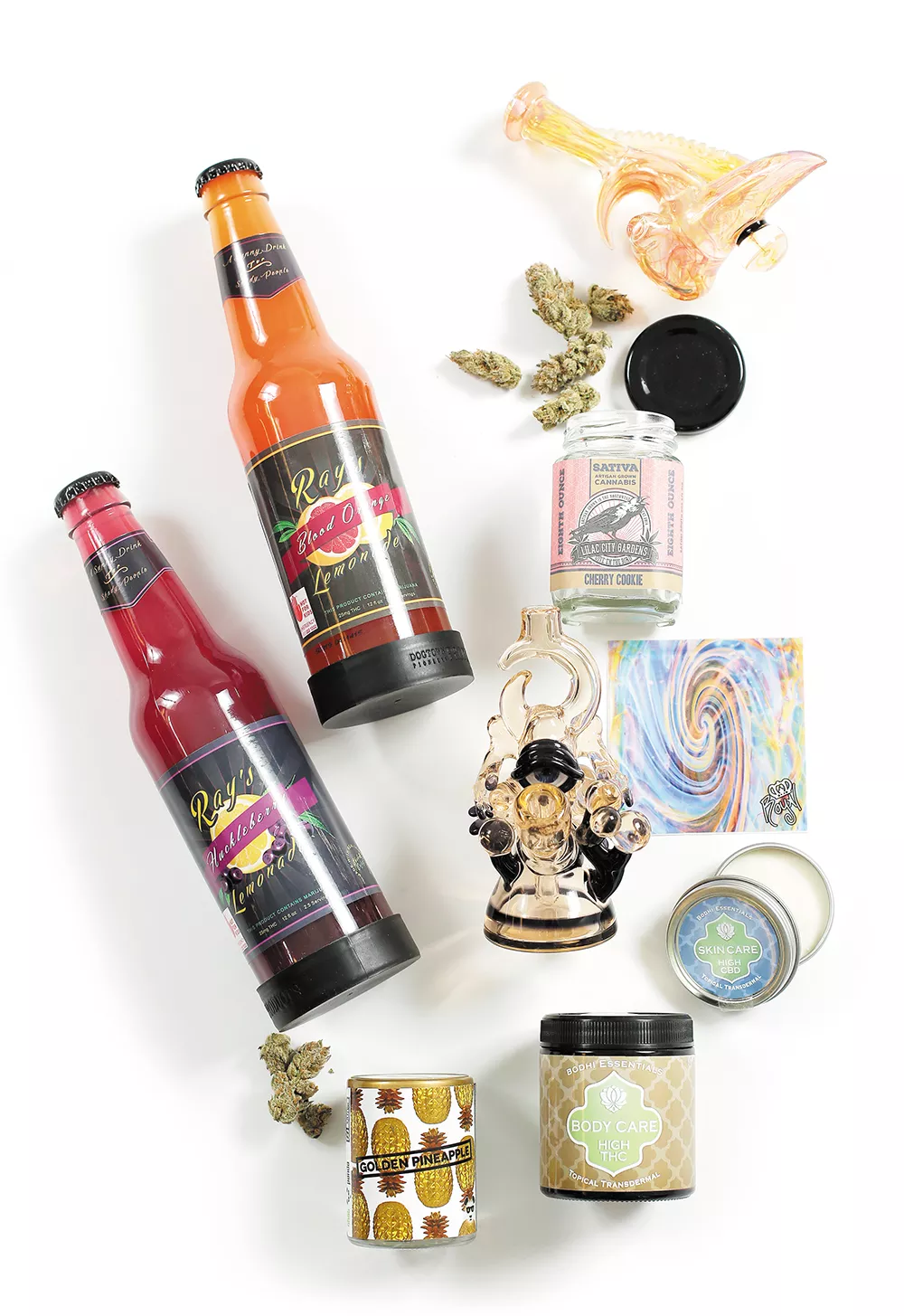 1 - ROYAL GLASS FUME SHERLOCK
Royal Stumph has built an international following as a result of his excellent fume work that's so well represented in the sublime Sherlock pipe. Turn it in the light and vaporized silver fumes radiate blue and indigo hues, while threads of gold fumes shimmer in shades of orange and yellow. Two intricate fumicellos, including one on the mouthpiece, add to the artistry. Find his work at Piece of Mind and online. $750
2 - LILAC CITY GARDENS CHERRY COOKIE FLOWER
The sweetness of the sativa hybrid Cherry Cookie is something to behold. Each hit sparks notes of tart cherry and a crisp sweet flavor that's followed by a nice earthy flavor. And because of the cross between Purple Afghani and OG Kush, the high is an enjoyable and uplifting ride. Perfect for adventuring. Buy it at Satori, the Top Shelf, Lucky Leaf, Smokane, Apex, Royals and Sativa Sisters. $15
3 - DOGTOWN PIONEERS' "RAY'S LEMONADE"
The progression of THC-infused beverages is a welcome movement in the industry as a great alternative to booze at parties or a discrete way to have a great day in the sun. Dogtown Pioneers' Ray's Lemonade is incredibly drinkable and comes in doses of 25-75 milligrams of THC, with flavors ranging from Huckleberry, Blood Orange, Strawberry and good old fashioned lemonade. Buy it at Treehouse Club, Satori, Lucid, Lucky Leaf and the Green Nugget. $15
4 - JACOB JARVIS' WARRIOR
As the light in your room changes, the color of this watchful warrior will shift from a champagne yellow to a warm rose gold, thanks to artistry of Jacob Jarvis. Jarvis' glass sculptures, like this bubbler designed for oils or concentrates, are inspired by warrior sketches he penciled out as a kid. Find his work at Piece of Mind and the Smoke House. $1,000
jacobjarvisglass.bigcartel.com
5 - BODHI HIGH SKINCARE
Known for their concentrates and shatter, Spokane's Bodhi High also offers some of the greatest luxury topical creams for pain relief and for skin ailments. Their Bodhi Essentials Skincare is a high CBD lotion that is not only sublimely relaxing but rejuvenating as well. Check their website for an extensive list of retailers including Satori, Cinder, Greenhand, Lucky Leaf, Lucid and Lovely Buds.
1 oz. tin $15; 4 oz. jar $45
6 - PHAT PANDA'S GOLDEN PINEAPPLE
If you're looking for a great Spokane bud, look no further than Phat Panda and their signature Golden Pineapple strain. The citrus noted sativa is one of the greatest energetic strains available in the area, with a nice mellow happy body high with little headiness. It's a great daily strain for stress and anxiety. Find it at Satori, Toker Friendly, Smokane, Local Canna House, Lucid and more. $45