MELISSA VOSS
I think that it is a good idea to begin to phase out plastic straws because there are a lot of better alternatives and a lot of times people don't necessarily need them. So it's a good thing to be conscious of. But I don't think that a complete ban would work in Spokane, just with the way the city is at this point in time.



---
CHRISTIAN FRANZ
I don't think they should because I don't see a practical way of enforcing that ban, but I think if everyone tried to take measures socially to not use as many plastics, such as plastic straws, it would definitely benefit our environment. It seems a bit impractical for them to implement a sort of law or something that is going to uphold businesses to that standard.



---
MACKENZIE BEIER
We should try to make using things like biodegradable plastic, especially for straws, easier or make access to them easier, or make it more common practice. Especially since there are people out there who have disabilities and require straws. My grandmother is one of them.



---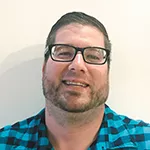 CHRIS DORR
I think so. I'm all about helping the environment and the environment sucks right now. So we need to make the world a better place.





---
PAM ZACK
I think we have bigger things to worry about.
Why is that?
I think that people can make a conscious choice about it. The thing that comes to mind right now is we have a really big homeless presence in our city and I don't know what anyone is going to do about it.



---
INTERVIEWS BY MICHAELA MULLIGAN,
9/20/18 F1RST AVENUE COFFEE