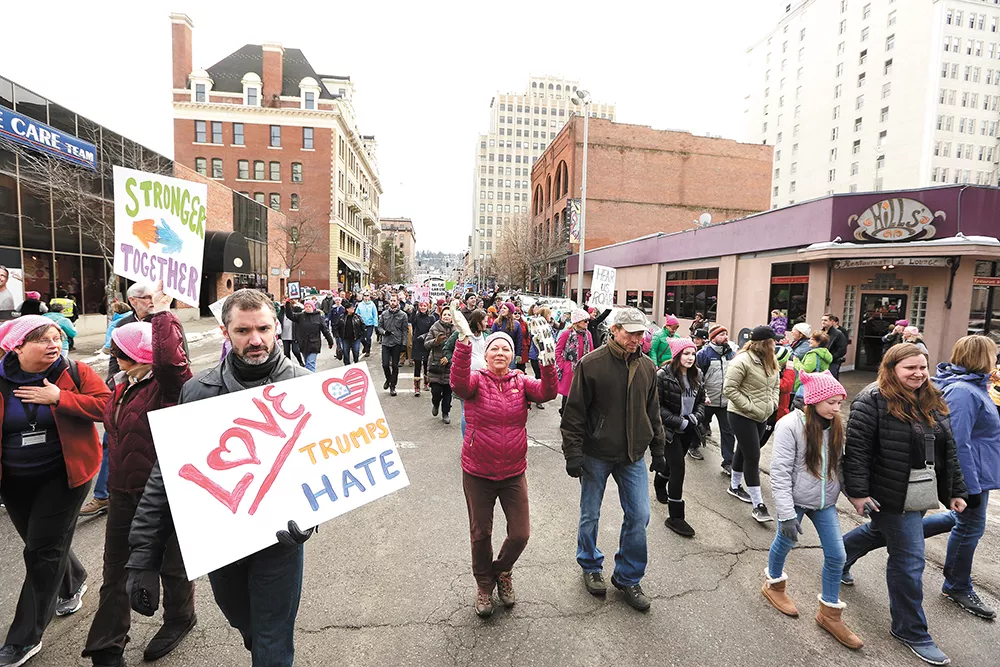 Readers continue to react to the outpouring of support for the Women's March on Spokane; here are comments on our story recapping the event from the Jan. 26 issue:
Isaac Jack Jr.: What do you feel has been accomplished here in Spokane? Increased equality and respect are common ground. What helps? I know I keep [my] ear to the ground regarding law enforcement brutality and profiling.
Allie Rawlins: I've seen a lot of people asking what the march was about. While standing in line to enter the convention center, my friends and I took our sign around and asked people to write what they were marching for on the back. I liked the idea of showcasing the multitude of issues that brought so many out that day. A lot of critics are trying to narrow it down to one or two things, but we marched for everyone that day. The love and inclusion could be felt by everyone there.
Willie Streeter: Not being smart what rights are women losing?
Angela Dickey: Donald Trump just signed an executive order to cut federal funding for abortions. We are losing safe abortions and I'm pretty sure he's coming after birth control, too.
Virginia Rhodes Korn: By de-funding Planned Parenthood, women are losing the right to affordable health care, birth control, and mammograms. Women still don't earn equal pay for equal work. By cutting funding for battered women's shelters, abused women are forced to live with their abusers or try to escape with their kids and go into hiding. They need protection.
Dean Lambson: Oh look! Another man who likes to tell women how to live their lives because of his belief in a 2,000-year-old comic book written by a bunch of men that didn't know where the sun went at night. If you don't believe in abortions, then don't get one, but you don't get to call yourself "pro-life" when you vote to cut funding to the child's food, housing and healthcare benefits. You aren't pro-life, you are pro-birth. ♦