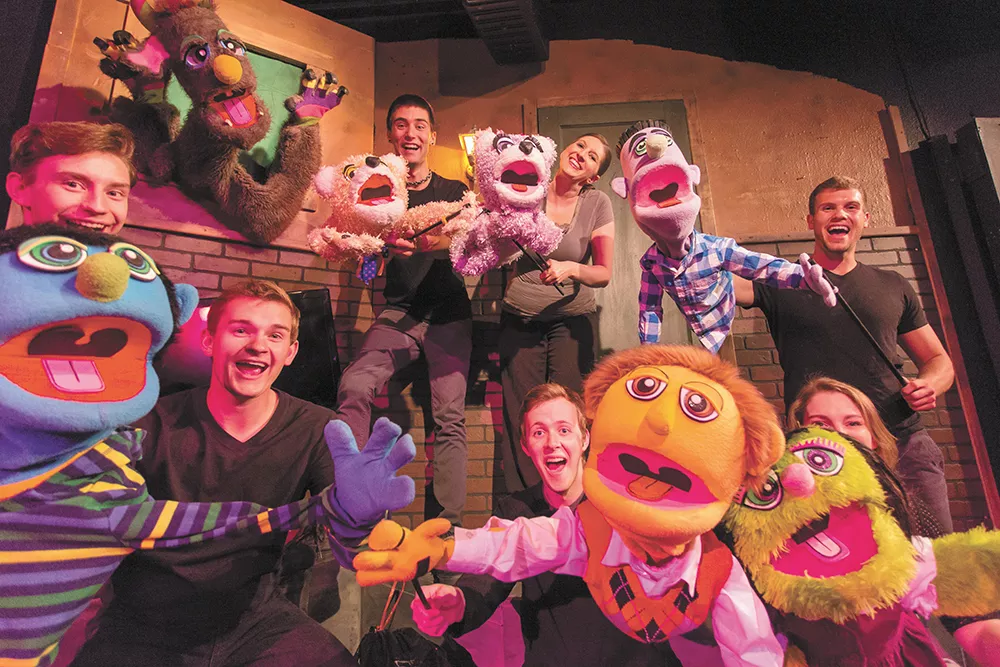 Most American adults under the age of 40 will have distinct childhood memories of Sesame Street. That's because, thanks to its sketch-based mix of Muppetry, mirth and music, the show quickly established itself as consummate edification through entertainment after it first aired in 1969.
The lessons of Sesame Street are consequently familiar ones to several generations of parents and their children. There are the educational variety, such as phonetics, spelling and basic math; and then there are the moral variety, which stress acceptance, self-esteem, empathy and altruism.
Trouble is, once you leave the tame world of Sesame Street, where even the urban air is noticeably sweet, those life lessons aren't always easy to put into practice. For Robert Lopez and Jeff Marx, the gap between the real world and the controlled positivity embodied by Sesame Street resulted in a sense of disillusionment that they found hard to reconcile. Along with playwright Jeff Whitty, they channeled that disillusionment into Avenue Q, a stage musical that parodies and pays homage to the show that helped shape their early worldview.
"I try to explain it as a very adult Sesame Street," says Troy Nickerson, who's directing the show for its preseason run at Lake City Playhouse. Mentioning "adult" and "Sesame Street" in the same breath might sound contradictory, but it's an apt description when you have puppets singing cheery, high-kicking songs like "The Internet is for Porn" and "Everyone's a Little Bit Racist."
One of Avenue Q's cloth characters — Princeton, a down-on-his-luck college grad — has the leading role. On his ignominious downward path to rough-and-tumble Avenue Q, he meets other humans and puppets like Kate Monster, Trekkie Monster and a fictionalized Gary Coleman, who all have struggles of their own. Coleman's character is a janitor, a proxy for childhood promise turned adult tragedy.
"It gives you that total sense memory of sitting in front of the TV and watching those after-school shows, and so it's oddly comforting," Nickerson says. "But it's also interesting to pull the curtain back, and in some ways what happens is so shocking that you don't even know what to do with it. It's pretty ingenious in its construction."
Nearly three years ago, Nickerson oversaw A Christmas Carol at the Civic, which also made use of puppets (albeit far grander and more elaborate ones) as the three didactic ghosts. But there were hurdles when it came to emoting and animation.
"That was my first experience with that, and I don't think I executed it very well. I was definitely more prepared this time," he says. "We've really choreographed every move they make, and pretty soon, the actor disappears and you start watching the puppet. It's a really cool thing to watch, and that's part of the magic of the show."
Typical of Lake City's preseason shows, the Avenue Q cast features talented emergent actors like Keyonna Knight (Rent) and Madison Rasmussen (Spring Awakening, Into the Woods) supported by stage veterans like Mark Pleasant.
"This whole cast of young people is pretty remarkable," Nickerson says. "Most of them are music and theater majors in college who are home for the summer. I've been very, very, very impressed with them."♦
July 25-Aug 9, Thur-Sat at 7:30 pm, Sun at 2 pm; Lake City Playhouse; Price: $14-$20