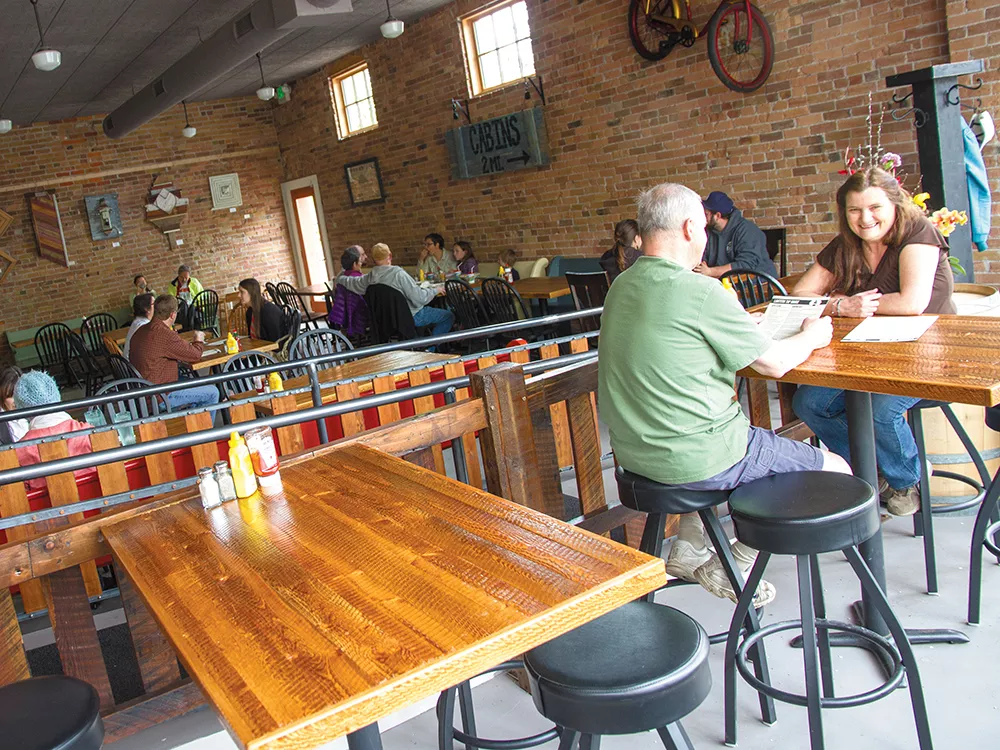 When it opened in 2009, the Lantern Tavern — at 200 square feet — was one of the smallest bars in Spokane. There were 12 stools at the bar, an overflow of customers on warm summer nights and a regular happy hour crowd that didn't mind squeezing into the standing-room-only establishment.
When the Perry Street Cafe closed its doors last December, Lantern management pounced on the opportunity to lease the vacant space. Co-owners Melinda and Mike Dolmage and James Pearson spent months renovating the cafe, tearing out booths and creating open space while attempting to maintain the sense of intimacy that their regulars enjoyed. Now regulars and newcomers alike can enjoy a full menu alongside their craft brews.
Regulars Roger and Chris Imes, owners of the Dutch windmill down the street — which houses their herb and natural food business — enjoyed the fish and chips ($10). Roger, originally from northern Wales, described the dish as "authentic, clean-tasting . . . genuine white cod, not pollock."
Other best-sellers include the buttermilk pork sandwich ($9.50) and the Smashburger ($9.50), made from 6 ounces of ground beef, browned on a flat-top and smashed into burger form.
Chef Troy Webber describes the menu's inspiration as coming from a desire to create "everything from scratch . . . classic pub-style food but tastier, fancier than the average sports bar."
The tomato chutney atop the Smashburger is one example. Webber explains that in the off-season, tomatoes do not make the best burger-topper. Tomato chutney is his answer to that horticultural problem — he stews tomatoes with onions, green pepper and spices. The overall effect is a slightly sweet relish that when combined with slabs of peppery pork belly, housemade mayo and 6 ounces of smashed burger, all wedged inside a fresh Kaiser roll from Bouzies Bakery, makes for a tasty pub dinner.
Now with 1,200 square feet, 60 chairs and a full, affordable menu, The Lantern welcomes newcomers, regulars and their kids — there's a kids' menu and children's nook complete with a chalkboard suitable for spontaneous artwork
The Lantern Tap House • 1004 South Perry St. • Open Mon, 11 am-midnight; Tue-Sat, 11 am-2 am; Sun, 11 am-midnight • thelanterntavern.com • 315-9531