Celeste Shaw has been thinking about the holidays since April.
As the guest editor-in-chief of Where Women Cook's first ever holiday issue, a nationally distributed glossy magazine on stands through December, Shaw was busy contacting sources, coordinating photography and overseeing content that went to press well ahead of the winter season. This all took place in addition to her roles as owner of the west Spokane restaurant and bakery Chaps Coffee Co. and the boutique Lucky Vintage & Pretty Things. Shaw also works part time as a nurse and is co-owner of Paper and Cup cafe in Kendall Yards.
Though the holiday rush is now here, Shaw isn't feeling overtaxed from thinking so much already about festive winter meals, home decorating and gathering with loved ones. Quite the opposite, actually. She's excited and invigorated, and humbly soaking up the magazine's success; it's been selling out at stores across the U.S., including Costco and Barnes & Noble, since the beginning of November.
"I've had it in my mind for so long to do something around the holidays," Shaw reflects from the cozy attic office above Chaps' dining room on a chilly Friday during an unusually busy lunch rush.
"The exciting part of it for me, to do the holidays even early in the spring, is when I talked to the women I had asked to be featured, they also had holiday in their heads. They all shared that golden thread of love for the holiday," she continues.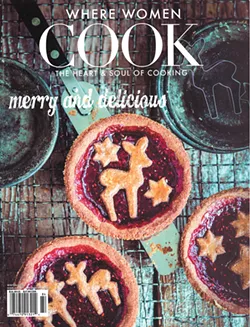 Where Women Cook was created in 2010 by publisher Jo Packham, who also owns three sister publications: Where Women Create, Where Women Work and What Women Create. The cooking-focused edition is published quarterly and follows a format similar to the others, with a focus on beautiful photography and storytelling. Features are written in first person by the female artisans, entrepreneurs, chefs, farmers, homemakers, artists and other creatives featured within its pages.
"I want you to feel like you're sitting at the kitchen table and actually speaking to them and not that the whole magazine was written by an editor," Packham explains.
The publisher asked Shaw, a longtime friend, to edit Where Women Cook's first-ever holiday edition because she knew of Shaw's love for holiday entertaining and sharing. Packham also knew Shaw would be able to draw upon a deep personal network of talented creators when selecting women to feature.
"When we decided to do a holiday [issue], I thought immediately of Celeste because she has wanted to do that for as long as I've known her," Packham says. "I've never shared being editor-in-chief with anyone, but thought it might give a fresh and whole new approach."
Shaw picked women all over the U.S. and the world whose stories of holiday memories, traditions and cooking are shared in the 160-page issue, which doesn't contain any advertisements. Each woman (and one man, a regular special feature in Where Women Cook) also chose to publish several recipes for dishes significant to them, from cookies to cocktails, and for complete holiday meals. As such, the magazine (its cover price is $17) is designed to be referred to like a cookbook.
"They really are like a book, and people do keep them," Packham notes.
Three of the 15 women whose stories are shared in the holiday edition of Where Women Cook are based in Spokane.
Mandolyn Hume owns Fannie's Ice Pops — a regular vendor at summer's area farmers markets and events — and shares recipes for some winter seasonal flavors. The photos for her spread were taken at Shaw's home by local photographer and musician Cami Bradley.
"I love [Mandolyn's] sparkly personality and I love the idea that you could have a popsicle specific for the holiday even though it's cold," Shaw says.
Fery Haghighi owns Fery's Catering and has been professionally cooking in Spokane for more than three decades. Shaw calls her Spokane's "mayor of food," and inside the issue Haghighi shares memories of her upbringing in Tehran, Iran, and how she draws on her Persian heritage and French training to craft her own culturally blended cooking style.
Local cocktail expert Renée Cebula of Raising the Bar is also featured, with photos by Spokane photographer Tess Farnsworth. Cebula writes about her love of that memorable drinking scene with George Bailey and Clarence the angel in Frank Capra's It's a Wonderful Life, and offers recipes for a few warming cocktails, including the spectacular Farmer's Bishop punch.
"Really, Spokane has so much talent I probably could have done an entire Spokane magazine if I was given the opportunity," Shaw notes.
Other stories of food and holiday cooking come from women around the world, like British artist and painting expert Annie Sloan, who's known for her eponymous line of chalk paint. Justina Ramanauskiené, meanwhile, writes from her home in Lithuania, in an authentically non-native English speaking voice, about the foods prepared for her family's Christmas Eve celebrations, called Kucios.
Shaw's goal for each woman's story, and the accompanying photos, was to make readers feel like they are connecting with an old friend, while also recalling nostalgic memories of their own.
She also made sure the recipes each shared weren't overly challenging, so that even a casual home cook or baker could feel confident in trying their hand. Paired with the issue's intimate storytelling, she hopes readers may even feel comfortable enough reaching out to any of the women to ask for help if needed.
"You could pick up the phone with Fery and say 'I'm not really sure I have it quite right,' and she would be able to help," Shaw says. "They are all really authentic women and there is a pulse on them. Even Annie Sloan, who is world famous and is in the UK, you could write her an email and she would answer."
Shaw consciously chose to feature women from a variety of backgrounds. Not all are well-known in their respective professions or on social media. Where Women Cook and its sister publications emphasize stories from and about relatable women: mothers, homemakers and small business owners. From an outward perspective, these successful creatives are not unlike Shaw, who's making coffee behind the counter of Chaps that morning because extra hands are needed.
"I always say food is love, and I feel like this magazine validates that," she reflects. "And these [are] women who have loved their families and their traditions and loved sharing that with the reader, and I was the one to be able to share that between the two." ♦
Find where to buy a copy of the 2018 Where Women Cook holiday issue at wherewomencreate.com.

cheys@inlander.com