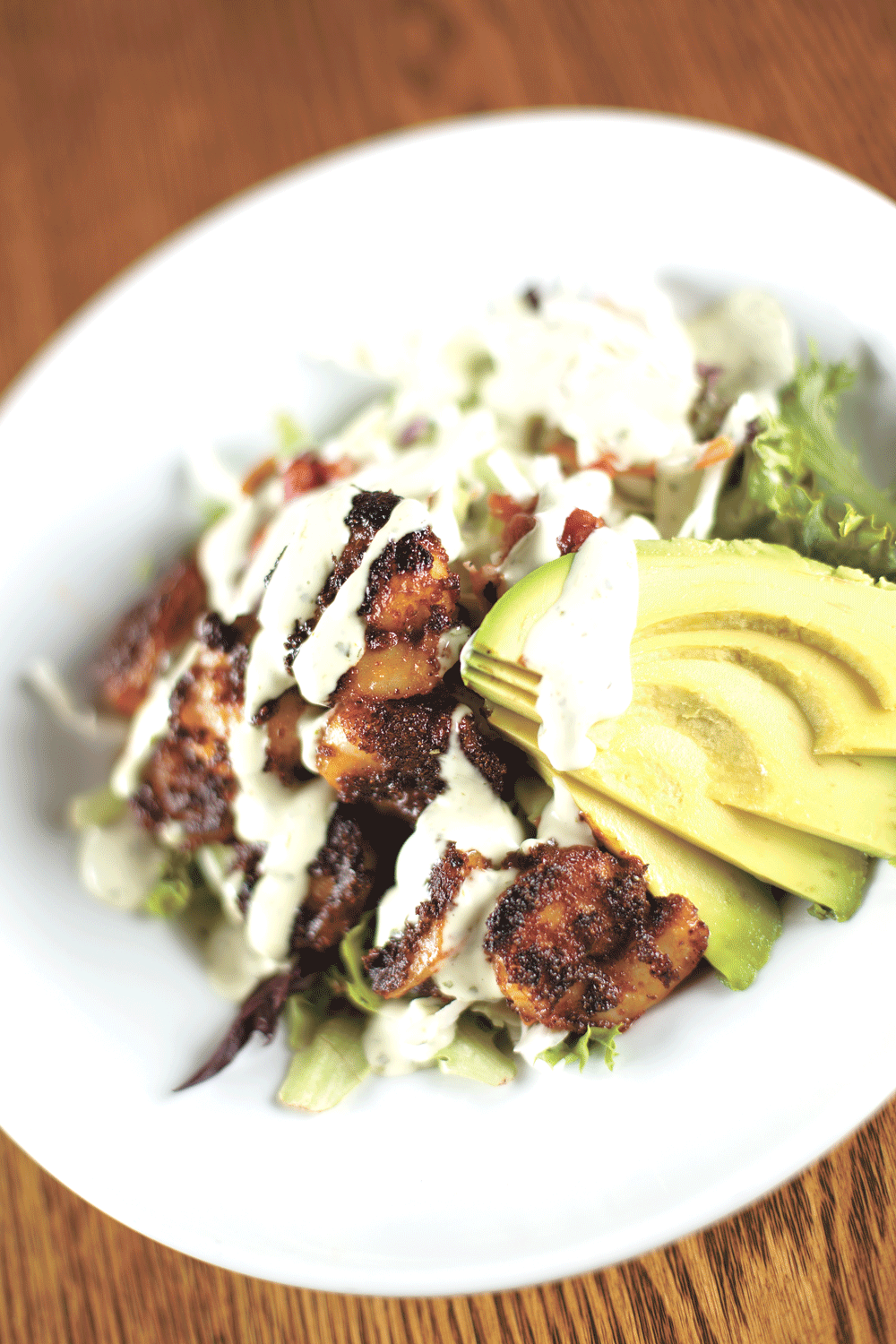 Shrimp and cabbage? Farro and green apples? Pancetta and spiced cashews? You bet! Salads are to summer what stews and soups are to winter: almost anything goes.
Grains feature prominently at Taste Cafe (18 S. Howard), which starts each week with around 30 different salads that vary throughout the week, according to chef-owner Jane Heber. Although both the curried chicken and Asian chicken are popular, her favorites are the quinoa with edamame, asparagus and toasted almonds, as well as the wheatberry with cranberry, orange, rosemary and tarragon ($3.50-$5).
Heber opened Taste with daughter Hannah more than five years ago with an all-organic, mostly vegetarian menu of soups, salads, sandwiches, comfort foods, and breakfast and baked goods. Their location downhill from the medical community means Taste has gained traction with pharmacy reps, doctors' offices and the like, says Heber.
"The people who come here know what's good for them," she says, explaining that she's eaten the kind of food she serves at Taste for 40 years.
Heber and other restaurants are onto something. According to a 2009 report by the Foodservice Research Institute, salads are gaining in popularity across all restaurant categories, including casual and fast casual. While salads still appear as a mere accompaniment on nearly half of the restaurant menus surveyed — picture a plate of iceberg lettuce, tomatoes, shredded carrot and canned croutons — more than 80 percent of the same menus show salad as a menu mainstay.
An interest in "lighter" and "healthier" fare is a driving force behind the surge in salads, according to Technomic, which notes that nearly half of all consumers order salads (up from 34 percent in 2009) and nearly two-thirds of those consumers pay attention to seasonal ingredients.
Picabu Bistro (901 W. 14th), for example, tops traditional greens like lettuce and spinach with a range of textures and tastes — cheeses, meats, vegetables, nuts, pickled items — for many of their dozen or so standard salads. Some, like the Italian Cobb ($14) or Creole Salmon Caesar ($14) are variations on combinations popularized in other cultures or conventions. Their Baja Blackened Shrimp salad ($14), however, surprises with fruit salsa and crisp shaved cabbage, balancing the bolder flavors. Avocado adds a creamy mouthfeel, while cilantro-lime dressing pops with brightness.
Seafood in salad is a natural for Fisherman's Market (215 W. Kathleen Ave, Coeur d'Alene). Their Poseidon Adventure ($9.50) delivers three distinct waves of flavor. While fried cod, prawns and calamari give a slightly sweetish crunch to earthy spinach, sun-dried tomatoes and lemon pesto dressing add plenty of tang.
Try their Thai-inspired salad with lime-grilled prawns and angel hair pasta ($9), or navigate to Thai Bamboo (find a location at thethaibamboorestaurant.com) for Yum Talay ($17). This entrée salad combines prawns, scallops, calamari and catfish with lemongrass, fresh ginger, cilantro and mint for a salad that is truly cool and refreshing.
Nuts, beans and grains are a popular alternative to meat proteins. At Cafe Carambola (610 W. Hubbard Ave., Coeur d'Alene), the savory-sweet mix of green apples, red peppers, garbanzo, pumpkin seeds and multigrain farro offers a Latin-inspired version of traditional Middle Eastern tabbouleh ($6/$10.49). A recent salad special at Santé (404 W. Main) pairs pancetta and paneer cheese with whole grains, raisins and spiced cashews ($12). And Mizuna (214 N. Howard) will keep a variation of the quinoa tabouleh — grilled fennel, mint, red peppers, artisan lettuce, red onion confit — on its summer-to-fall menu.
Looking to rev up your repertoire when it comes to salads? In addition to emulating your favorite local restaurants, tap print resources including Williams-Sonoma's Salad of the Day cookbook, Jeanne Kelley's Salad for Dinner: Complete Meals for All Seasons or Terry Hope Romero's Salad Samurai: 100 Cutting-Edge, Ultra-Hearty, Easy-to-Make Salads You Don't Have to Be Vegan to Love.
Just remember the basic guidelines that separate salad from some other culinary categories. Serve cold (generally), tear or chop things into manageable bites, go light on the sauce (see sidebar) and heavy on the veggies to dress up this ancient dish dating to Greco-Roman times. ♦
---
A WORD ABOUT DRESSING
Naked lettuce might do for hamburgers, but when served in a salad, a little dressing is a necessity.
"A dressing should compliment the salad, not 'drown' it," says Sandra Gunn, who owns Coeur d'Alene Olive Oil Company and the Culinary Stone, a specialty food, kitchen and cooking outlet.
Ah, but which flavor and type? Something creamy and thick, like Sandpoint-based Litehouse Chunky Bleu Cheese? Coeur d'Alene Dressing's tangy Apricot-Dijon? Try adding Spokane-based Uncle Dan's Italian mix to your oil and vinegar and make your own.
As with salads, variety abounds when flavoring dressings, especially vinaigrettes, which are typically light and pair perfectly with lettuce-based salads.
Use the best oil you can, says Gunn, who recommends extra virgin or first cold press olive oil. If you want to get in on the latest fashion for dressing your salad, says Gunn, fruit-infused balsamic vinegars currently are trending. (CS)