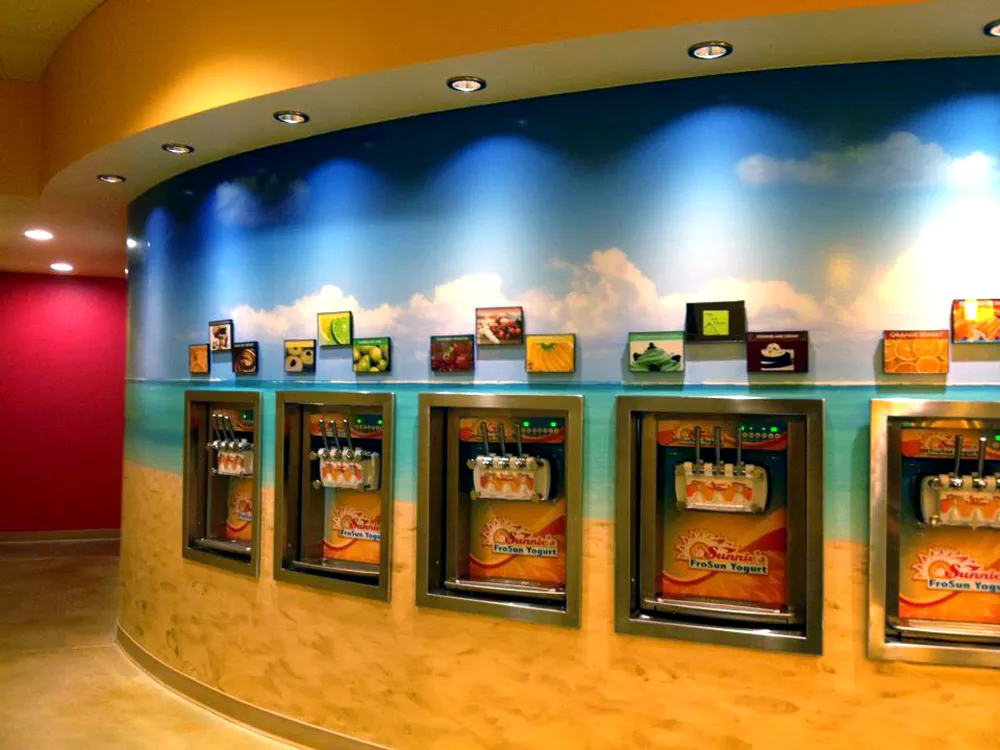 When there's snow on the ground, not everyone's first thought is to go out and get a frozen treat. So when Terri Parrish and her husband were researching what it takes to open a frozen yogurt shop, part of it involved learning how to run the business during the winter months.
You have to anticipate the slow season and trust that the summer months will make up for it, Parrish says. You can also work hard to make the shop warm and inviting. That's what the couple did when they opened Sunnie's FroSun Yogurt in the Shadle Park Shopping Center.
First, they named it after their orange tabby cat, Sunshine. Then, being faithful to the name, created a bright beach theme. The yogurt machines are inset on an ocean mural, tropical fish swim around a faux fish tank on a big screen, and surfboards line the hallway leading to the bathrooms. For an extra toasty factor, a fireplace faces the entrance and they also serve hot apple cider and coffee.
Another thing that Parrish says helps to bring in the off-season crowd is the fact that frozen yogurt presents a healthy option. Most flavors are low fat, some are nonfat, and they offer gluten free and dairy free choices. The self-serve style ($0.44/ounce) allows customers to choose their portion size and yogurt-to-topping ratio.
Sunnie's has 15 flavors, which they change twice a week. But with five yogurt machines and two individual flavors on each, where does the 15 come from? Just employ a bit of froyo arithmetic:
Strawberry sensation + Italian tart = tropical bars.
Chocolate + pomegranate energy = chocolate-covered cherries.
Orange sorbet + Tahitian vanilla = Dreamsicle.
Of course, the toppings always add to the equation. There are all the froyo regulars, including fruit, cereal, mochi, boba, and chocolate chips. But there is one notable topping: bacon. Yes, real bacon. One recommended usage of this salty-sweet blend is the breakfast combo of vanilla froyo, bacon and maple syrup.
Sunnie's FroSun Yogurt • 2225 W. Wellesley Ave., Suite 101 • Open every day noon–8 pm • 327-2818