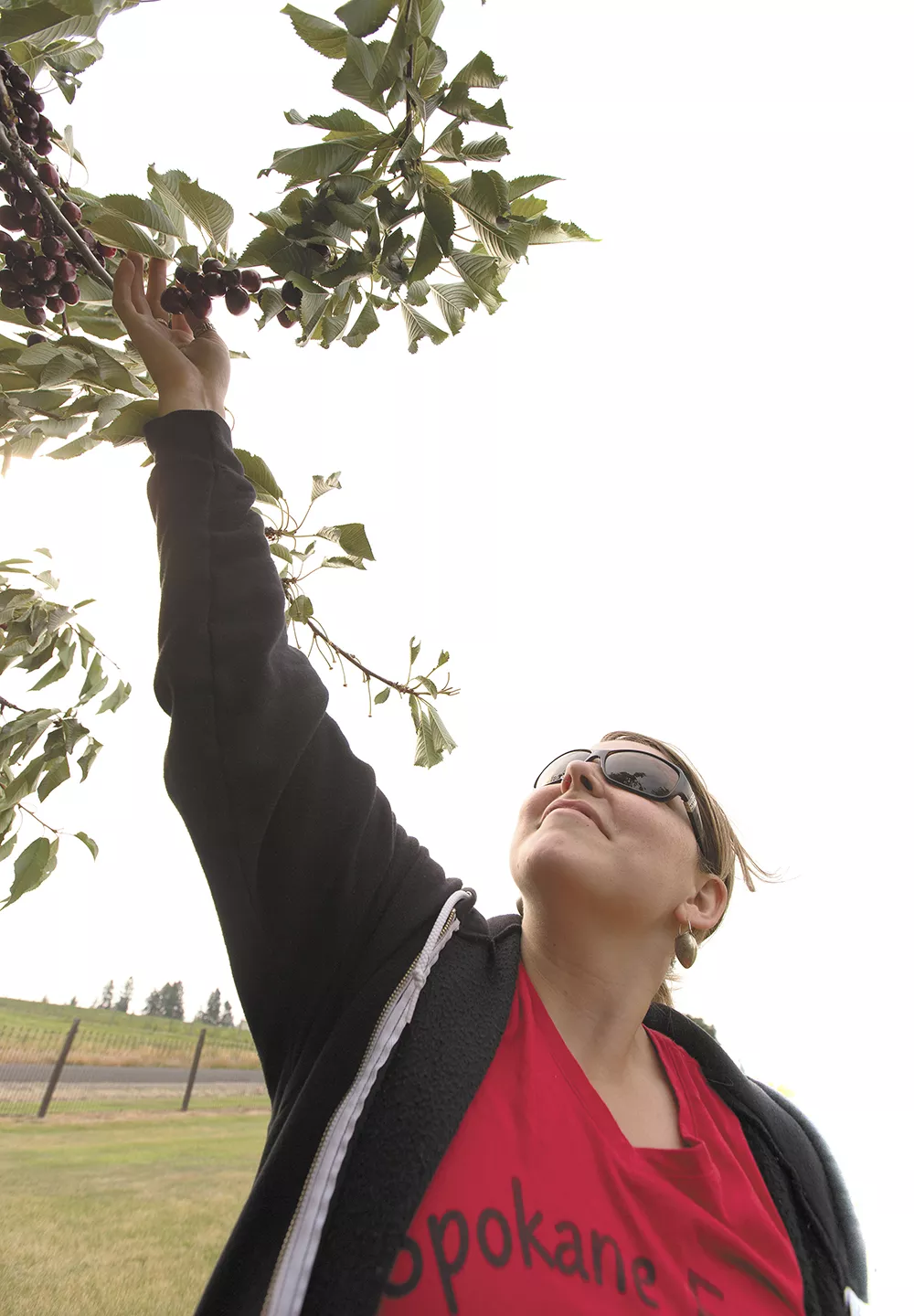 Saturday's harvest total: 813 pounds of fruit.
Even so, it hardly looks like the two dozen volunteers in matching red T-shirts made that much progress harvesting the 50-tree orchard. Many branches are still heavy with the ruby-red cherries.
But stacked in the back of a Second Harvest food bank van, boxes packed with cherries are the yield of the biggest fruit glean thus far for the Spokane Edible Tree Project, a nonprofit in its first active year.
Earlier that morning, as the group begins filling bags and buckets and boxes with the juicy cherries, Edible Tree cofounder and board president Kate Burke moves from tree to tree, making sure everyone has what they need, and that they all know the correct way to pick cherries.
"You have to twist them off at the stem, because if you leave the part that attaches the stem to the tree, a cherry won't grow there next year," she explains.
The volunteer "gleaning mob," as Burke, 25, has dubbed her fruit pickers, laugh and chat as they perch atop ladders, their hands moving quickly through the fruit-laden branches of Lambert, Bing and Rainier cherry trees.
Gesturing at the orchard around him, board member Jonny Whitmore says: "This is hundreds and hundreds of pounds of fruit that can really benefit people who want or need fresh fruit. We can do so much with this."
Orchard owner Joanne Smatlan says her family decided not to sell the fruit to the public as they'd done in previous years, but didn't want it all wasted.
"We want someone to use this fruit," Smatlan says. "We decided that this would be a good way to go."
Over the past several weeks, small volunteer groups have harvested other cherry trees around the area whose owners have offered them to the nonprofit. Cherries are both the first fruit of the season and the first harvest for the fledgling gleaning group.
Fruit, or nuts, harvested by the nonprofit are then donated to Second Harvest, which distributes the fresh produce to its clients and to food banks it supports across the region. Aside from the apparent aim to feed the hungry by providing healthy, fresh, local produce, Burke says Spokane Edible Tree Project's mission is also education.
"We want to educate people on underutilized resources in the community," she says. "We're not building things — we're taking things that are already here and figuring out how to use them for good. It's also to show people where they can get food other than the store, or maybe you can grow it in your own backyard."
As for the recent morning's massive cherry harvest, Burke predicts the fruit won't have any problem being distributed before it's at risk of spoiling. Any fresh produce is a popular commodity at the food bank.
Inspired by her past service work with AmeriCorps VISTA and similar efforts in other metropolitan areas, like the Portland Fruit Tree Project, Burke founded the Spokane Edible Tree Project late last year. This past winter and spring she's worked to establish an eight-person board of directors, canvass neighborhoods to log harvestable trees in a database, and recruit volunteers. The board also has worked to organize community partnerships and to set up fruit tree care classes through Washington State University's Spokane County Extension.
For any organization, year one can be a trial of spirits. While it's successfully meeting many goals for its first active year — including a warm reception from the community — challenges aren't absent for the Spokane Edible Tree Project.
Cherry season is now starting to wane, but Burke says there have already been a few trees the group hasn't been able to get out and harvest because of timing and not having enough volunteers to pick the fruit when it's ready. There's also a need for equipment, which the nonprofit — the board plans to apply for 501(c)(3) designation later this year — doesn't have a budget to acquire. So far it's been borrowing ladders and buckets from Second Harvest, or the owners of trees it's harvested.
Still, Spokane Edible Tree Project's volunteer pool is steadily building as word spreads, along with its database of trees. Property owners can upload photos and information about their edible trees through a newly launched mobile registry, so the organization knows where and roughly when, based on typical harvest times, the fruit is ready to glean.
"People want to donate their fruit, and to me, it fits into the community really well," Burke says. "People are looking for what we're doing, so I think we can really ramp it up." ♦
---
EDIBLE TREES
Register trees at spokaneedibletreeproject.org/scout
Types of trees to register: cherry, plum, peach, apricot, apple, pear, walnut, hazelnut, serviceberry, nectarine
Follow Spokane Edible Tree Project on Facebook for updates about upcoming gleans and classes