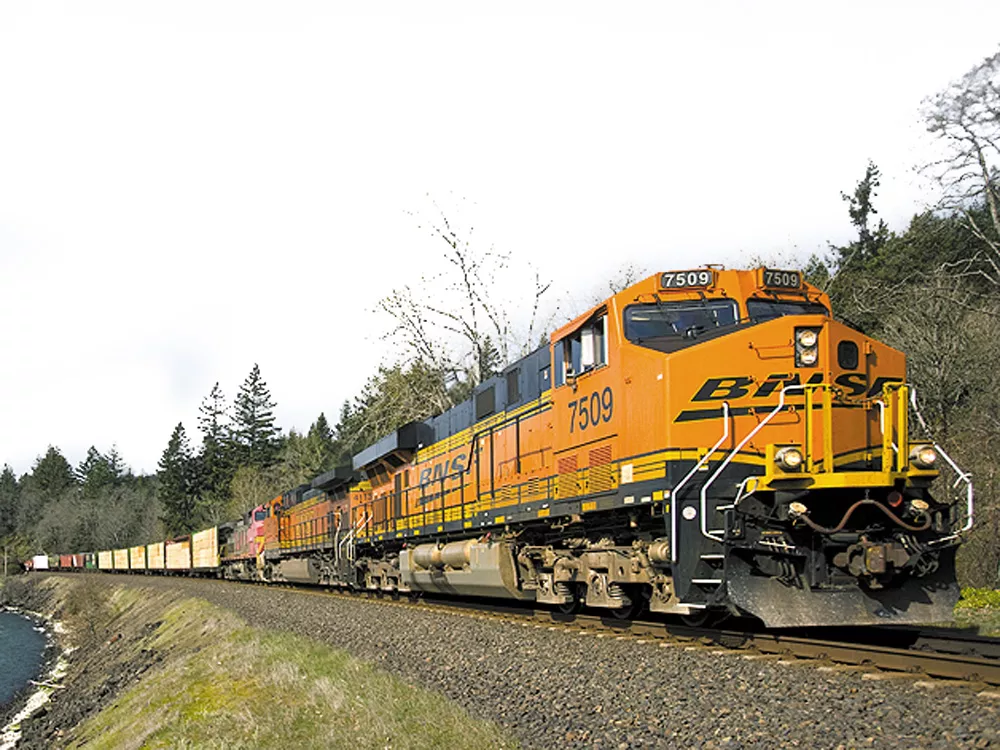 The Burlington Northern Santa Fe Railway has launched a peremptory federal lawsuit against Kootenai County, challenging local government's authority to order additional safety regulations for BNSF's 500,000-gallon diesel refueling depot near Hauser.
The fueling depot, quite famously, was guaranteed to be "virtually leakproof" by railroad officials, who later discovered the $42 million facility had been leaking even before it opened in 2004.
Even after it was discovered the new facility had cracks in the concrete fueling platform and bad seals in the underground liners, BNSF continued to refuel trains. It took an Idaho District Court judge to shut down the depot, citing imminent threats to human health and welfare as diesels reached the Rathdrum Prairie Aquifer.
The aquifer, just 160 feet below the refueling depot, is the sole source of drinking water for an estimated half-million people in Kootenai and Spokane counties.
In fact, says Geoffrey Harvey of the Idaho Department of Environmental Quality, traces of the 2004 leak are still detected in the aquifer.
"It's still an open case. The cleanup standard in the aquifer is 'no detection,' which is a very high standard. There are a few polyaromatic hydrocarbons — which are components of diesel — that are still detected," Harvey says.
The amounts are really, really tiny, he says, "but they are not below detection. And that's the rule for this aquifer because 500,000 people drink from it."
The depot has a clean safety record since it reopened in 2005 after 74 days of court-ordered shutdown and $10 million in repairs, Harvey says.
The railroad has entered into agreements with Kootenai County and DEQ on issues of training, leak protection and monitoring.
There are three levels of containment, Harvey says, and additional layers of test wells that DEQ inspects monthly.
The county commissioners, as part of a five-year review of the conditional-use permit with BNSF, are proposing some heightened safety standards on monitoring and a protocol on when to shut the refueling depot down if there are significant leaks.
This is what the railroad appears to be fighting in the suit it filed last week in U.S. District Court in Coeur d'Alene. "Kootenai County does not have the authority to regulate freight railroad facilities or operations that are part of the interstate rail transportation system," the suit alleges.
It's a familiar chest-thump. "BN has consistently maintained for all these years that nobody can regulate them. That's pretty much how they look at it," says Rachael Paschal Osborn, a water-quality activist and attorney in Spokane. Early on, Osborn fought the proposal to site the high-speed refueling depot at Hauser, just above the aquifer and in an area of particularly porous, gravelly soil.
She and others tried to get the federal Surface Transportation Board to intervene, but the board ruled that it, too, lacked authority to regulate a railroad.
So when the facility opened with public relations fanfare (free hot dogs, soft drinks and tours) in 2004, the assembled dignitaries hailing it as "state-of-the-art" didn't know it was already leaking wastewater and fuel.
An estimated 2,000 gallons of contaminants reached the aquifer, according to DEQ.
After the judge ordered it shut down, BNSF agreed to conditional-use permits with Kootenai County.
This could be key to, er, derailing the lawsuit, Osborn says.
"There have been cases where if a railroad voluntarily enters into [conditions of use] then it is enforceable," she says. "It is not unreasonable for the Kootenai County commissioners, as they revisit the agreement, to say, 'We need to ensure continued monitoring or enhanced monitoring.' "This is not wild-eyed fear. Burlington Northern's track record is horrible," Osborn says. "They have polluted aquifers across the country."