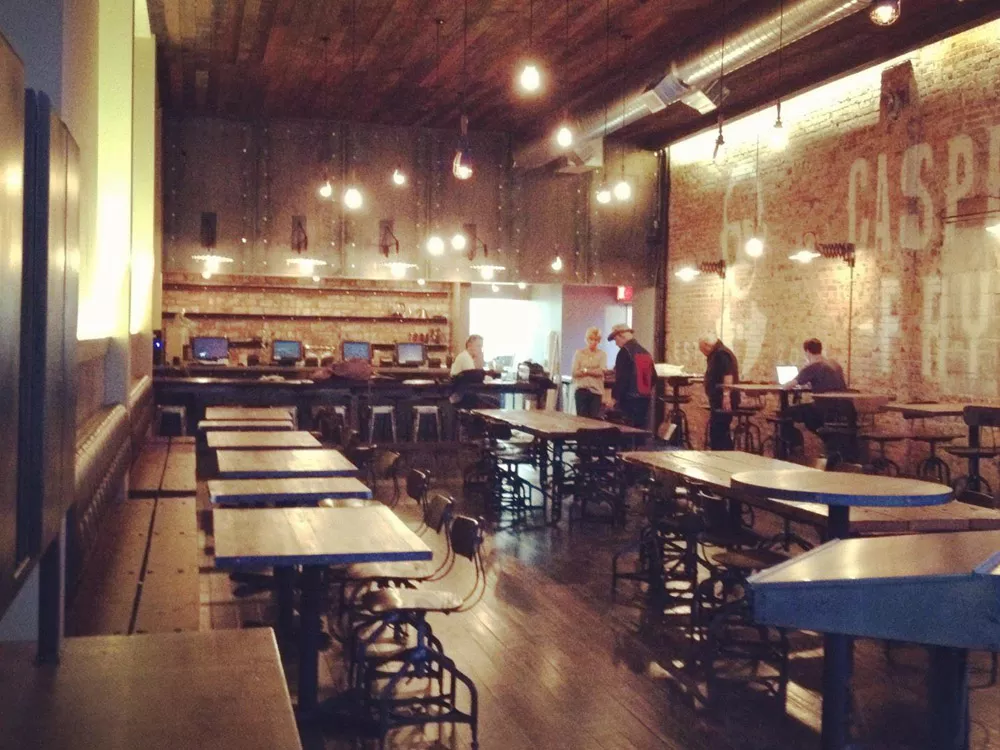 The Perry District just got a little bit hipper this week with the opening of the neighborhood's newest restaurant, Casper Fry Public House & Eatery, owned by the team from Madeleine's — Deb Green, her son Ben Poffenroth and daughter Megan Van Stone.
Days before opening, contractors are still finishing the interior while Green unpacks cocktail shakers and strainers. The bar staff is busy training, and the bartender hands Green a Manhattan for her approval. It's one of the items on Casper Fry's classic cocktail menu — which includes a Mint Julep — that reflects the pre-Prohibition era in which Green's great grandfather, Casper Fry, lived.
The aroma of smoky, grilled meat fills the restaurant, emanating from the 1,000-degree Josper oven, which uses charcoal and wood chips for smoking and grilling. The oven — one of only about 10 in the country — is the restaurant's workhorse, turning out house-smoked meat and sausages. "Casper Fry was raised on Southern food," says Green, explaining the inspiration for the menu of collard greens, shrimp and grits, and poor-boy sandwiches. "Southern food doesn't have to mean your mother's food. It can mean fresh, local and sustainable."
Joshua Martin, Madeleine's former chef, executes the family's vision for Casper Fry with small plates like smoked pork belly with peppered Hollandaise, barbecue glaze and arugula and fried-chicken dinners made with his grandmother's recipe. One of Van Stone's favorites is the Casper plate, three sides from a list that includes cornbread, roasted vegetables, red beans and rice, and grits, to name a few.
"The hardest thing was making it unique," says Van Stone. "We wanted a place where people could come and relax."
Every detail of the rugged, metal-and-wood interior was hand-selected or crafted by area artisans to create a vintage feel. Reclaimed wood from a Ritzville barn was used for the ceiling planks and table tops, and accordion-style lamps illuminate the image of the restaurant's namesake on the exposed brick wall.
"When you have success, you want to try for something more," Van Stone says. "It's what we all love to do. I love my family. I get to hang out with them. That's the best."

Casper Fry • 928 S. Perry St. • Wed-Mon, 11 am-close • casperfry.com (535-0536)