For about a decade now, Last Comic Standing has served as a launching pad for a number of prominent comedians who'd previously toiled in relative obscurity. As part of this year's show, the five finalists are heading out on a nationwide tour to try their material on crowds across the country. Here are the finalists and a little taste of their humor.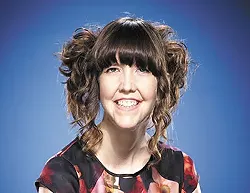 Andy Erikson
With a quirky stage presence and a voice that Last Comic judge Roseanne Barr found a little irritating, Erickson has been racking up comedy contest awards in recent years, including the 2010 Funniest Person with a Day Job prize.
A joke: "I go to the doctor a lot and I don't really mind, but I hate when the doctor finds out I'm a comedian. I was there recently and the doctor found out and then said, 'Laughter is the best medicine.' So I said, 'Well, crying is the affordable generic brand.'"
Clayton English
You might recognize English from his appearances on the sitcom House of Payne and his multiple film roles, but the Atlanta native is most known as an accomplished stand-up and, believe it or not, a circus ringmaster.
A joke: "The police pulled me over and I had a little bit of weed, and the cop asked me where I got the weed. And I'm like, 'You don't know? That's your job. You have a car with lights on it and a computer, guns, a taser and a dog. I just moved here and I found it.'"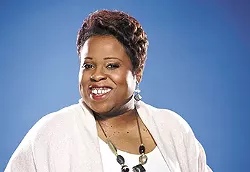 Dominique Witten
Hailing from D.C., Witten began working the comedy clubs while spending her days as a mail sorter for the U.S. Postal Service. She's performed on HBO and Comedy Central and is currently part of the cast of Adult Swim's show Black Jesus.
A joke: "I needed glasses, but the glasses were $800. So I just got one of those sticks that blind people use for $150. I can't drive anymore, but when I did, I'd wave my little stick out the door and yell at people, 'Can't you tell I'm blind?'"
Ian Bagg
This Canadian comic also has a number of acting credits to his name and is known in his native country for his red-carpet celebrity interviews. He's also made the late-night talk show rounds in the U.S., including stops on Conan, The Tonight Show and The Late Show.
A joke: "Let's pool all our money and go to Whole Foods. Maybe we can buy an apple. $16.99 for a pound of apples is expensive. They charge that much because all the women there wear yoga pants, and men will pay $16.99 a pound. Some of you are laughing, but some of you might be from small towns where yoga pants haven't arrived yet."
Michael Palascak
A journeyman comic, Palacak has a calm and straightforward delivery onstage as he relays ultra-funny anecdotes from his youth and family life.
A joke: "I played sports growing up. I was the quarterback of our high school football team as a sophomore and it was rough. We lost one game that season 84-0. My mom was like, 'Michael, what did you learn?' And I said, 'I learned that seven times 12 is 84. This press conference is over.' So, then I had to get a job when I was in high school. I was a graveyard weed whacker. People would ask what I did for a living, and I'd say that I did yard work for really old people." ♦
Last Comic Standing Live • Fri, Sept. 11 at 8 pm • $27.50-$45; $95/VIP packages • Martin Woldson Theater at the Fox • foxtheaterspokane.com