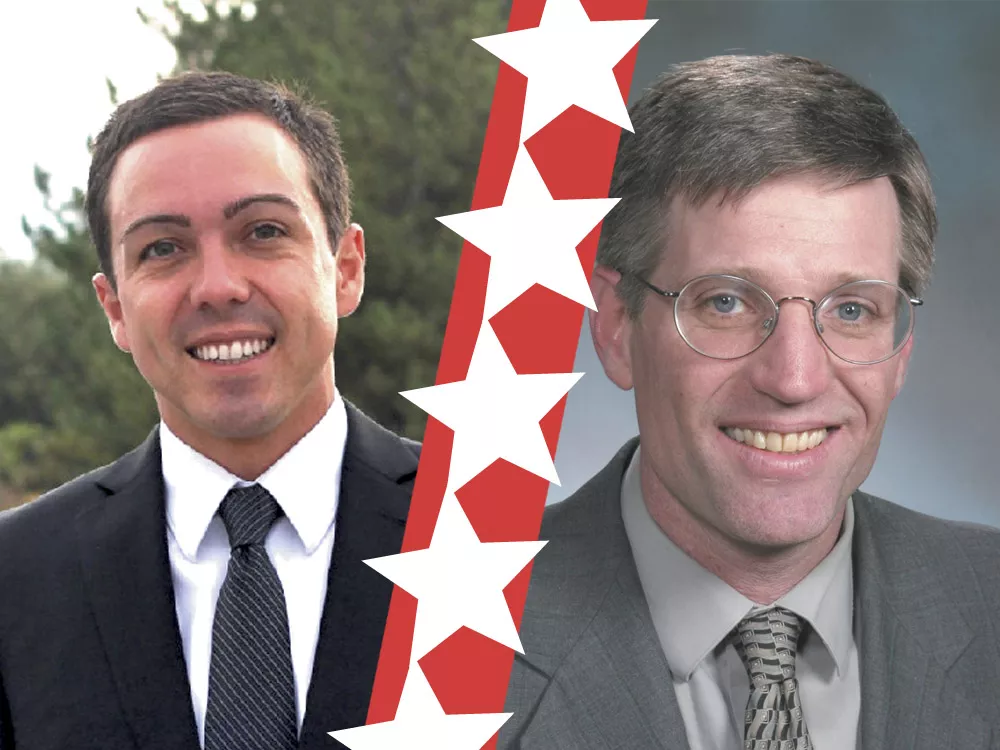 Every morning, he wakes up and starts pounding out e-mails and phone calls. He's trying to find anyone and everyone who will listen to what he has to say. He's hoping they'll give him a job.
A lot of other 28-year-olds are also out there looking for any kind of work they can find. But Morgan Oyler's got a specific job title in mind: 3rd District Representative.
He's been unemployed for eight months, the last six of which he's spent campaigning as the Republican candidate in the 3rd District. It's experience that may strike a chord with voters, who have been hearing the drumbeat about the economy pretty much nonstop for two years.
And he's not alone.
His opponent, incumbent Democratic Rep. Timm Ormsby, has also felt the pangs of a weak job market. He says his wife, Kim, is unable to find full-time work for the first time since she was a teenager.
"I don't have to look beyond my own home to see the impacts of the economic crisis we're in and the anxiety it creates in people,' Ormsby says. "We thank our lucky stars we're able to pay our bills, but it's certainly a different world than it was two or three years ago."
Even when it comes to misery, Oyler can't buy a break. In the primaries, he got enough votes (31 percent) to advance to the general election. But he got barely half the votes that Ormsby did (5,876 to 11,625). He's been out-fundraised, outspent, even out-endorsed — while Ormsby got the blessing of the Democrats, the Spokane County GOP didn't endorse Oyler because he didn't back the county's platform 100 percent.
Still, Oyler is keeping his head up and making sure he's not outworked.
"In the afternoon, it's doorbelling pretty much," Oyler says, describing a typical campaign day after a morning of technological contact via phones and computers. "The doorbelling takes time, because you gotta work the streets, and that can take up hours and hours."
Oyler's running because he thinks the state government should be getting back to the priorities: education, public safety, protecting the vulnerable, and obeying the will of the people. In fact, add "jobs" to that list and you've got his entire platform, as espoused on his website.
His background is in social work: After graduating from Gonzaga with a history degree, he worked for about four years as a counselor to kids in foster care. It shows through in his priorities — including changing drug laws to focus on curbing abuse of methamphetamine and prescription drugs, as well as reforms in the Department of Social and Health Services.
Orsmby, a seven-year incumbent, taps his life experiences to form his legislative outlook. He focuses on education reform, connecting people to state services and generally helping people improve their lives.
"We can continue to provide those safety-net programs, the stuff that keeps people in their homes," he says, "and provides them with the core, necessary things a family needs to be able to stay together."
Right out of high school, Ormsby went into construction. Only some teenagers are going to pursue the university route, he says, and different educational opportunities might be the key to helping the others. College-bound students are typically already successful in school — the trick is finding ways to engage those who aren't.
"[Get them] doing something productive in an experiential way as opposed to theoretical. Something that actually applies to the knowledge in a real-world way," he says.