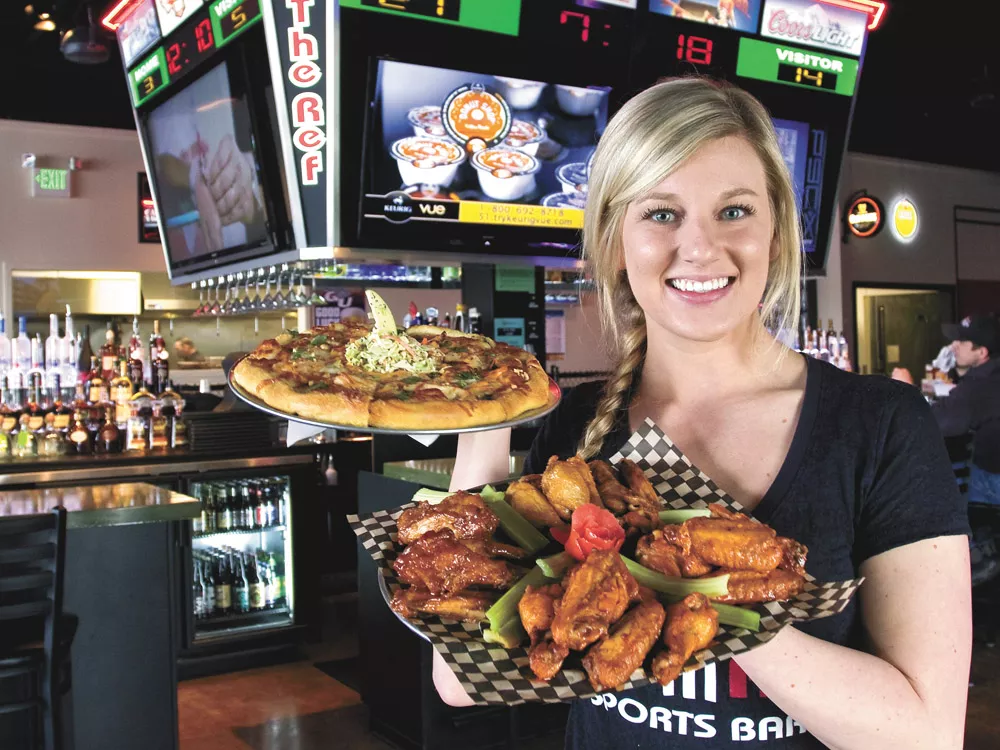 It's still about two hours until the tip-off of Friday night's Sweet Sixteen basketball games, but the Ref, a new sports bar in Spokane Valley, is already filling up. A group of Titleist-hat-wearing men huddle around a couple of post-golf pizzas, sipping beers as Tiger Woods performs exceptionally well at the Arnold Palmer Invitational on several of the massive television screens surrounding them. Pairs of diners eat late workday lunches as servers, wearing baseball-uniform-style T-shirts, each with a different jersey number, circulate busily through the 7,200-square-foot Sprague Avenue location.
Since opening just three weeks ago, the Ref — thanks in part to the frenzied nature of the NCAA basketball tournament — has been packed, according to general manager Allison Sattin, a restaurant industry veteran who helped open Brews on Washington in downtown Spokane.
"We wanted to provide a good place for people to watch games but somewhere families can come. We want to do good food, not just bar food," says Sattin, who was also key in conceptualizing the Ref's layout and menu.
The menu includes some typical sports bar fare, like burgers, nachos and sandwiches, but it also features a vast array of pizzas, ranging from the standards to the more adventurous selections, like the Thai Pie. If you merely order "hot wings," you'll need to elaborate. The Ref serves wings in quantities ranging from six ($6) to the "Grand Slam Wings," a mass of 100 wings ($75), and then you'll need to decide between 22 different sauces.
"I anticipated being very busy, but this exceeds my expectations," says Sattin of the steady-to-overwhelming turnout the restaurant has enjoyed since opening.
Part of that has to do with the Ref's "Power Hour," which presents guests with discounted drinks, including a $1 pint of their rotating retro beer (it's Hamm's on this particular Friday) between 2 and 4 pm. And then after that, it's happy hour, with specials, like 32-ounce beers, continuing until 6 pm. Or right about the time your game is set to tip off.

The Ref Sports Bar • 14210 E. Sprague Ave. • 315-9637 • Open 11 am to close daily • therefsportsbar.com