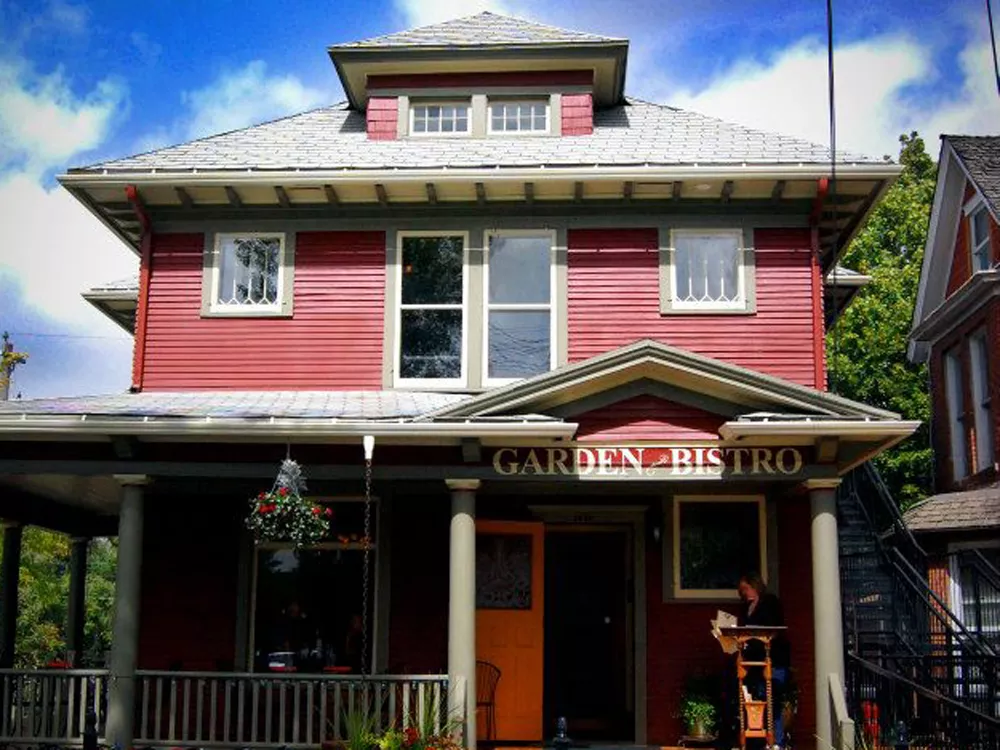 It's been a decade since Patsy Clark's restaurant shuttered its doors, years before the corner of Cannon and Pacific in Browne's Addition became a culinary force, yet former customers still wistfully recall long-winded meals with that special someone while overlooking Coeur d'Alene Park. Surely the newly opened EJ's is not nearly the architectural marvel of the nationally famed Kirkland Cutter masterpiece, but it seems to possess a similar charm that only garden dining can provide.
Restored in a flowery art nouveau fashion, the house is a sight to behold. But being that there was little time left to enjoy outdoor dining, we promised to return and opted for a patio seat next to the fireplace.
We were informed by our server that the menu had undergone some changes since opening, and will continue to do so depending on what's growing in the garden, located between the restaurant and neighboring bed and breakfast. Appetizers include the pear crostini ($8.95), grilled mushrooms ($8.95) and a hummus plate ($8.95), which is served with a generous amount of chickpea dip, cucumber slices and toast, and accompanied by two coins of goat cheese. Chunky and hearty, it seemed a bit lacking in the typical savory citrusy punch common to hummus, but balanced out well in the end with the addition of kalamata olives. Entrees run the gamut, from sloppy sandwiches like the Philly ($9.95) to more refined dishes like Darjeeling fettucini ($11.50).
Though our dining experience on the patio was pleasant, we immediately decided to return upon discovering the lounge area. Occupying the upper floor of the building, it provides an intimate, low-key location to sip on drinks, even into the wee hours of the morning. Our Moscow Mule ($7) was a perfect balance of spicy ginger and sour lime, flawlessly masking its potency. Signature drinks on the menu, like the cilantro margarita ($8), also pull from herbs growing in-house and all beg to be tried.
If spent with good friends, it makes for a night out that will be remembered (or not) for decades to come.
EJ's Garden Bistro • 1928 W. Pacific Ave. • Open Sun-Sat, 11 am-2 am • 443-3544