Nestled snugly in the Garland Business District, the Clock House has a calming ambience that brings its customers some peace of mind when they walk in. With a variety of analog clocks old and new adorning the walls, all gently ticking in unison, it's easy to become lost looking at them all. From massive grandfather clocks to cuckoos and anniversaries and the occasional Kit-Cat clock, no two clocks in the shop are alike.
The Clock House has been in business for over 40 years. Its current proprietor, Quon Nguyen, specializes in larger grandfather clocks, and he takes pride in the satisfaction of bringing old relics back to life.
"I just have a curiosity about how things work," Nguyen says. "I'm good with my hands. It's more about looking at something and going, 'Whoa, what does this mean? Why does it do that?'"
There's no exact way to enter a career repairing clocks, but most who are interested begin by studying under another clock repairman. Nguyen learned from the Clock House's former proprietor, Walter Zimke, for years before taking over the business himself.
"You need an interest and curiosity," Nguyen says. "But curiosity doesn't always equate to a good repairman, because you've got to have that skill — mechanical skill and troubleshooting skill. Just because something looks interesting doesn't mean that you're able to diagnose and repair."
Nguyen believes that clocks have a sentimental value that often outweighs the cost of a repair. Clients are often willing to pay extra for him to travel to fix their treasured heirlooms.
"I mean, they grew up hearing it," he says. "It's one of those childhood memories that they don't want to go. So even if sometimes the cost does outweigh the value of the clock, they still want it done just because, you know, this is grandpa's clock or grandma's clock."
Doing in-home repairs for clocks that are too large and clients that are too far away has become a common element of Nguyen's business. Sometimes the clocks will just need a cleaning and oiling, and sometimes he needs to remove the parts to take back to his shop. He has driven as far as Montana and Central Washington to make repairs, but doesn't mind the mileage.
"I feel like there's a need, and if I can do it, I'll do it," he says.
Contrary to what one might expect, the clock repair business presents a considerable amount of demand. In an industry that depends on dedicated artisans to shoulder community needs, and as older repairmen retire or pass away, many shops have struggled to stay open without someone in that role. Nguyen says that a lack of interest amongst younger people in clock repair has made it difficult to find replacements. Meanwhile, store closures in Seattle and Wenatchee have funnelled more clients to the Clock House, with an increasing number of clocks coming in every year.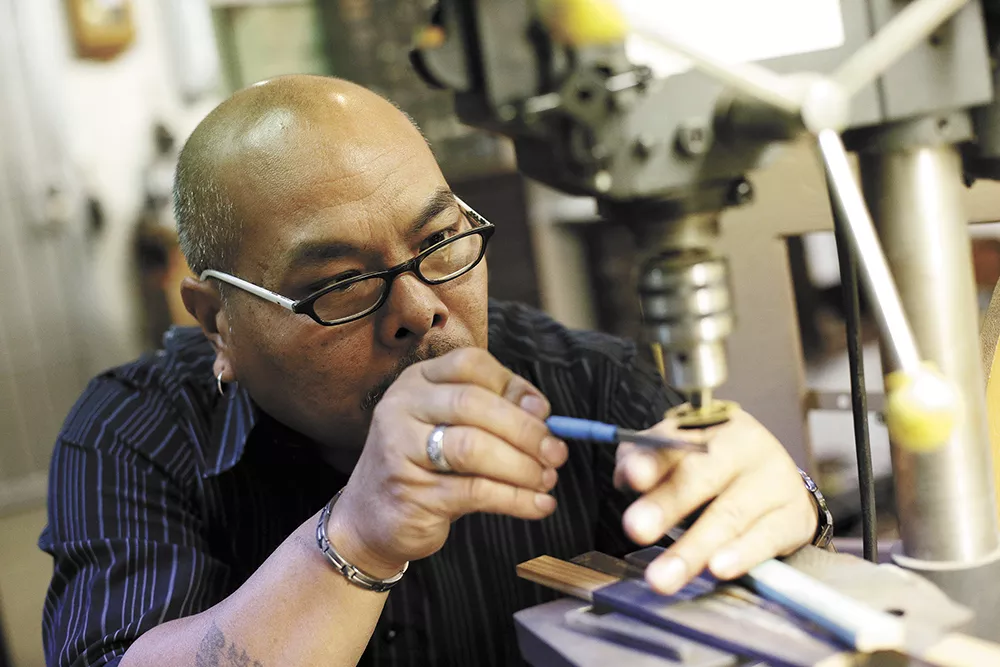 The Clock House is also the only shop in the region that repairs cuckoos, and the only shop in Spokane authorized to repair Howard Miller Clock Company clocks, a company that bills itself as the "World's Largest Grandfather Clock Manufacturer."
Due to the number of orders coming in, Nguyen estimates a four-to-six month wait for new repair jobs, but he's heard of other shops with waits up to a year.
"After this story comes out, we might have to go to six to eight months," he laughs.
Despite the challenges, Nguyen is still here — he doesn't plan on closing up shop any time soon.
"I really like the location, it kind of fits," Nguyen says. "I don't want to move into an area that just doesn't feel like it kind of fits with Garland." ♦