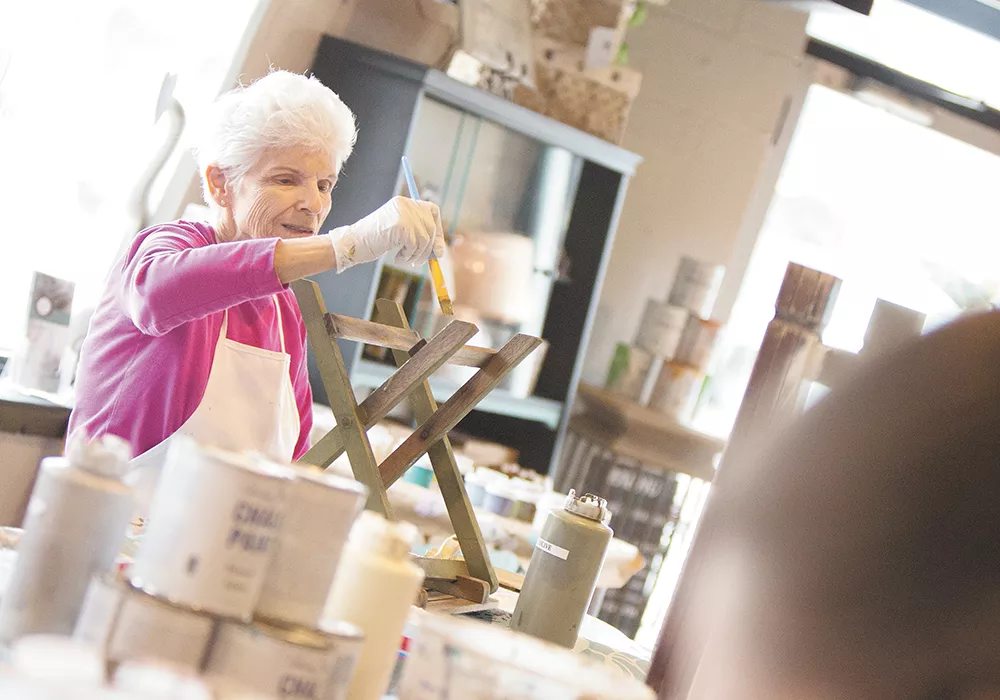 On a cold January evening, a half-dozen people have gathered for the first time on the stage of the Blue Door Theatre.
"Zip!" shouts a blonde woman who introduced herself earlier as Super Sherrie. She points to Advancing Adam, the bearded instructor across the circle.
"Zap!" yells Adam, pointing at Jittery Jed.
"Zop!" shouts Jed. He thrusts his index finger in the direction of Jolly Jocelyn. She continues the round robin, on through Zany Zack and Awesome Annica.
The point of the exercise — along with the alliterative names — is to familiarize these strangers with one another while fostering a sense of awareness and timing. As the pace quickens, they miss their cues. They forget to point. "Zap!" gets shouted twice in succession. Much later in the evening, once a certain rapport has been established, the group will practice the exercise again — only this time, Adam will encourage the zips, zaps and zops to metamorphose into bizarre sounds; the finger-pointing will become convoluted full-body gestures.
This eight-week workshop, "Intro to Improv," is one of many educational opportunities that this all-volunteer theater in the heart of the Garland District offers throughout the year. Blue Door business manager Erin O'Halloran-Foerg says their classes bring in a surprisingly steady clientele of veterans and neophytes for youth-oriented classes, intensive training and even corporate team-building sessions.
"We have [people] who are just so creative but they don't know how to channel it," she says. "And that's what improv does — it teaches you how to take what's given to you, accept it and improve upon it."
Just as the Blue Door is better known for entertainment than education, the other narrow storefronts in the Garland District belie their DIY approach to creativity and self-edification. Across the street from the theater and two blocks to the east is the Spokane Handweavers' Guild. Each month they host a program featuring guest speakers talking about materials and techniques. These programs are open to the public and free of charge.
"Another thing we do is multi-day workshops," says Jen Garrison Stuber, president of the guild's board of directors. "In April we have Linda Davis, a tartan specialist, coming in for a tartan weaving workshop. Next we're looking at starting some mini-workshops where you come in for a couple hours and learn one small embellishment technique or a dyeing technique."
Stuber says the guild often lures experienced weavers — plus knitters and crocheters — looking for tips and socialization, but newcomers are becoming more regular. "We call them 'weaving-curious.' A lot of the new folks we're seeing coming in are younger, although younger in the weaving world is sort of 40." However, they're still making inroads with their most unexpected demographic. "The people who are most absolutely, positively excited about weaving are 4-to-11-year-old boys," she says. "They're wild about it. I think it's the machinery."
Next door is the newest addition to this small-business strip: Artworks Spokane. Their signature product is Annie Sloan Chalk Paint, a durable and versatile coating that can be applied to anything from furniture in the trendy "distressed" look to old linoleum floors.
To promote the product and spark customers' imaginations, Artworks offers free hands-on demos with the chalk paint as well as paid workshops "where you can take it to the next level," says Joelle Chester, their director of marketing. That includes "combining colors, creating colors, doing layering" and the more ambitious "faux finishes and Italian plasters."
"Some people think, 'Oh, I can't paint a piece of furniture. I can't even paint a wall.' But then you go through this class and you feel like you can do anything."
At the other end of the street is Top Stitch, owned by Carrie Jarvis, who recently received her Master Sewing Educator certification. She estimates that she's taught more than 900 people to sew over the past eight years through her weekly workshops in machine embroidery, custom-fit patterns and specialist techniques.
"What I teach is based on the fundamentals of sewing," she says. "It has to do with finishing work, and understanding how to lay out the fabric and read the patterns." With an emphasis on fashion, she teaches absolute beginners through seasoned experts.
The consensus among the business owners is that this creative cluster — which also includes the Spokane Art School, Sew E-Z Too and Mark's Guitar Shop — stems from the tight-knit community feel of the Garland area along with the independent nature of the businesses. That in turn attracts a different kind of patron. "What you're looking at is the difference between a consumer and a maker or doer," says Stuber.
Back at the Blue Door, "Zany" Zack Kendall, 19, is gathering his things as the Intro to Improv workshop lets out. Up to now, he's been a writer enamored of the stage, an introvert with a private desire to be a showman.
"I've always loved comedy, and I want to pursue it," he says. After finishing his degree in English at SFCC, he hopes to move to L.A. and audition for the UCB Theatre, a bicoastal improv powerhouse. "This is to see if I enjoy it, to see how improv really works, so I can actually go in there" — he flashes a warm, self-deprecating grin — "and not look like a complete idiot." ♦
---
Artworks Spokane: Free chalk paint demo on Saturday mornings. Workshops include Bring Your Own Piece (BYOP), Washes/Glazes/Stains and Swedish Style. 443-3906 • artworksgarland.com
Blue Door Theatre: 6- and 8-week adult workshops throughout the year ($125 to $150). Youth and teen (ages 9-18) improv workshops on Saturdays ($25 per visit), plus 10-week summer classes for teens ($150). 747-7045 • bluedoortheatre.com
Mark's Guitar Shop: Private one-on-one lessons for guitar and bass ($25 per half-hour). 325-8353 • marksguitarshop.com
Sew E-Z Too: Ongoing weekly quilting and sewing classes ($8 per session) plus embroidery workshops ($30). 325-6644 • ezknit.com
Spokane Art School: Numerous classes for children and adults covering printmaking, photography, oil/acrylic painting and more. New season starts in April. 325-3001 • spokaneartschool.net
Spokane Handweavers' Guild: Monthly guild meetings (second Tuesday) are free. Upcoming workshops include Tartan Weaving and Weaving a Business: Selling Your Handmade Textiles. 590-4155 • spokaneweavers.org
The Top Stitch: One-day classes and workshops ($70 to $95); topics include Fit for Real People, Learning to Sew (Levels 1-3) and Machine Embroidery. 328-7397 • thetopstitch.com ♦