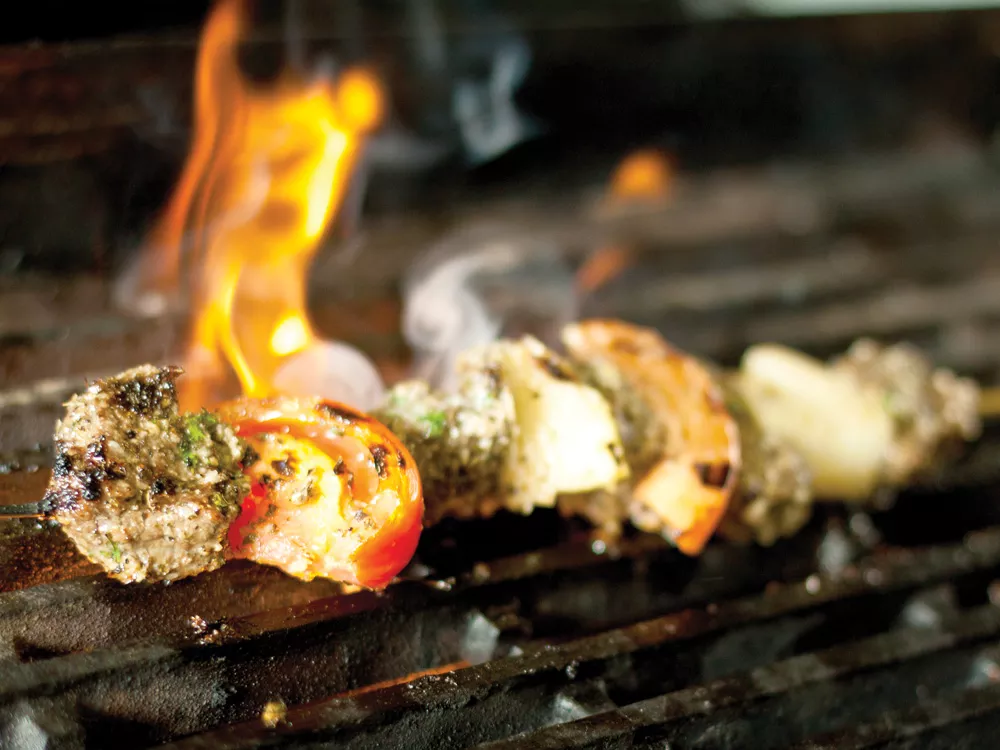 Northside garlic lovers have a new reason to rejoice this holiday season: They, too, now have their own garlic paradise.
Last week, Raci Erdem, owner of Post Falls' White House Grill and the Oval Office, and south Spokane's West Wing, opened a stationary food truck — The Garlic Mobile — on a busy stretch of North Division. In case you're not familiar with Erdem, he specializes in Mediterranean cuisine with a heavy dose of garlic.
It's hard to miss the Garlic Mobile. For one thing, the banner is visible from blocks away. And then there's the smell. Step out of your car, and one whiff will tell you that you're in the right place.
"We get bored. Once a venue starts working, we need a new challenge," Erdem says. "We used [the trailer] for Hoopfest and Pig out in the Park," he explains. "It was incredibly successful, so we came up with this idea [of a fixed location.]"
Erdem motions to the truck, parked in a deserted Pizza Hut parking lot, and says, "This is like Portland."
In the spring, Erdem plans to add a deck to the outside of the trailer. They've got some heaters on the way, but for now, you can stay warm in your car and they'll bring your order to you.
The menu is short, with a few favorite entrees and appetizers. Erdem hopes that if people don't feel like cooking, they will stop by to pick up dinner for the family. "That's the purpose. Rather than a pizza, take home some beef kebabs," he says.
You'll find beef kebabs with rice and garlic green beans for $10, along with the popular chicken fettucine ($10). If you like a little heat with your garlic, go for the Spring Bowl ($9) — spicy grilled chicken tossed with garbanzos, feta and enough red chili flakes to clear your sinuses.
Lighter fare includes a curry chicken sandwich topped with tzatziki ($7) and a traditional gyro ($6). Hummus, garlic bread and garlic-sautéed green beans are available as sides. (Kirsten Harrington)
The Garlic Mobile • 6020 N. Division St. • Open 11:30am-7pm, Mon-Fri • 368-4221
Sweet Cheese
They looked so little and cute and harmless in the pastry case — but don't be fooled. Spokane Cheesecakes' miniature creations are highly addictive, and I don't really even like cheesecake. Or at least I didn't think I did until I tried the ginger cheesecake, spiked with spicy chunks of candied ginger on a chewy gingersnap crust. It's incredibly light and airy, devoid of the usual cheesecake heftiness.
"We've had a wonderful response to the cheesecakes," says owner Thomas Speight, who opened his shop in the Spokane Public Market at the end of September. Speight and his wife, Gillian, have been making cheesecakes for years and hope to fill a niche with their individual serving cheesecakes. "When we wanted cheesecakes, we couldn't find what we wanted, or you have to buy a whole one."
Each cheesecake is designed to give the customer a great experience, Speight says, starting with the crust. "All of our crusts are made – no graham crackers," he says. The crusts – like chocolate peppermint – have been so popular that Speight is considering making them into cookies.
Fillings vary in style from traditional New York to light and fluffy Santa Barbara-style. The toppings are the finishing touch. The apple caramel cheesecake is topped with apples and a caramel coating. Raspberry sauce swirled on top of the white-chocolate cheesecake gives it an elegant finish.
By introducing new flavors every week, Speight hopes to keep customers coming back to try the latest creation. "We're going to try to hit a home run out of Spokane with as many different flavors as possible," he says. Currently, they have 21 flavors, ranging from $2.75-$3.00.
Watch for the Mayan Spicy Chocolate cheesecake — it starts with a chocolate orange cookie crust, the cheesecake has a hint of spice, and the whole thing is topped with cinnamon chocolate ganache. Speight also promises Kahlua-flavored and eggnog cheesecakes in time for the holidays. And they'll make full-sized cheesecakes for special orders. (Kirsten Harrington)

Spokane Cheesecakes • Inside Spokane Public Market • 24 W. Second Ave. • Open 10 am-6 pm, Thurs-Sat • 279-1612