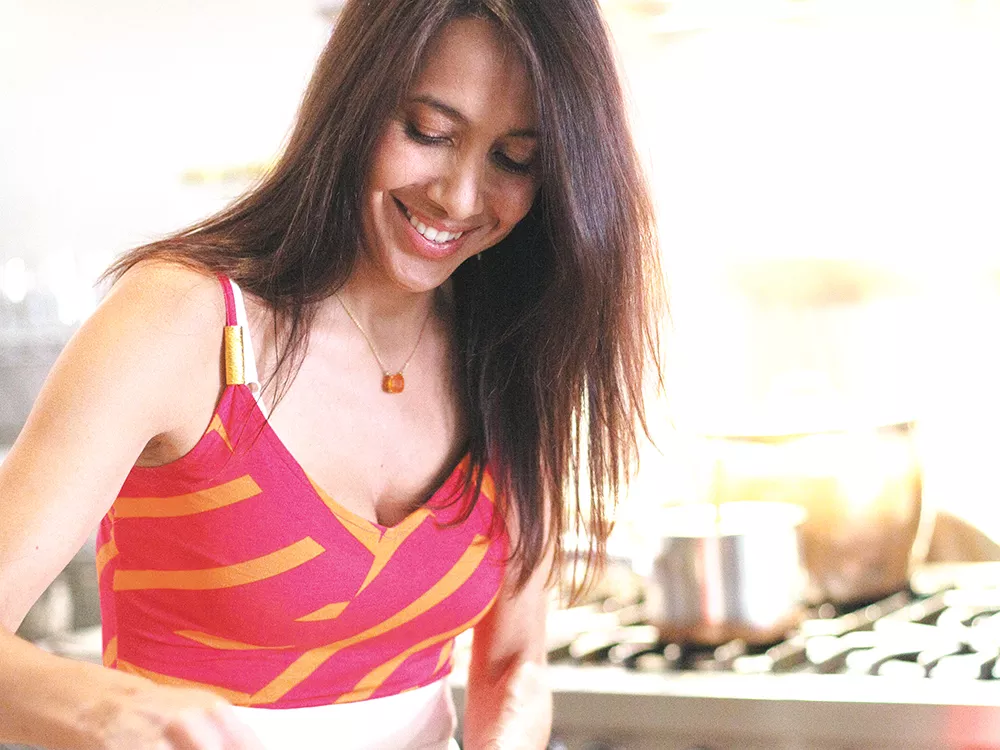 Sara Balcazar-Greene jerks the wok's long handle toward her sternum, allowing cubes of steak, red pepper strips, tomatoes and spices to spin through the air before they land back in the wok with a sizzle. She says this is stir-fry, but there doesn't seem to be much stirring involved. Instead, there's chopping and flipping. When plated, inch-thick rectangles of seared beef, surrounded by generous slices of sweet red pepper and tomatoes, sit in a deeply flavorful brown sauce imbued with the mellow heat of a Peruvian pepper. This traditional Peruvian dish, loma saltado, isn't complete without rice and a side of French fries. The ingredients are familiar, as are the cooking techniques, but the outcome is a different, and delicious, interpretation of our hemisphere's meat and potatoes.
Balcazar-Greene, born and raised in Peru, and her husband Brad, born and raised in Spokane, opened their marketing and consulting firm, The Purple Turtle, in 2005. Since that time Sarah has been perfecting her cooking skills. Though not a professional chef, she finds cooking to be a relaxing and entertaining way of sharing her Peruvian heritage with others. The couple frequently holds Peruvian-inspired culinary events at their downtown professional space — a large white room complete with a stainless steel kitchen area on one end and a baby grand piano on the other.
While many Americans are now familiar with Peruvian quinoa and know the health benefits of the ancient grain, we may not fully appreciate the celebratory, sensory nature of other Peruvian dishes. Balcazar-Greene wants to change that. Last year she started a blog (peruvianchick.com) that features Peruvian and Peruvian-influenced dishes.
"We have influences from so many different cultures … we have the coast and we have the Andes and we have the jungle. There are so many different flavor profiles because there are so many different regions," she says. "On the coast there is fresh seafood and ceviche. In the Andes we have a lot of grains like quinoa and many species of potato, then in the jungle we have a lot of fruits and vegetables and cacao."
Peruvian cuisine's fusion of different cultures and environments is perhaps best exemplified in loma saltado, the culture's signature dish. The potatoes, indigenous to the region, are deep-fried in the European style, while the rice is steamed in the traditional manner and accompanies an Asian-influenced stir-fry.
If loma saltado exemplifies Peruvian cuisine's ability to fuse different flavors, then ceviche, a chilled seafood dish, shows us the country's culinary sensuality. Balcazar explains that Peruvian cuisine appeals to as many senses as possible — not just taste alone.
Visually, the ceviche is stunning. White fish is cooked in a barely green citrus sauce made of fresh Key lime juice and ginger. Slices of orange sweet potato accompany the pristine fish. Both are topped with kernels of dried yellow corn and fresh parsley. The taste is as refreshing as the color scheme. Citrus adds bite to the mild fish and the potato adds some sweetness. Together they create a light dish that is texturally appealing — firm fish, fine-grained potato and crunchy corn. But ceviche is only an appetizer. More flavors, colors and textures await.
If the sensation you are going for is warm comfort, then Peruvian entrees like aji de gallina will fulfill that need. Tender, shredded chicken is smothered in a rich Parmesan cheese sauce and topped with slices of hard-boiled egg. If such a creamy dish sounds sleep-inducing, be aware of the underlying ingredient — aji, a yellow Peruvian pepper. It starts out mild, with a texture that is almost as heavy and full as a tomato. But then the aji, as Balcazar-Greene says, "kicks you in the back."
You might want to follow that up with chicha, a purple corn drink. Unsweetened, it tastes like a dry wine, but with some cane sugar, cinnamon and cloves, the fragrant drink is unlike any juice you've ever tried. The corn provides a nutty flavor and the finish is smooth. Finely diced apple floats atop the drink's surface. One look at your glass and you will understand when Balcazar-Greene explains that in Peru, every meal is a celebration.
Well, maybe not every meal. As a child, Balcazar-Greene did not like quinoa — she thought it was gummy and tasteless. But as her tastes matured, she began to appreciate, even enjoy, the traditional grains of the Andes. She was not alone. Since the mid-'90s, European-trained Peruvian chefs like Gastón Acurio returned home and reinvented their native cuisine, infusing it with indigenous, local products combined in new, flavorful ways. Now quinoa is found in everything from curries and stews to pancakes.
Balcazar uses some of Acurio's practices in her own kitchen, adding them to tricks she learned from her mother — like pulling the pits out of Key limes to make them less bitter. As for the wok technique? That was self-taught.
"It was trial and error," she explains. "I lost plenty of food to the floor."
Through her blog, Balcazar plays the role of ambassador, introducing Inland Northwesterners to the cuisine of her youth, reinterpreted through adult eyes and experience. In a few weeks she intends to expand her ambassadorial role by offering cooking classes to those interested in creating their own Peruvian dishes.