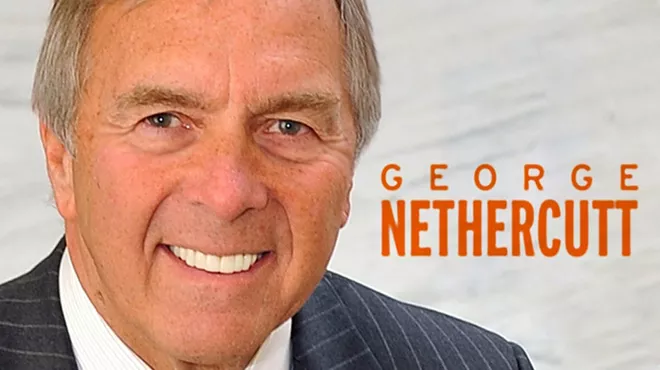 As accolades continue to pour in for President George H.W. Bush, America's 41st president, it's appropriate to add my own thoughts.
It's important to note that America's 41st president was from a different era — a time when cordiality and respect for others prevailed, and when compromise for the good of the American nation was acceptable. He was experienced — perhaps the most publicly experienced president ever. A former county party chairman, congressman, U.N. ambassador, director of the CIA, Republican National Committee chairman, envoy to China, vice president and president, Bush led with courage, grace and conviction. He's been called "the best one-term president" America has ever had.
George H.W. Bush was only the second president whose son followed in his footsteps as president — the other was John Adams, whose son, John Quincy Adams, was elected America's sixth president. The 43rd president, George W. Bush, was elected in 2002. His father never attempted to influence the 43rd president, as far as we know, offering instead abundant moral support. The 43rd president's mother, Barbara, seemed more political than her husband and was frequently outspoken on behalf of her children.
President Bush 41 visited Spokane at least twice, once as he ran for president in 1988, the other time in 2000 when he appeared at Spokane Falls Community College at a political campaign event supporting candidates up for election that year. In fact, Bush's first stop after being nominated for president by his party in 1988 was our own Riverfront Park. In his appearance, he repeated his now infamous remarks, "Read my lips: no new taxes."
Even though there may have been other reasons, Bush's critics latched on to the no-new-taxes pledge after Bush raised taxes to balance the budget. He was crucified politically by both Republicans and Democrats, and he lost the election in 1992. Ross Perot entered that presidential race, and even though he only garnered 19 million votes, and won no states, the majority of those votes likely would have gone to Bush and not Bill Clinton. As a result, Clinton became America's 42nd president by a plurality.
"Bush's first stop after being nominated for president by his party in 1988 was our own Riverfront Park."

tweet this
The 1988 Spokane trip was memorable also because, as Spokane County Republican chairman, I was chosen to greet Mr. and Mrs. Bush. Gracious as always, they rode to the stage with my daughter Meredith, then an 8-year-old, and they had a great conversation during the Riverfront Park train ride. My other experience with President Bush involved a ride to the airport from the community college. The ride was memorable because, though it was small talk, I recall the 41st president's genuineness and outward nature showed through.
Bush's son, President George W. Bush, was courteous like his father, staying until the end of any political rally to shake every hand of those who waited. They both had impressive senses of humor, often laughing at themselves as well as with others. When actor/impersonator Dana Carvey was introduced as President Bush in 1992 in the White House, with Bush's approval, Bush went along graciously with the gag, letting Carvey impersonate him effectively. Bush didn't need to guide all attention to himself by putting Carvey down. It was a sign of his self-confidence as well as his selflessness.
The 41st president also had a reputation for courtesy to the powerless and for taking the time to write handwritten notes to friends as well as to others whose acquaintance he made in his many exploits and whose paths he had crossed. He and Mrs. Bush raised their children well. When my mother passed away in November of 2009, President George W. Bush wrote a condolence letter, even though he had left the White House and the presidency in January 2009.
Vice President Mike Pence gave a beautiful tribute to President George H.W. Bush on Dec. 3 in the Rotunda of the Capitol — perhaps Pence's finest speech. He blended beautifully the poignant with the practical, mentioning a note Mr. Bush had sent him about his fighter-pilot son making arrested landings on the aircraft carrier USS George H.W. Bush, wishing Pence's son ceiling and visibility unlimited (CAVU). They were words any father would be proud to receive.
In our philosophically divided country, all Americans can properly wish for a return to the civility and genuine kindness portrayed by President George H.W. Bush throughout his extensive public life. He can serve as an example for all to emulate — an emulation that could prevent today's political infighting. ♦