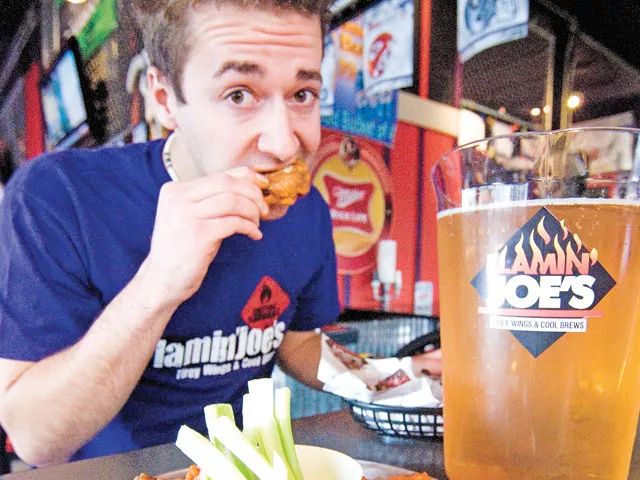 We may have voted down a Spokane County District Four Fire Levy back in August, but with the elections this week, I'm coming out strongly in favor of hot wings and cold beer. The spot to cast your special wings-and-beer ballot (no absentee or mail-in voting allowed) is Flamin' Joe's on Sprague in Spokane Valley or, more recently, on North Division.
I wish my initial waffling on the matter was limited to fries versus onion rings, but the truth is that I was skeptical about the worth of a place devoted to wings and beer.
Now I grew up on large hunks of meat and mounds of mashed potatoes in Montana, but years of sashimi, foie gras, truffle oil and demi-glace have taken their toll. This farm boy is now dangerously close to being a straightup food snob.
But I love Flamin' Joe's.
True, the wine list (chardonnay, merlot, and white zinfandel) doesn't list a single bottle by name, and most of the food on the menu starts in the freezer and ends in the fryer, but there are moments — possibly a good number — when a basket of chicken wings slathered in sauce and a pint of beer in a chilled mug is a just what you need.
Joe's offers nine mild sauces for your wings, and another nine sauces with quite manageable levels of heat. But the firefighting memorabilia — coats, hats and hoses — and playful industrial décor strongly suggest serious heat.
Then there is the Wall of Flame. To get your picture up on the wall — in a fireman's hat, of course — you have to eat 12 wings drenched in the hottest sauce on the premises in four minutes. That sauce is called Code Red (or "the widow maker"), and it serves as the fiery pinnacle of the "Code" sauce series made in-house. Code 1 is the mildest — mostly butter and very little heat. Code 3 is the house standard and shows up not just on wings but on the Flame Thrower Burger ($10.49), the Chief's Smothered Chicken Salad ($10), and the Backdraft Waffle Fries ($5/$8). I've gone so far as Code 4… stopping before the habañero powder and Deep Heat hot sauce replace more and more of the butter in Codes 5, 6, 6-1/2 and Code Red.
Flamin' Joe's was the brainchild of three men: one with kitchen experience, one with design interest and a third with money. Five years ago the Guthrie family bought them out, and Sally Guthrie and two of her sons, Kessler and Ralston, now run both the original Valley restaurant and the North Division location, opened in May.
The north-side restaurant, with Kessler serving as general manager, has already set a local record for on-site beer sales, and both stores serve whole gallons in plastic pitchers called "tankers" with measurements on the side.
This said, Flamin' Joe's is remarkably family-friendly and does brisk business in birthday parties for kids. If you are an Oakland
Raiders fan, the people at Joe's are your people; if not, there are enough big screens for you to cheer for someone else on Sunday. Show up on Friday wearing a purple shirt, and you will save 15 percent — and the Guthries will donate that same amount to pancreatic cancer research in memory of Sally's mom.
So why vote Joe's? Salty waffle fries. The six-pack sauce tote that arrives with bottles of ketchup, mustard, chipotle mayo, fry sauce, ranch and bleu cheese. Ten beers on tap (nine in the Valley) and many more in bottles (the goal is 99 bottles of beer on the wall). Cheerful service. And the wings slathered with one of 26 sauces — nearly anything that strikes your fancy.
Flamin' Joe's 7015 N. Division (465-5052) 11618 E. Sprague (922-5052) Open Sun-Thu 11 am-10 pm, Fri-Sat 11 am-11 pm Visit www.flaminjoeswings.com.