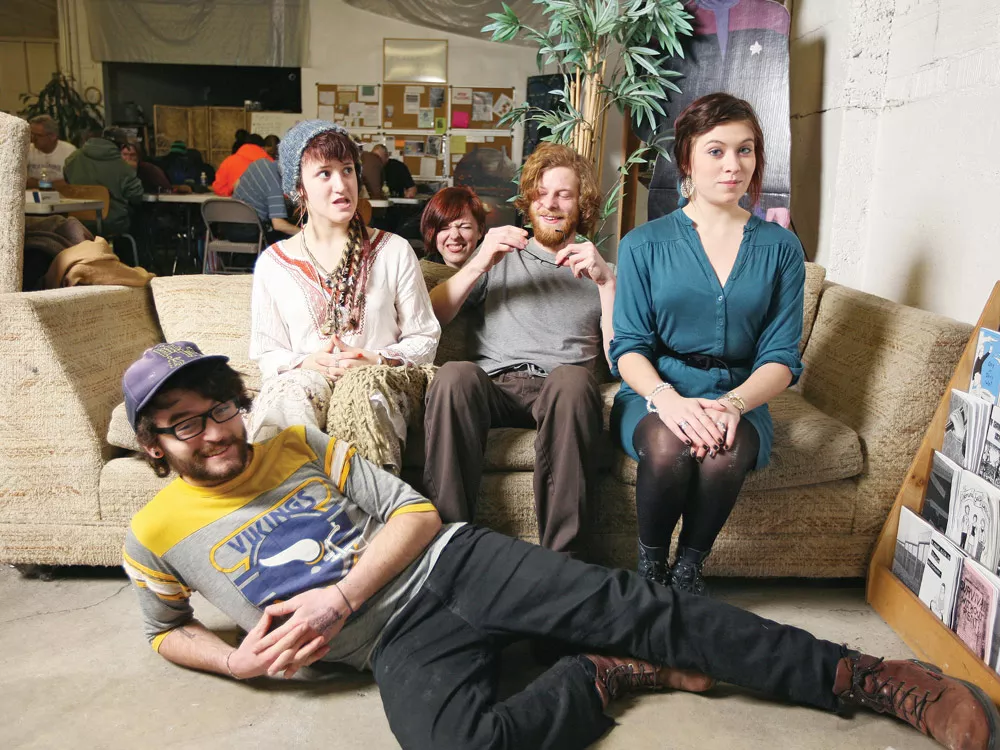 On the door of their de facto headquarters — a high-set Peaceful Valley house with an amberlit chicken coop on its creaky wooden porch — hangs a sign. "F--- HATE," it says, to quiet sidewalks and browning snow banks.
Inside that house, on a cold late January night, a group of 18- and 19- and 20-year-olds assembles the latest edition of their handmade, hand-drawn, self-written zine called Get The F--- Up Off That Couch. The end product, their sixth, will be a small, 32-page collection of drawings, poetry, vegan recipes and collage art. Around a dining room table, folk music trilling from a stereo somewhere, they hunch over laptops, typewriters, pens and paper. Tonight, they're trying to figure out new ways to talk about why they love Spokane.
That's unusual. Many Spokane zines, long-known as a medium for transmissions from the fringes of our community, echo a distaste for Spokane.
Selections from the "local" shelf at the downtown Bird's Nest zine library (located inside Merlyn's comicbook shop) express a longing for acceptance and a like-minded community. In her June 2004 zine, the author of Painting Over a Dead City #1, pined for a way to find "hope in a sleepy city." In another, called Kiss Kiss Squish Squish, its author says that "anyone who grew up here has wanted to get the hell out, at some point. I'm pretty convinced that Spokane has an abnormally high population of assholes."
But the Get the F--- Up kids might not agree with that. Instead, they've created a zine filled with a youthful optimism about their city. They want people to see what they see here: a city full of promise, a culture that, they feel, local youth has a hand in molding.
"We just got more and more and more sick of the typical idea that Spokane has nothing cool going on," co-founder Tony James, 19, says.
And that's why they drop the F-bomb in the zine's title.
"It's not really aggressive," James says. "But we're just passionate about trying to get people to interact and get out of their goddamn houses."
Around the table, without taking their eyes from their work, they all nod.


"Well, folks, I had fun doing this 4 U. Please ... Read it. Cherish it. Show your grandchildren. Remind them of the faint glimmer of hope in Spokane ... with some luck the glimmer will still be there. Someday when we need it more than now. Good luck kill corporate bastards."
That's a line from Shit List: All-American Rag, a longgone Spokane fanzine that was on display in a Spokane punk-art show back in 2009.
The Lilac City, in fact, has a history of zine-making.
Just look at the relics on display at the zine library, like an old, yellowing edition of E.L.F., which discusses America's devolution into "AmeriKKKa" with a local band.
But few locally made zines have straddled the line between fringe and mainstream like Get The F--- Up Off That Couch. Its creators photocopy the zine with their own cash, in the tradition of the craft, but they also put PDFs on their website and have a Facebook page to allow more people to see their work.
They write articles about local bands and artists, but they're also open to political discussion and cultural dissent, like a poetic open letter to a prominent local artist and Whitworth professor that ran in a past GTFUOTC. It speaks to tension in the visual arts scene between emerging and established artists.
"Mr. Scott Kolbo," it reads, "This message comes to you from the oncoming lane, that you forgot to take note of. my peers and I are sat at the 'kid's table' to get a good talking down to. I think you're confused as to who the real teachers are."
It's an issue that James says the group wants to delve further into as they recruit more contributors.
But right now, that stuff isn't what's driving Get The F--- Up.
Instead, it links arms and sings a wholehearted "Kumbaya" for Spokane. Its pages list great places to see booze-free house shows, venues that are friendly to all-ages bands and artists, where to eat vegan food.
"I wouldn't say that our goal is to establish us as a counterculture in Spokane, but more to bring communities together," Alyx Franz, 19, says.
In fact, the word "counterculture" makes the group shift uncomfortably around the table.
"'Counterculture' is such an interesting term," Audrey Connor, 18, says. "Because it implies that we're against something.
"I don't really consider us counterculture," she continues. "It's just kind of like expressions of creativity and personal beliefs, and I don't think there's anything anti-society about it."
But that gets the group thinking. "But in some ways that is countercultural," Taylor Weech, 21, says from the head of the table, "because the dominant youth culture is kind of like 'Buy shit! Get drunk and go dancing!' It's like, 'Don't try to make anything, just go with other people and get a job so you can buy stuff and party more.' So I guess we're counterculture in the sense that that's not what we're saying."
"[But] it's more about trying, in some form, to involve everyone," James says. "And [trying] to inspire people to interact, for Christ's sake."
Find copies of Get the F--- Up Off That Couch at Atticus, Neato Burrito and the Bird's Nest zine library, located inside of Merlyn's at 19 W. Main Ave. Visit getthefeckup.wordpress.com