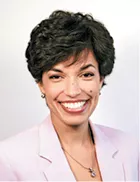 She's a Harvard graduate. She's a mom. She's a celebrated author and speaker. At age 5, Bonnie St. John's leg was amputated, but that didn't stop her from going on to win three medals in ski racing at the 1984 Winter Paralympics in Innsbruck, Austria. In the years that followed, she has faced divorce and disability, times of hardship and times of prosperity.
Through it all, St. John has striven to share the message of falling down… and getting back up again. She's even been named one of the "five most inspiring women in America."
Join her for a special presentation at the Women Helping Women Fund's 21st annual luncheon, a fundraiser that has highlighted some of the most inspiring women in the nation over the years. For the past two decades, this annual gathering has helped raise more than $5 million to fund more than 370 programs that help women and children overcome hardship across the Spokane area.
Women Helping Women Fund Luncheon • Mon, May 20, at 11:30 am • $125 • Spokane Convention Center • whwfspokane.org • 328-8285