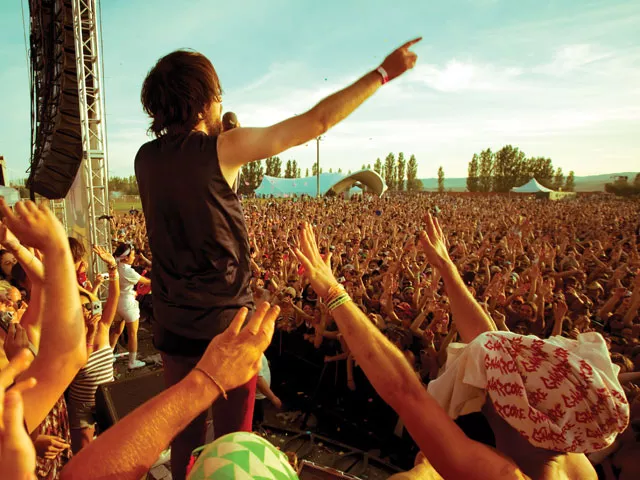 Nine is admittedly not as round and auspicious a number as 10. But it's a milestone in its own right. The long-standing Washington state indie rock mainstay, Sasquatch Festival, celebrates its ninth year this year. Two hours from any kind of real civilization, the Gorge Amphitheater in George, Wash., draws thousands of music fans in from all over the country to experience the eclectic lineup. From its humble jam-band beginnings (featuring Jack Johnson, Galactic and the String Cheese Incident) to the incestuous indie phenomenon it is today (exhibiting Vampire Weekend, MGMT and the reformed Pavement), Sasquatch has never been a slouch in the draw department. And there's a reason for that — and it's not as revolutionary and sudden as one might hope.
"We decided from the beginning that we would take the slow-and-steady-wins-the-race approach and not attempt to force the festival to grow until the audience demand was obvious," Adam Zacks, the festival's founder, says. "Over the years we refined the details of the event that make it a unique communal experience."
Even in the initial stages, Sasquatch was a success. The first year of Sasquatch started as a one-day event with a 20,000 capacity. Now, in year nine, the festival is three days long with a capacity of 25,000 per day. That's 75,000 tickets total — and this year's festival sold out two months in advance.
The campgrounds at the Gorge teem with beer-swilling teenagers and hard-partying festival-goers, although the festival itself pales in comparison to others around the country.
"I am proud that the festival continually gets ranked among the large majors like Bonnaroo and Coachella, yet we are one-third the size," Zacks says. "I'm also proud that we took a risk this year by following our instincts to not book household name headliners of traditional marquee value in favor of a more curatorial approach. It yielded our best results, selling more tickets than ever before at a record pace."
And yet the festival has boasted big-name headliners — R.E.M., Nine Inch Nails, the Beastie Boys — over the years, juxtaposed against smaller indie acts and local favorites. It's a grab bag of local, regional and national talent.
"The logistical challenges of producing the festival now are the same as when we started, we just become better at it each year … The big challenge is to remain relevant and, rather than just reflect culture, actually have an impact on it," Zacks says.
The goal is not so much to throw the biggest names possible down in order to sell the greatest volume of tickets, but to provide a unique experience. An experience show-goers can only get at Sasquatch.
It's been a slow development process, Zacks says, but by taking it slow, the festival has been able to make significant marks.
"Sasquatch gives a voice and increased visibility to a lot of bands that don't get the attention of traditional media. As the way that people discover new music changes and word of mouth spreads faster than ever," he says, "Sasquatch has become a trusted filter for an increasingly wide field of music to discover."
And discover they will.
Slowly but surely.
Sasquatch Festival takes place from Saturday, May 29, to Monday, May 31, at the Gorge Amphitheater. Sold out. Visit www.sasquatchfestival.com.