Because if you don't get your cat(s) anything for Christmas this year, your cat(s) won't let you forget it.
VIRAL INTERNET CAT COASTER SET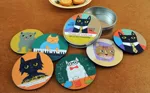 If you can't name all the cats in this coaster set, then it's safe to say you'd probably fail the crazy cat lady/dude test. (Rest assured, there isn't really a test.) These colorful coasters each feature a super cute illustration of some of the best cat memes ever created by the Internet. Keyboard Cat and the gang will be the perfect touch for all the cat people gatherings you'll host.
$20 • GetToKnowYouKnow on Etsy • etsy.com/shop/GetToKnowYouKnow
I COULD PEE ON THIS AND OTHER POEMS BY CATS
If only cats really
could
write poetry. What rhyming masterpieces would their little walnut-sized brains think of? Surely there'd be lots of ditties about birds, napping, tuna, that annoying creature in the house called a dog and who knows what else? But until the day comes when felines achieve literary recognition, this amazing collection of poems, including its title verse, will have to do.
$11 • Auntie's Bookstore • 402 W. Main Ave.
RAY'S CAT CONDOS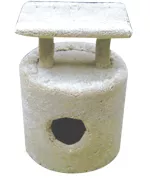 Cats know they're superior creatures. To prove this, they often feel the need to perch atop the highest point possible — even if it means breaking your stuff in the process. Avoid that scenario in the first place by getting him/her a sturdy, hand-built cat tower from Spokane's own cat condo craftsman. A step above the mass-produced models at chain pet stores, these things are built to withstand even the wildest kitty.
$20-$160 • Ray's Cat Condos • 11517 E. Trent Ave.
TUFF CAT TEE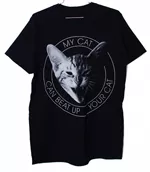 Contrary to popular stereotypes, cat people are actually quite fashionable dressers. And thankfully, cat-themed clothing options only seem to be expanding. The hip cat lovers on your list will adore this top, which comes in a basic tee, a racer back tank, a crewneck sweatshirt and an oversized raglan. With a ferocious, snarling feline and the phrase "My cat can beat up your cat," this T-shirt is cute
and
edgy.
$24-$28 • Burger and Friends • esty.com/shop/BurgerAndFriends
HANDMADE CATNIP TOY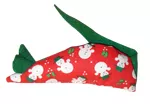 If you asked your cat to tell you its favorite things to play with, we'd be surprised if: 1) It answered you, and 2) Its answer
didn't
include catnip or a faux mouse toy. Hence why catnip-stuffed mouse toys are always guaranteed to bring about hours of writhing around on the floor in a nip-induced bliss state. For the most potent experience, handmade versions seem to include the most generous amount of the green kitty herb.
$2.79 each • Northwest Seed & Pet • 7302 N. Division St. • 2422 E. Sprague Ave.
THREE-WAY TRUNDLE PET BED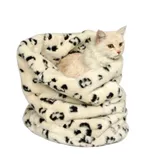 Kitties can spend up to 16 hours a day sleeping. And if you were your cat, you'd want to be comfy and cozy during all those catnaps, wouldn't you? Treat your kitty to the ultimate sleepy time luxury this winter with the ultra-soft Tiger Dreamz pet bed, available in just about every color. With three configurations, even the pickiest cat won't get bored of its snoozing options.
$55 • Prairie Dog Pet Mercantile • 2917 E. Palouse Hwy.