She is endearing and creative. And boy is she crafty — in the DIY sort of way, of course. She's the grandma everyone wants. She makes you knitted mittens, fresh-baked cookies and cozy quilts. Why? Because she loves you. Well, and she loves to craft. So why not return the favor and get her something that will further her crafting ventures.
CRAFTING CLASSES
What could Crafty Grandma want more than to learn how to do more crafts? Maybe if she is Quilting Grandma, she wants to learn how to be Paper Crafting Grandma, too. Or if she is Knitting Grandma maybe she wants to learn to be Jewelry-making Grandma. The Jo-Ann Fabric in Spokane Valley offers classes in these crafts as well as sewing, painting, cake decorating and crocheting. The classes range from beginning to more advanced sessions, so even if she is already a pro-all-around crafter, she can pick up a few new skills. So get her a gift card and she can sign up for the class of her choice.
$35-$120 • Jo-Ann Fabric and Craft • 15110 E. Indiana Ave., Spokane Valley
ANCESTRY.COM SCRAPBOOK KIT
There is one thing that grandmas are unendingly excited about: grandkids. Scrapbooks are perfect for grandmas to express that excitement. She can fill her book with gobs of the kiddos' pictures and cut and paste to her heart's content. This scrapbook kit will let her scrap the whole family and beam with pride while she's doing it. She is the matriarch after all.
$25 • Michaels • 7630 N. Division St.
MAGNIFYING LAMP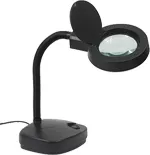 Getting old can't be all that fun. Struggling to see all the intricate details of a project is probably worse. Help Crafty Grandma out and get her a lamp that will both light up what she is working on and magnify it five times. She'll be able to thread her needle and get her stitches just right.
$35 • Rings & Things • 304 E. Second Ave.
CRAFT CRATE ROLLING ORGANIZER
Everyone knows that a good crafter doesn't have just a few craft supplies. A good crafter has a ton of supplies. You may think Crafty Grandma has all her stuff organized, but chances are she doesn't — she's too busy crafting. Duh! Get her this rolling organizer to hold all her knickknacks and doohickeys. It will be easy for her to throw it all in there and cart it off to her beloved crafting circle.
$50 • Sticker Planet Plus • 610 W. Hubbard Ave., Suite 124, Coeur d'Alene