Everyone probably knows someone who is a little hands-on, creative, and somewhat obsessively into doing things themselves or repurposing junk. There's a term for this type of person: DIYer. They can be a little tricky to shop for in that they aren't keen on gifts that don't require some level of personal handiwork and self-expression or won't help them satisfy their DIY impulses on future projects. So, generally, aim for tools, craft kits, or seemingly mundane supplies that could be turned into something useful or visually pleasing.
---
HOUSEHOLD TOOLBAG
Every self-described DIYer needs to have a basic toolkit — a hammer, screwdrivers, a wrench, pliers, y'know — stuffed away somewhere for both routine household maintenance and the slew of creative projects they're bound to pursue. It's not only for when they're trying to fix the occasional leaky pipe, but also when they're making Christmas ornaments out of copper wire — pliers would come in handy for that — building a backyard garden bed, or converting that rusty rake head into a wall hanger for kitchen spoons and spatulas. The DIY possibilities are endless with a tool kit (and everyone should have one anyways, for practicality's sake). $18-$50 • The General Store • 2424 N. Division

---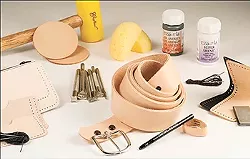 LEATHER STAMPING PACK
DIYers will thrive on diving into the intensive process of turning blank patches of leather into ornately patterned and personalized garments and accessories. While it seems like an intimidating task, with this beginner stamping kit that includes a round-hole punch, mallet, leather finish and a variety of ready-to-go projects (like a belt and a wallet), they'll be able to craft fine leather goods from start to finish — all of which will have their own personal flair. $80 • Tandy Leather • 1702 N. Monroe
---
POTTERY CLASS
The craft of pottery is messy, creative and both practical while simultaneously infused with the maker's aesthetic taste. And it's something that your average DIYer will love. That's why pottery classes at the Spokane Potters' Guild are a perfect gift for that friend or family member who yearns to create. Through eight-week courses, they'll learn everything from wheel throwing to glazing, and students are encouraged to practice at the Guild's facility outside of class. $135 • Spokane Potter's Guild • 1404 N. Fiske St.

---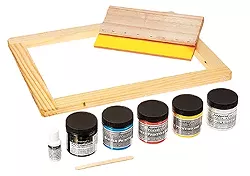 SCREEN-PRINTING KIT
Screen-printing was made for DIYers. Through the compact and simple system included in this starter pack — which basically consists of mesh stretched taut over a frame, ink, acetate sheets, a squeegee and, of course, an instruction manual — your friend or family member will be able to print custom designs on paper, shirts and other fabrics. Hell, they could even make a decent business out of it if they get good enough at making prints. $79 • Spokane Art Supply • 1303 N. Monroe ♦