If one of your friends just became a new parent, be warned: This could be a defining time for your relationship. New parents don't have time for your crap. If you become a burden to new parents, then there's a good chance they'll cut you out of their life entirely. It makes it that much more important to find a good gift for them. If not, well, you might not ever see them again.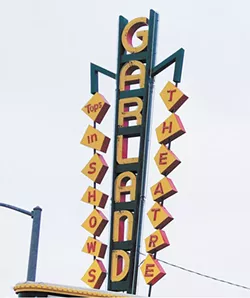 GARLAND THEATER GIFT CARDS
New parents have plenty of gifts for their baby. So if you want to stand out, then do something different. Buy them gift cards to the Garland Theater.
New parents want to get out of the house. They want to go on dates and recapture that romance that maybe has eluded them since their baby was born. It's likely they've been so busy that they missed the new movie that they wanted to see, and it's only showing at the Garland. That's why the Garland is perfect for a night out. You could even volunteer to babysit for them. If they're really movie buffs, you could get them each a yearlong pass for $70 each. Garland Theater 924 W. Garland
---
OCTOPUS RATTLE
New parents might think their baby has all the toys they need. But do they have an octopus rattle? Probably not! It's part stuffed animal, part rattle. And it's super cute. Who knows, maybe it will become the baby's favorite toy? $16 • Kizuri • 35 W. Main



---
CHEWBEADS
An unfortunate reality about children is that at some point they need to teethe. With Chewbeads, they can do so in the comfort of their mother's arms. These are necklaces that you wear around your neck and let your baby chew on. They're totally safe for the baby to chew and they're soft on their teeth. $30 • Mix It Up • 513 Sherman Ave., Coeur d'Alene



---
MUSTACHE COMB
Your new dad friend will feel more like a dad if he can grow a mustache. Help him! Buy him a horn mustache comb. This one is enriched with keratin to enhance the mustache. Mustaches are coming back anyway, so even if he doesn't have one, this might encourage him in the right direction. $12 • Auntie's • 402 W. Main ♦