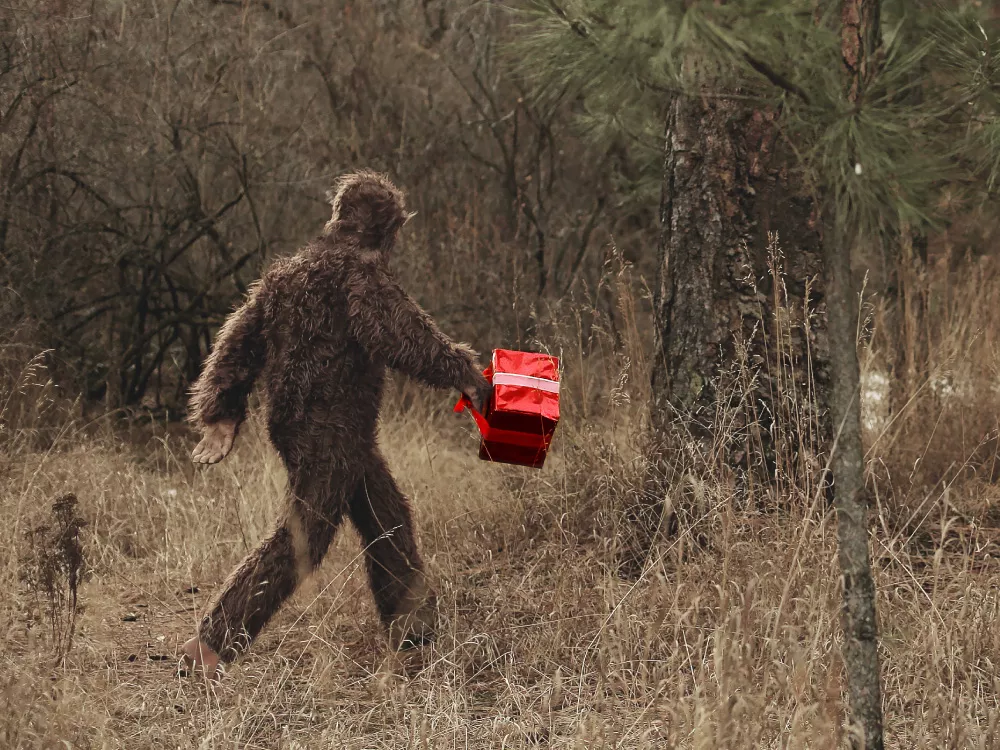 Gifts for Sasquatches
So you're friends with a large forest ape secretly living in the wilds of North America. He's as hard to shop for as his existence is to prove, so what to get him? Nothing loud or flashy, obviously, because he doesn't want to draw attention to himself. Here are a few suggestions. (Write-ups by Nicholas Deshais)
EUREKA! TETRAGON 5
During World War II, Eureka! built tents for soldiers. The first all-American team to hike up Everest used these tents. The first President Bush owns one. So, yeah, they're probably good enough for that special, hard-to-pin-down monkey in your life. But in this day and age of super-materials that weigh less than air, and rods that collapse to the size of a matchstick, it's hard to define what exactly makes Eureka! tents so special. Is it the cartoon-y exclamation point that decorate their shelters? Is it because their tents are still used in warfare? Could it be because they make a point of selling through small businesses, not big-box stores? Or is it the simple design and set-up, easy enough for even an ape to use? $70 • Sportsman's Warehouse • 14014 E. Indiana Ave., Spokane Valley
CABELA'S FLEECE BLAZE THREE-QUARTER VEST
He's big, hairy and loping. A ripe target for hunters. Throw off the potential Bigfoot killers (and the fame that would follow) with this stylish, super-quiet vest, which allows for easy access to the pockets (or fur crevasses) beneath. It's half camo, half blaze orange, which says, "Is that Bigfoot?! Nah, it couldn't be, he's wearing blaze orange." And it comes in 3XL. For the big guys. $10 • Cabela's • 101 North Cabela Way, Post Falls
MSR DENALI SNOWSHOES
The laws of evolution were imperfect when they made this hominoid, otherwise he'd be more successful and we'd see more of him, wouldn't we? Set him up with some 21st-century technology. Seriously, these simple-looking plastic shoes will allow him to climb up steep walls of snow, run through fields of powder, and scurry to his secret den in the woods. $100 • Mountain Goat Outfitters • 12 W. Sprague Ave.
CONTOURROAM 1080P CAMERA
Poor Sasquatch. Every time he's out on a walk, gathering berries or hunting small game, some stupid hipster with an iPhone films him from afar, puts it on the Web and gains instant, fleeting fame. And Bigfoot gets nothing. With this camera, he can film them back, put them on the web and show the world what they were really doing in the woods (which is unmentionable in these family-friendly pages). Buy the headmount so it's hands-free. $200 • Mountain Gear • 2002 N. Division St.
REI FLASH 18 PACK
There are no pockets in ape fur. There's just no place to store anything. And what if this cryptid did want to draw attention to himself? He'd need a loud whistle! This daypack provides for all this. Simply designed, this bag works for day hikes, plane trips, bike rides, commutes and just about anything a bipedal humanoid could think of. And there's a whistle on the strap. Holler! $30 • REI • 1125 N. Monroe St.
MAP MY TRACKS OUTFRONT APP
After thousands of years living in the forests of the Pacific Northwest, Bigfoot has learned one thing: It's easy to get lost. Gift him this app, the best out there when it comes to GPS technology. Other pocket machines dedicated to GPS can cost a lot of money. This is a dollar (pay no attention to how much an iPhone costs …). $1 • App Store • Internet
Gifts for Team Bella
Team Bella is not technically a thing in the Twilight universe. There's Team Jacob and Team Edward stuff everywhere, but poor little Bella is once again left by the wayside. Well, duh. You see, the fans (and when we say "fans" we, of course, refer to teen girls and their mothers) are all Team Bella. They have taken on her persona in all of its lusty glory — whether that's healthy or not is debatable. In any case, here are some things they might enjoy having purchased for them. (Write-ups by Tiffany Harms)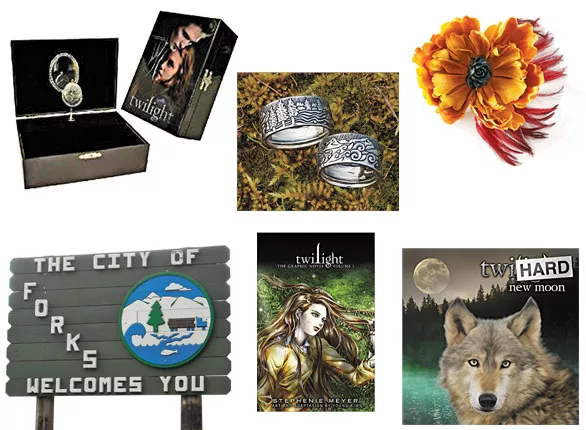 THE OFFICIAL TWILIGHT TOUR
The place that all this teen heat went down, Forks, Wash., totally exists in real life, as you may know, and the townspeople have made it look like a replica of places in the movie. Treat your Twilight fan to a berth aboard the Twilight Tour Shuttle. The two- to three-hour tour takes visitors to some of the saga's key points of interest, like the main character's houses, the high school and those romantic beaches. It also stops for food. This is as close to true fandom as it gets without us getting into the life-size Edward body pillows. $10-$39 • twilighttoursinforks.com • 360-374-TOUR
PROMISE RINGS
So you have this undying love for your first sweetheart and, um, it's really important that you display that somehow, because what if they get seduced by a werewolf or something? Thankfully, there's a ring for that: the Promise Ring. Since this is essentially pre-engagement engagement, it's really more about the gesture, but the handmade beauties at Argentum Aurum won't hurt. $140-$275 • Argentum Aurum • 524 W. Main Ave.
TWILIGHT GRAPHIC NOVELS
Stephenie Meyer also wrote some graphic novels and had someone illustrate them. There are currently two available on the market, covering the beginning of the saga. We know — all you really want is the one that will have that one scene from the new movie out. You know the one. It made you squeal. Well, no Twi-porn for you yet, but these novels are still pretty sweet. $20 • Hastings • 1704 W. Wellesley Ave.
PRETTY THINGS
While Bella may be kind of plain, you're going to need to learn to stand out if you want to get noticed among the sea of other fans. Summer Hightower of Veda Lux has just the line for you. Her custom jewelry (which you can find in-store, or have her design specially for you) features everything from dark feathers to dainty embellishments — some eerie, like skulls, and some upbeat, like bows. How better to get Edward's/Jacob's attention? $10-$30 • Veda Lux • 1106 S. Perry St.
TWILIGHT JEWELRY BOX
This Twilight fetish is causing you to compile a lot of jewelry, isn't it? Such are the hardships of being the love interest of one or more supernatural beings, lady. Hot Topic, otherwise known as Twilight Ground Zero, sells a jewelry box that plays Bella's song and features a spinning emblem — one side is the Cullen crest and the other side is the werewolf's tribal design. Because you gotta play the field. $30 • Hot Topic, NorthTown Mall • 750 N. Division St.
TWILIGHT TRACKER APP
Thanks to technology, your iPhone can link you to oodles of other Twihards at the touch of a, um, touch screen. The official app for the series is called Twilight Tracker and allows you to network with other Twilight fans, receive up-to-date Twilight news and delve further into the Twilight universe with trivia. It's everything you need to maintain the obsession. 99 cents • iTunes Store
Gifts for Secret Lovers
It can be difficult enough to keep your loved one's gift a secret until Christmas, but to keep your other lover's gift a secret while keeping the tryst itself a secret? Not easy. Let us help. (Write-ups by Mike Corrigan)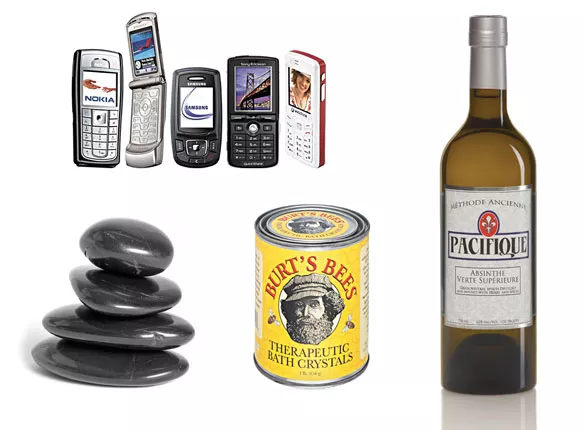 T-MOBILE LG GS170 PREPAID MOBILE PHONE
Nothing is better for setting up clandestine trysts with your partner in shame than a pair of mobile phones dedicated to that purpose. So, this year, let her know you care with the gift of connectivity. The LG GS170 flip phone isn't fancy-looking, but it has all the features you need to successfully arrange those 3 am booty calls without anyone else being the wiser, including text messaging, Internet connectivity, customizable ring tones, caller ID, speed dial and vibrate mode. All this with no commitment. Also of note, T-Mobile's daily plan includes free night calling from 7 pm to 7 am. $25 • Best Buy • 9970 N. Newport Hwy.
BURT'S BEES THERAPEUTIC BATH CRYSTALS
After an evening of the old rough-and-tumble, nothing is quite as soothing as a nice hot bath. A gift of Burt's Bees Therapeutic Bath Crystals — a simple, all-natural combination of herbs, aromatic lemon oil and sea salt — will not only help soak away the sweat and grime from your recent workout, it'll also help to relieve and prevent muscle aches. All without making her smell like a freaking rose garden. $10 • Fred Meyer • 400 S. Thor St.
MASSAGE
While your lovely port in the storm no doubt enjoys sharing most everything with you, holiday gift-giving is about serving your other's needs, not your own. A soothing, hour-long massage from Main Touch Massage & Wellness will take your secret fling to levels of relaxation previously only dreamt about. Not that you couldn't accomplish the same sweet rush of endorphins with your own capable hands. But really, when it comes to kneading tightly coiled neck muscles into warm syrup, it's often best to leave it to the professionals. $60 • Main Touch Massage & Wellness • 20 W. Main Ave. # 200
PACIFIQUE ABSINTHE
Candy is dandy but liquor is quicker. And few alcoholic libations can suppress those nasty inhibitions faster than a properly prepared absinthe cocktail. Pacifique is one of the highest-rated absinthes available in the U.S. and is crafted at a small, family-owned distillery in Woodinville, Wash. It will not only impress the object of your desire with your worldliness and daring but, at 62 percent alcohol by volume, it will also light the fuse on an exciting evening for two faster than you can say "Edgar Degas." $63 • Washington State Liquor Store #40 • 1022 W. Garland Ave.
Gifts for Spoiled Brats
Dressed in designer duds since he or she has been saying da-da. Never owned a toy that doesn't require batteries ... and this kid has owned more toys in a year than a family of quintuplets sees in a lifetime. Spoiled. Brat. Gifts for the kid who has everything and appreciates nothing.

TOO-CUTE COUTURE
While shoes are a must-have for most of us, for little kids they're a) something to be hurled out car windows or forgotten when you visit grandma and b) costly, since they get outgrown every three months. Spoil 'em early with hand-painted shoes, like Lil Tootsies black-and-white "Hipster" for him, $25, or "Pretty in Pink" for her. Zany Zebra • 317 N. First Ave., Sandpoint (Carrie Scozzaro)
WEARABLE BILLBOARD
Kids express themselves through their clothes, and parents, theoretically, want children to dress "appropriately" (doesn't stop some parents from inappropriately dressing like teenagers, but that's a different rant). Chalkboard shirts appease the age-spectrum and we don't have to be tongue-in-cheek about this clever gift. Kid's sizes (XS, S, M, L): $20; Adult (S, M, L): $22, Figpickel's Toy Emporium, 312 Sherman Ave., CdA (CS)
ANGRY BIRDS: KNOCK ON WOOD
At least when your little brat is on your iPad playing Angry Birds you can turn the volume down or put headphones on. Angry Birds: Knock on Wood will take away even that small solace, sending real (plastic) birds flying against real (plastic) wood, destroying real (plastic) pigs. On the plus side, junior will gain an intuitive grasp of gravity-based physics and how to build structures that can withstand avian warfare. And you'll get your iPad back. For 2-4 players. $23 • Uncle's Games • 404 W. Main Ave. (Luke Baumgarten)
MILLENIUM FALCON
There was always that kid growing up — the kid who had every toy aircraft carrier or Death Star known to man but who never let you play with them. Now your kid can be that kid, with the new Millennium Falcon Lego kit, a 15-inch-wide model of Han Solo's ship that also comes with Lego Luke, Leia, Han, Chewie, Obi Wan and Darth Vader. $140 • Hobbytown USA • 9324 N. Division St. (Joel Smith)
NABI TABLET
You bring your iPad to the grocery store. Your spouse busts out a Kindle Fire on the bus. Now make your kid the envy of her kindergarten with the Nabi, an Android tablet built for kids. The rubber-edged touchscreen device has a camera, a browser, an audio input, and speakers and it comes pre-loaded with Angry Birds, Cut the Rope, Fruit Ninja and more. If you're worried it'll turn her into a monster, there's a "Mommy Mode," as well as other settings that cater to the age group of the user. $200 • toysrus.com (JS)
GIANT TOY BOX (f)
The problem with your kid having a lot of crap is that you gotta put it someplace. Bicycles, playhouses, their own personal watercraft. Cut down on the urge to splurge? Heavens, no! Call Ziggy's (yeah, Ziggy's) and order a shed, painted to match your home, from 8-foot-by-8-foot to 10-foot-by-20-foot. They'll even add windows, should the spoiled brat need a timeout space. $750-1899 • Ziggy's • North Idaho and Spokane (CS)
Gifts for Geeks
They had Wi-Fi before the abbreviation had even been coined. If they could, they'd have a smartphone surgically implanted. Every aspect of their lives is automated and connected. Yes, they're the technophiles, the gadget geeks. And, boy, have we got some high-tech gift ideas for them. (Write-ups by Scott A. Leadingham)

IPAD 2
The iPad 2 is a surefire winner among geeks of all kinds. Incredibly easy to use, blazing-fast, perfectly sized, and priced better than any similarly equipped rival, it's the sort of device that goes from luxury item to utterly indispensable as soon as it's in your hands. Grandparents will intuitively understand it. Kids will entertain themselves with videos and educational games. Socialites will revel in its Facetime videoconferencing and Twitter integration. Gamers will dig the processing power and touchscreen interactivity. Readers will enjoy the infinite selection of books and newspapers. Cooks will delight in the recipe apps, artists the drawing apps. And on and on. Hint: The 3G option is worth the bump in price over the Wi-Fi-only models. $499 and up • Strong Solutions • 1718 E. Sprague Ave.
LOGITECH HARMONY REMOTE
The Logitech Harmony series has earned an enviable reputation as The One Remote to Rule Them All, with its easy, computer-assisted setup, versatile features, and support for an amazing 225,000 devices. It'll make juggling multiple remotes for the DVR, DVD player, TV, and stereo a thing of the past, though it will certainly add new fervor to the age-old battle for the clicker. $29 and up • Video Only • 7701 N. Division St.
ROKU 2 MEDIA PLAYER
A tiny addition like the Roku 2 can turn a humble family room into a hyper-connected entertainment center. The Roku 2 comes in four flavors, with varying features. All have the ability to connect to your TV and wirelessly stream TV shows and movies from services like Netflix, Hulu Plus, Amazon, and YouTube. Not to mention music (Pandora), photos (Flickr), sports (NHL, UFC), and games (Pac-Man, Angry Birds). $50 and up • Target • 9770 N. Newport Hwy.
KINDLE FIRE
Whereas Apple's iPad is a tablet with e-reader functionality, Amazon's new Kindle Fire is an e-reader with tablet functionality. Its low price point, access to the vast Kindle library, and Internet-enabled features (like video streaming and the Silk web browser) have made the Fire a truly sizzling item this year. If the sub-$200 price tag is still too high, an alternative is the basic Kindle, which has dropped to just $79. $200 • Staples • 206 Ironwood Dr., CdA
NETGEAR READYNAS
Instead of saving photos, music, and movies onto separate computers, a NAS (network-attached storage) unit offers the multimedia buff in your life a centralized storage solution that can make those files accessible to any device — even a TV. Netgear's affordable ReadyNAS line, with two- to six-disk options (for up to 18 terabytes of storage), boasts extras like iTunes integration, elegant photo hosting, and a built-in media server. $229 and up • Office Depot • 1003 E. Third Ave.
ROOMBA
A robotic vacuum might sound frivolous, but Roomba makes wonderfully light work of a drab household chore. iRobot, the company behind intelligent bomb-disposal robots, has been manufacturing these automated domestic helpers for years, and each generation has grown cleverer and easier to maintain. Their low profile skirts under furniture, and newer models can easily clean four rooms on a single charge. $350 and up • Kohl's • 16301 E. Broadway Ave., Spokane Valley
Gifts for Greeks
It's not easy being Greek. The days of Greece's Olympic glory have been turned to nights of Olympic-sized debt, impending austerity plans, riots, and possible economic collapse. Sure, shopping for those experiencing the nasty hangover that comes after years of living beyond their means may be complicated. And, sure, all you're getting from them are IOUs. But a couple gifts are perfect if, say, George Papandreou's on your Secret Santa list. (Write-ups by Daniel Walters)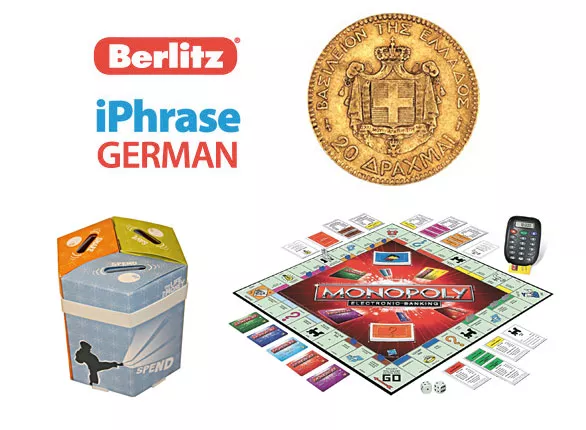 DRACHMA COINS
Get ahead of the chance that Greece will abandon the Euro. Go retro. Grab some drachmas from Coins Plus. You could shell out $800 for a Tetradrachm from 440 B.C., or go more recent with a 10 drachma coin or a 10,000 drachma note. Either way, they may come in handy for the Greek on your list. $0.25 – $5 • COINSPlus • 3201 N. Division St.
ELECTRONIC BANKING MONOPOLY
Greece knows all about going bankrupt, so Monopoly seems like the ideal gift — but the old version of the game, with anachronistic paper currency, can't quite capture how simple modern bankruptcy is. The cumbersome paper currency's been replaced by calculators and fake credit cards, making it even easier to unknowingly slide toward bankruptcy. Just like in real life. $38 • Uncle's Games • 404 W. Main Ave.
STCU "MY LIFE, MY MONEY" MONEY JARS
Sure, this free kit from Spokane Teachers Credit Union is meant for kids under 10. But maybe, if certain European countries were given this kit the Eurozone wouldn't be in this mess. The kit has three boxes — saving, spending, and sharing. The accompanying money-management guide and "passbook" help youngsters keep track of funds spent and gained. Make it more gift-y by preloading it with cash. Free • Spokane Teachers Credit Union • 13501 E. Sprague Ave.
IPHRASE GERMAN
With Greece teetering on the brink, it may be time to learn to speak German — if only to plead with Chancellor Angela Merkel for a bailout in her own language. iPhrase German organizes about 2,400 common German phrases by theme and works with just about any iPod. Plug in your earbuds, scroll to the right situation, and repeat the phrase: "Helfen Sie uns. Sie sind unsere einzige Hoffnung." $13 • Auntie's Bookstore • 402 W. Main Ave.
Gifts for Etsy-ites
Etsy-ites are a strange breed. These people not only want something local, but something handmade, something special that their fellow man — no, fellow neighbor — has poured their soul, blood, sweat, and tears into. Think organic wool scarves, nautical-themed throw pillows, necklaces made from the bones of an indigenous baby animal that died peacefully of natural causes. Now you're on the right track.
Here are a couple of local designers — and their offerings — to check out on the artisan website etsy.com. (Write-ups by Jordy Byrd)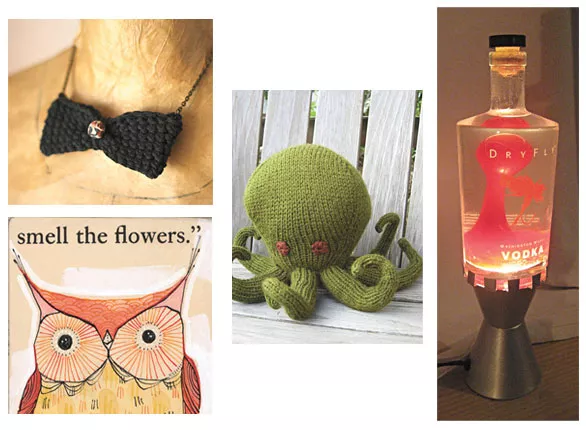 SMELL THE FLOWERS OWL PRINT
While octopi are popular artistic motifs right now, owls still top the list of animals on clothing and coffee mugs, in tattoos and art prints. Chances are, the crafter on your list already has an owl fetish, so pick up Cori Dantini's owl print on luster paper. The full-time illustrator from Pullman creates girlish and whimsical prints of bearded men, cardinals, and women with flowers in their hair. $14 • Cori Dantini • etsy.com/people/corid
OLLIE THE GIANT OCTOPUS
Stuffed animals are ageless, and while the Beanie Babies craze is over (thank gawd), creepy little handmade stuffed animals are all the rage. Ariel Fitzgerald, from Spokane, knits turtles, goldfish, monkeys, elephants, purple pigs and blue dinosaurs. The playful furry critters, with button eyes and long eyelashes, are great for children and adults alike. $45 • Ariel Fitzgerald • etsy.com/people/YarnMenagerie
DRY FLY VODKA LAVA LAMP
It's difficult to express one's love of alcohol without looking like an alcoholic, but craftsman John Sylte, from Rathdrum, has created a gift that says "hip yet classy boozer" — a functional lava lamp made from a Dry Fly Distilling vodka bottle. The fifth contains a brilliant red wax that casts a lovely retro hue across the room. You can also choose from bottles of Pendleton whiskey, Absolut Orient apple vodka or Grand Grey Goose vodka. $65 • John Sylte • etsy.com/people/johnsylte
BOWTIE NECKLACE
Women love strangely masculine fashion. Case in point: moustache necklaces, boyfriend sweaters, and boy-shorts underwear. Nothing is more sweetly feminine (and masculine) than a charcoal-grey crochet bowtie necklace with a vintage button. Spokane Valley crafter Amy S. knits an assortment of purple eyelet beanies, blue ruffled scarves, and floral headbands with unique vintage embellishments. $15 • Amy S • etsy.com/people/AmesHandmade
Gifts for Nesters
Animals would not need a guide to nesting. They mostly pick a material — twigs, wood pulp, dirt, saliva, whatever — and they stick with it. Not so with humans. We like to play around, with textures and patterns, with shape and shimmer. It's one of many ways we make simple things more complex than they probably need to be (see also confit, sexting), but nesting for Homo sapiens is self-expression, and it keeps life interesting, or, in the case of the gifts below, riveting. (Write-ups by Luke Baumgarten)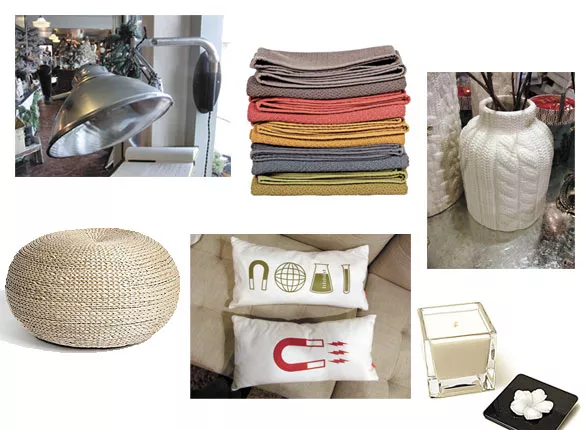 REPURPOSED MEDICAL LAMPS
French provincial corbels, papier mache deer heads — PINK is an impeccably collected curio shop of the beautiful and old and strange. The absolute coolest pieces in the store right now, though, come courtesy of Lana Neuman and Erica Parish, the art-brains and reclamation gurus behind the shop's many incredible reworked pieces of salvage.
To call what Parish and Neuman do "upcycling" would be kind of an insult. Their various medical lamps, which hang as pendants from the ceiling or telescope out of the walls or sit behind the couch — as with an amazing old IV-pole-turned-floor-lamp — aren't cheap, but their statement-to-price ratio is impossible to beat. It doesn't matter what else your giftee has in their house, this is all people will talk about. $295-$1200 • PINK • 134 S. Madison St.
KNIT-LOOKING VASES
This winter, make your chrysanthemums look like they're wearing a cable-knit sweater. If you have ever worried that your flowers (or pens or artfully arranged twigs) just don't look cozy enough, make an appointment with a therapist, then get yourself to Lolo. They have a selection of soft white vases that look like woven fabric. Ah-DOHR-able. $12-31 • Lolo Boutique • 319 W. Second Ave.
BRAIDED ROPE POUF
Poufs are so hot right now, just ask everyone. They come in a variety of textures — leather, hairhide, woven jute, cable-knit — and are the accessory of the moment on all those design shows you'd never admit to watching obsessively. They can be expensive, though, which is why we like this piece from 1900. It gets you into a pouf at bargain-basement prices. The twisted rope has a repurposed vibe that's more loft than suburb. $100 • 1900 • 114 W. Pacific Ave.
SCIENCE PILLOWS
Concept::Home is reimagining itself right now. Taking the modern lines and mindset that define the place and giving it overlays that are by turns more textural, graphic and playful. These science-y pillows are a perfect example. They have Venn diagrams on them, for God's sake. $99 • Concept::Home • 401 W. First Ave.
SOY CANDLES
My girlfriend tells me nesting is about more than the look of your home and its feel. It is also about the scent. Candles rock, but paraffin isn't great for the nose holes. Soy is better, but it's expensive. Pack River potions walk a middle ground. If you're the kind of person that gives Christmas-y gifts on Christmas — or you just want your special someone to smell like a wise man — hit up the Frankincense and Myrrh scent. $10 • Pack River Potions • 300 N. First St., Sandpoint • packriverpotions.com
COYUCHI BEDDING
You buy organic bok choy, but you get your bedding at Walmart. Do you not see the folly of this behavior? Where and how we sleep is as important as what we eat. Sun People has a gorgeous, supple and — most importantly — organic line of blankets and duvets to rectify this. Jacquard, sateen, linen — everything is natural, which means nothing is cheap. $144-$355 • Sun People Dry Goods • 32 W. Second Ave.