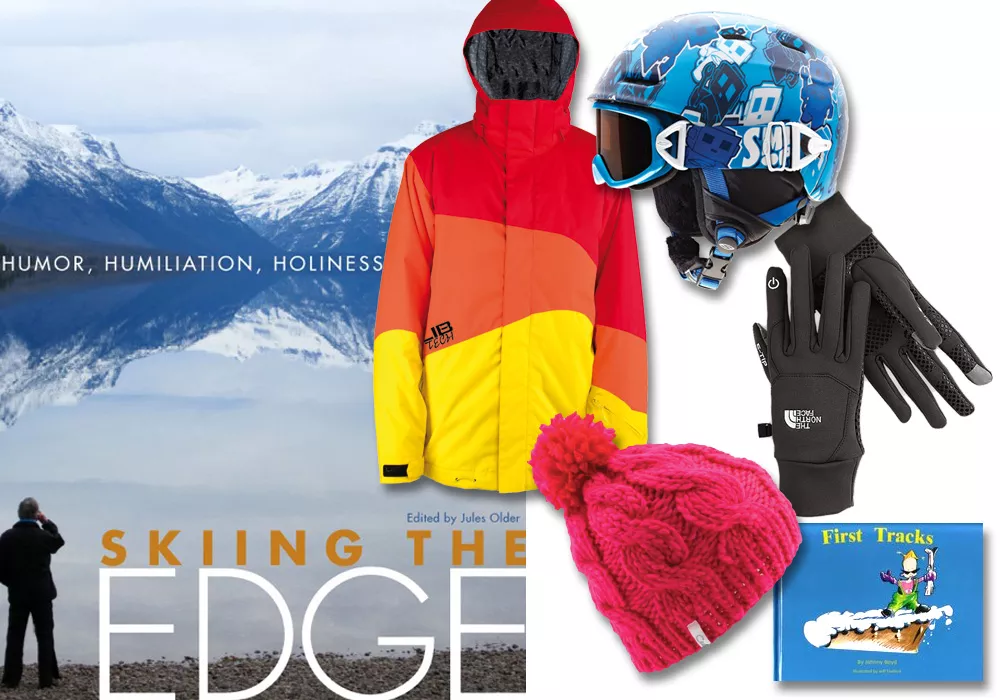 Skiing the Edge: Humor, Humiliation, Holiness and Heart
E-book edited by Jules Older; $4 download on Amazon or iTunes
Writers are taking advantage of the emerging e-book universe to break new ground. Jules Older, a man of many accomplishments (including serving as editor of Ski Press USA for 12 years), was prompted to compile an e-book collection of the best ski and snowboard writing of the past year.
"Prompted…" you ask? Well, he got an email from well-known ski writer Gerry Wingebach — he was stuck in Whistler's drunk tank and wrote Older about it. "It was my favorite kind of ski writing — personal, quirky, compelling," Older writes. "I thought, 'I would kill to publish this.'" So he did — and he didn't have to kill any trees to do it. Only available electronically, it's filled with the kind of crazy stuff your ski buddies will love to read on the chairlift via their smartphone. (Ted S. McGregor Jr.)
Touchscreen-Friendly Ski Gloves
Etip by North Face, $40 at the North Face
Freestyle by 180, $55 at Cabela's
Getting frostbite on your fingers while trying to post a jealousy-inducing photo to Facebook from the top of Chair 1: total hassle! Luckily, we have science. And a couple years ago, inventor Jerry Leto figured out how to allow the smartphone-addicted to use their precious little forefingers through their gloves.
Now the technology has spread, and there are new variations on it. All you need to know is it makes a clever gift for that person on your list you've given an iTunes gift card to for five Christmases running.
The North Face has its Etip series, a lighter glove you might need to wear under heftier ones; 180 has its Freestyle model, which gives you more warmth and the use of your finger. There are tons of others, too. (TSM)
Lib Tech Re-Cycler Jacket
$225 at Wintersport
The green revolution has been hitting the ski and snowboard industry hard, as everybody wants to do right by the planet they're recreating upon. And nobody's been bigger on that front than Lib Tech, in Seattle (although they prefer to describe their location as "Near Canada"). Now they've taken their outerwear to the very top — 100 percent recycled, including the zipper.
They use recycled water bottles to get there, as it is more waterproof than hemp and requires fewer chemicals to process than bamboo. It might cost more, but what's the value of a clean conscience? (TSM)
Custom Orthotic Fitting
$165 at Alpine Pro Performance (inside Kootenai Prosthetics)
I have always believed that performance on the ski hill starts with your boot. While most people think that a custom footbed or boot work is strictly for the pros, the truth is every level of skier or snowboarder can benefit from custom footbeds.
The initial fee covers the footbed orthotic and a full foot assessment. It takes 90 minutes to create the mold, and they last up to 400 days on snow (that's 10 years, for most skiers and boarders). Pat Sullivan, Master Ski Boot Fitter, will be your boot guru (he was named as one of America's best bootfitters in 2010). So if there's someone in your life who wants to get to the next level — or just make their day more enjoyable on the hill — this might just be the gift. (Jen Forsyth)
The Rosa Beanie from Coal Headwear
$30 at Escape Outdoors
There is always a quest each year to find the perfect hat that can go from the ski hill to bar without a hitch. The Rosa beanie is an eye-catching, timeless original, with its chunky cable knit and the quintessential pom-pom. This beanie is sure to impress any mountain girl on your list; she will love the softness of the mohair like acrylic yarn and the versatility. Fashion and function meet with this hat. (JF)
Smith Helmet-Goggle Combo
$80 at Tri-State Outfitters
Every parent knows that it's only a matter of time before their child returns from a day on the slopes missing a glove or goggles. Well, Smith Optics has come up with a solution on the goggle issue. The Cosmos Jr./Galaxy helmet and goggle pack is a parent's dream, seamlessly integrating the two and making it almost virtually impossible to lose the goggles, as they are always attached to the helmet. (JF)
First Tracks by Johnny Boyd (author) and Jeff Teaford (Illustrator)
$15 at various local booksellers
I was in the middle of a 5-year-old's birthday party when one of the other party-goers started reading this book. My attention went from the conversation I was having to listening to this enjoyable read. First Tracks has quickly become a classic for little skiers and boarders aged 2-7. Self-published by Johnny Boyd in December 2004, it has since achieved many accolades, been reprinted three times, and sold more than 8,000 copies. It's obvious from the first pages that this book was written by skiers for skiers. There are plenty of ways to introduce this book to the young ones, whether before the first visit to the slopes or afterwards as a memory of a great day on the hill. This book promises to be a great gift for the young skiers and snowboarders in your life. (JF)

Welcome to Snowlander, Vol. III
Wow! What a November and early December this has been. While we're less than a month into the season, many avid riders in the region are boasting double digits for their ski day totals with still many days (and months!) of winter left to go. How many do you have?
If coverage or conditions are your concern for having not clocked your first day, there's no need to have this worry. Conditions and coverage are historically better than many can remember. All ski areas opened within a week of each other, and 100 percent of the terrain in the region is open. Many of the resorts opened earlier than they have in recent history. The rain during the last week of November actually helped the current snowpack, which is why area resorts are still boasting great coverage even without any recent snow. But keep in mind that it is still early season so remember to ski and board with care.
With the shortest day of the year almost upon us and a lingering high-pressure system, valley fog is masking the beautiful sunshiny days up in the mountains. Soon, the days will start to get longer, and we'll be back to enjoying long afternoons full of sun.
The holiday season is in full swing and the Inland Northwest has the most epic start to the best time of the year — ski season. So what are you waiting for? Get up to the mountains and enjoy the snow, sun and laughter with fellow snow-riding enthusiasts.
Happy holidays and see you on the slopes!
Jen Forsyth
Snowlander Editor
jen@snowlander.com