Gil Garburg hopes you understand why Sivan Silver won't be joining him for this interview. The Israeli-born couple are husband and wife, yes, and Silver is actually at home with Garburg in their Berlin apartment as we speak. But it's been a more chaotic day than usual, full of travel and deadlines, and she'd prefer to spend this brief moment of respite with their 8-year-old son.
And besides, as Garburg himself points out only half-jokingly, talking to one of them is almost the same as talking to them both.
"We're pretty synchronized," he says.That might be a contender for understatement of the year. Garburg and Silver are more than professional musicians who happen to be married to one another. They're also an internationally acclaimed duo, performing a challenging repertoire of two-piano and four-handed arrangements of works by Brahms, Mendelssohn, Mozart and Stravinsky. Reviewing the duo's 2015 recording of The Rite of Spring and Petrushka, MusikWoche magazine remarked that their playing was "as a single person; in their expression, they merge together as one." Their ability to meld into a single performative entity is, unsurprisingly, a common critical refrain.There are, says Garbug, "quite a lot of benefits" to their inseparability.
"The biggest benefit for us is that it makes the travel much more interesting, much more beautiful. I have so many friends, other soloists, and I see it when I go alone. They sit in the hotel room, they never really do much. It's a very lonely life. And when you do it together, everything around becomes a much better experience."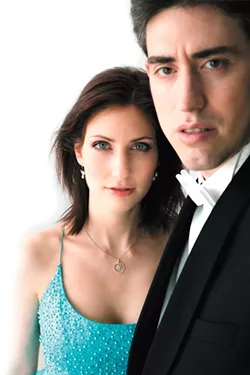 At the same time, their shared professional and domestic lives can exact a price.
"It's a lot of coordination," he says. "I have two tours and I'm trying to consolidate it with my son's vacation calendar. Many of the tours we do, we fly all three of us, and sometimes four of us with an au pair, so it's a lot of work." Garburg points to their recent trip to Korea to perform a Mendelssohn concerto. A lot hinged on their son being well rested before the performance, but severe jet lag prevented things from going smoothly.
"Luckily, Koreans have these mattresses that they use for extra beds and you can move them," he says. "So we took one in the suitcase and put it backstage and [he] slept for two hours before the concert. Things like that, the logistics become very complicated and physically it's more demanding. But, of course, how many people can do what they love and still see the world together?"
Silver and Garburg will experience those simultaneous highs and lows once again when they return to Spokane this weekend to perform Brahms' Piano Quartet No. 1 in a unique four-handed concerto arrangement by Austrian composer Richard Dünser. Although the two parents will be traveling and performing together, their son will be thousands of miles away in Israel. Like the hundreds of hours of joint practice and preparation they've invested in the Brahms piece, it's a tough but necessary personal sacrifice for the sake of their uncommon approach to an already exacting craft.

"[Dünser] did a great job, but he made our lives extremely difficult because ... here the music is Brahms but the relation between piano and orchestra is almost like modern music, which makes it a very different kind of work," he says. This particular arrangement calls not only for a unique form of "unity" between piano and strings but also an almost alchemical interplay between the two pianists. On the bass end of the keys, Garburg has to deliberately avoid the temptation to mirror what Silver is doing on soprano. The deliberate contrast is what gives the piece its texture.
"When you talk about the beautiful, singing sound of the piano — and this is such an important thing, especially in a piece like the Brahms — how we sing is that we create balance and small changes in timing. When you play with four hands, if you don't feel the same kind of color, then it sounds like an untalented pianist," he says.
"We are very obsessed about this," Garburg adds. Another contender for understatement of the year. ♦
Classics 4: Sibelius and Brahms • Sat, Nov. 3 at 8 pm and Sun, Nov. 4 at 3 pm • $19-$60 • Martin Woldson Theater at the Fox • 1001 W. Sprague • spokanesymphony.org • 624-1200