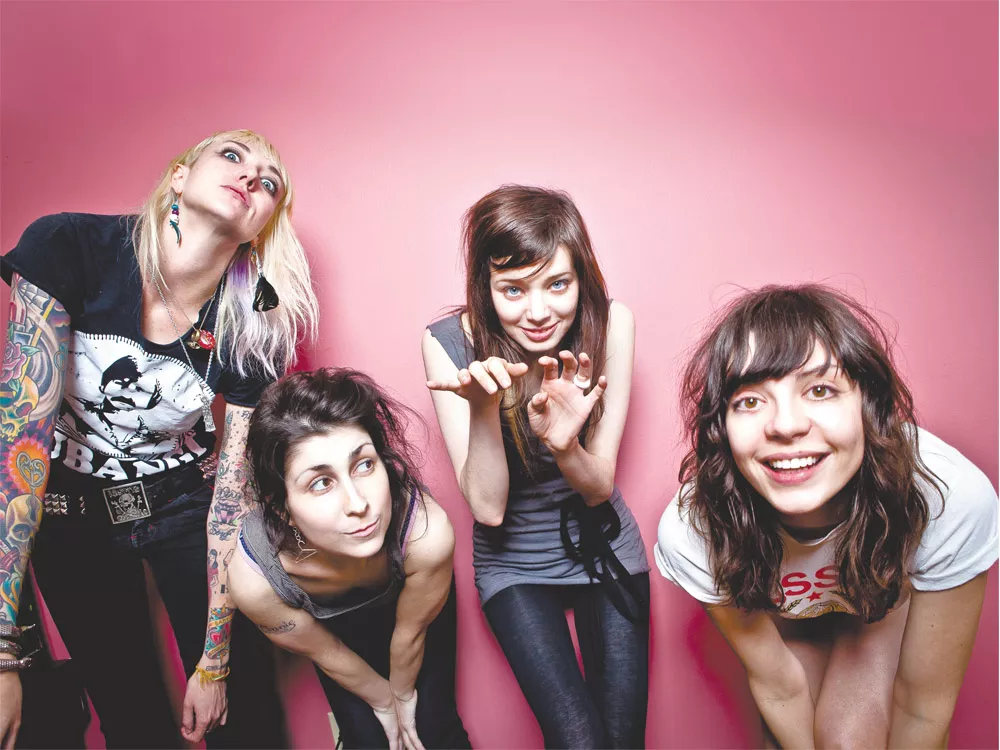 At first, it was just playtime. The thoughtful music, slick video production, New York Times attention and South by Southwest performances — that all came later.
Because when the Coathangers, an Atlanta punk band made up of four 20-something females, first started, they had just one member who knew her way around an instrument. Singer Julia Kugel had played a little acoustic guitar before. In this band, she picked up an electric guitar, and her friends tried out drums, bass and keys for the first time in their living room.
"This is all our first band. We've never been in any other bands," Meredith Franco, the Coathangers' bass player, says over the phone from the checkout line at a Tucson Target. "We were just, like, hanging out."
Hanging out turned into practicing and writing short, sassy punk songs. And practicing turned into performing at house parties and shows around Atlanta. For their band name, they decided on a backalley abortion reference. And instead of Meredith, Stephanie, Candace and Julia, they called themselves Minnie, Rusty, BeBe and Crook Kid Coathanger.
But back then, their sugary punk songs made them seem like just a bunch of girls making skin-deep music. "We just wanted to play music that we wanted to make," Franco says.
The Coathangers' 2007 self-titled debut is filled with mildly shocking, in-your-face ditties, like "Shut the F--- Up" and an eye-roller called "Nestle in My Boobies." Their songs existed in a musical gray area. On one hand slightly feeble and simplistic, and on the other, an empowered, femme-y update on No Wave, like Lydia Lunch or Inflatable Boy Clams.
"Don't Touch My Shit" showed Kugel and keyboardist Candace Jones yowling and screeching "You say you like my boyfriend, you think he's really hot? You look at him like that, I'll punch you in the twat!" The band was perfectly aligning itself to be a Bikini Kill/ Bratmobile revival vehicle.
But five years later, the Coathangers — who released their third album, Larceny and Old Lace, in June 2011 — have grown past those boob jokes and flimsy Tonya Harding quips. Their girlhood stage is behind them.
That's not to say the band isn't shocking anymore. The cover to Larceny features a naked woman crawling on all fours. But, lyrically and musically, the Coathangers ditch the schoolyard snark of their previous work. Instead, the band seems to focus on two idealized and completely opposite female archetypes: the sweet, pillow-talk vocals of Kugel and the hoarse, cigaretteburned howling of drummer Stephanie Luke. On "Trailer Park Boneyard," Kugel is doting and hopeful when she sings of a boy passing through the middle of nowhere to rescue her, "Where you go I will go/ what you see I see." She's a dream girl begging to be whisked away.
But then on "Hurricane," the band mucks up that girly-girl image with Luke's scratched-up vocals, yowling "You're doin' what you want, you don't give a f---/666 let's take this devil down." She's the slightly scary tattooed chick who'll drink you under the table.
That juxtaposition is now the most shocking and fantastic thing about the Coathangers. Once they shed the boobie songs, the clever darkness and pain behind their lyrics became more evident. Without a candycoating, this band is able to really show its power.
Larceny's thick sound and clever arrangement is partially due, according to Franco, to the fact that the band was able to stew on their songs for longer than they could with past recordings.
"We had more time to practice and record [Larceny]," she says. "We had the songs before we went on tour, so we were practicing them every night and we got really good at them. For [our second album], Scramble, we had a few days to record it. With this album, we had like a week."
With a better grasp of how to actually play their instruments, the Coathangers do what few other bands do really well: They keep moving. Franco will hand her bass off to Luke in order to sing, while Kugel plays drums. Or Luke will take the mic.
All of it — the clever manipulation of femaleness, their balls-out live show and ability to truly crank out a rocking song — has skyrocketed the Coathangers into the earspace of national listeners. Their live show has received praise from The New York Times, and Larceny has gotten big thumbs-ups from the Village Voice and Pitchfork.com. They're so much more than a party, girls-just-wanna-have-fun band.
Asked if all the talk about their female-ness gets old, Franco shrugs it off: "People always ask if it's different to be in an all-girl band," she says. "I don't know — I've never been in a band with boys."

The Coathangers with White Mystery and Myth Ship • Fri, March 30, at 10 pm • Mootsy's • $7 • 21+ • (838-1570)