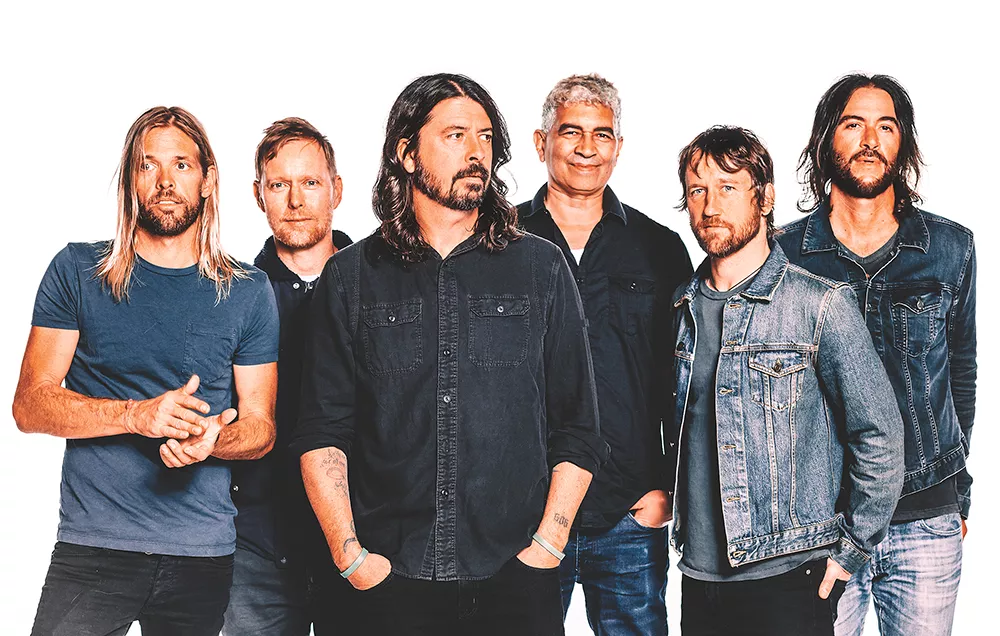 Foo Fighters' success was far from a guaranteed thing when Dave Grohl recorded the band's self-titled 1995 debut all by his lonesome after Kurt Cobain's death and the demise of Nirvana.
Sure, some other drummers had successfully moved from behind their kits into the frontman spotlight, but musicians like Phil Collins (Genesis) and Don Henley (Eagles) were already known vocal commodities before launching solo careers. Grohl, on the other hand, was rightly known as one of the best rock drummers around after his years in Nirvana (and before them in D.C. punk crew Scream), and displayed some talent for singing harmonies.
But the only evidence of his songwriting before Foo Fighters was "Marigold," a tune he'd recorded before joining Nirvana, then re-recorded with Cobain and Nirvana bassist Krist Novoselic as the B-side to the band's "Heart-Shaped Box" single.
Foo Fighters' success was almost instantaneous once that first album hit the alt-rock airwaves, thanks to songs like "This Is a Call" and "Big Me." Grohl in turn made the project a real band, and 22 years (and several lineup changes) later, they're arguably the most popular American rock group working today.
While the industry has evolved into an electronic-dominated, streaming-oriented beast utterly foreign to what it looked like when Grohl was first touring punk clubs in a van, Foo Fighters continue to headline arenas and festivals on the strength of straightforward albums full of scorching guitars and bombastic anthems. The band's latest, Concrete and Gold, arrived in September and is full of all the hooks fans have come to expect from one of rock's most enthusiastic practitioners and historians. (See the Grohl-directed music documentary Sound City if you haven't, as well as his HBO Sonic Highways series.)
Foo Fighters' show at the Arena is the band's first Spokane visit since 2003, although they've played gigs at the Gorge and in Walla Walla as recently as 2015. Expect a heavy dose of Concrete and Gold tracks alongside some of the tunes that qualified for "classic rock" status nearly the moment they were released, from "Everlong" to "All My Life," "Best of You" to "Monkey Wrench."
And Grohl's crew has a way with a cover tune; lately they've been paying homage to the recently deceased Malcolm Young with some AC/DC songs, as well as delivering shots of Queen, Ramones and Tom Petty. ♦
Foo Fighters with the Struts • Mon, Dec. 4 at 7:30 pm • $51/$81/$101 • Spokane Arena • 720 W. Mallon • spokanearena.com • 279-7000
---
DRUM CIRCLE
Dave Grohl is not alone; some other drummers made excellent music when they got the chance to lead the band. Here are some albums worth a listen:
NOVA MOB, Nova Mob: Grant Hart, who passed away in September at 56, was the manic drummer who sang lead half the time with punk legends Hüsker Dü, but he stepped out on guitar and lead vocals for Nova Mob. On their self-titled second album, released in 1994, Hart found a hook-filled, horn-abetted sweet spot on songs like "Little Miss Information" and "Shoot Your Way to Freedom."
DENNIS WILSON, Pacific Ocean Blue: Best known as the only Beach Boy who really surfed (or maybe for his brief friendship with Charles Manson), the middle, drumming Wilson brother only made one proper solo album, and it's a killer. It's familiar enough sonically for Beach Boys fans to dig it, but reveals an artist fully capable of stepping out of his brothers' shadows. This 1977 release didn't sell well, but the 2008 reissue is a good purchase, as is his aborted follow-up Bambu, recorded from 1977-83 and finally released earlier this year.
LEVON HELM, Dirt Farmer: Let others argue whether Helm or bandmate Robbie Robertson was the "real" driving force behind the Band. While they do that, dive into Helm's brilliant 2007 release that earned him a Grammy for Best Traditional Folk Album. It was his first solo album in 25 years, and kicked off a late-career resurgence that continued until his 2012 death.
SHEILA E., The Glamorous Life: Sheila Escovedo is one badass drummer (see her work in the Prince concert film Sign o' the Times) and was already a veteran of recording and touring projects with the likes of Herbie Hancock, Diana Ross and Marvin Gaye when she went solo and landed a Top 10 hit with this 1984 album's title track. Follow-up single "The Belle of St. Mark" is strong, too, as is the rest of this percussion-heavy dance-pop gem.
METHODS OF MAYHEM, Methods of Mayhem: Who would have thought Mötley Crüe drummer Tommy Lee would be the one to prove rap-metal had serious staying power when he stepped out on guitar and lead vocals? Just kidding — he didn't. This 1999 album is total shit, and proves some drummers should stay behind the kit and step away from the microphone.