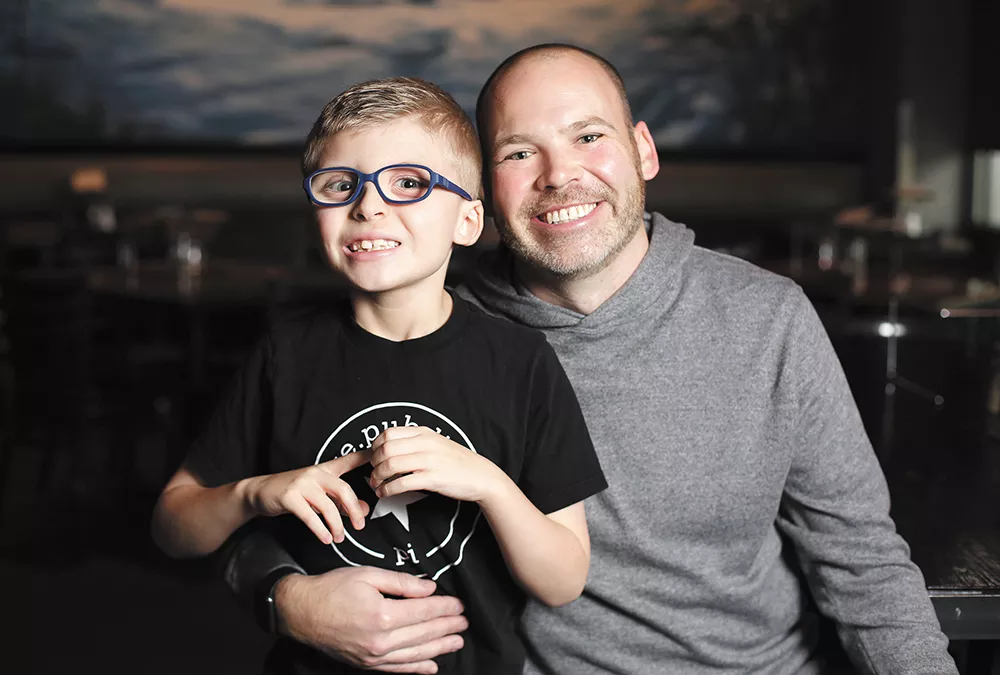 Businesses aren't required to give back to their communities, yet many do through programs large and small. In the hospitality industry — food, beverage and lodging — giving back might mean sponsoring a local sports team, handing out gift cards or dishing up extra plates. And while no one is tracking the myriad ways the Inland Northwest's service sector is giving back, at a time of year when gifts and food are a primary focus, it's worthwhile to call attention to a few of the many local vendors who go above and beyond.
Sandpoint-based Evans Brothers' Coffee donates $1 from each sale of their Ethiopian Guji Kercha single-origin coffee towards the locally based nonprofit Uryadi's Village, which helps orphans in the same East African country where Evans Brothers sources its beans. Beyond that, however, Uryadi's Village is one of many rotating local nonprofits Evans Brothers features via its monthly Community Spotlight program. For that initiative, the roastery chooses one day each month for which 15 percent of total sales are donated to a charity.
Building up communities in which its employees work and live is important, says Rick Evans, who founded the Sandpoint roasting house with brother Randy nine years ago. They also recently opened an Evans Brothers' café in downtown Coeur d'Alene.
Before anyone even asked — Sandpoint is a tight-knit community that's home to more than 200 nonprofits — Evans Brothers had a blueprint for community involvement.
"Our ultimate goal is to build a business that brings value to our neighborhoods, and which makes this special area even more of a great place to live and raise our families," Evans says.
Venues, for example, are a big need for organizers who require access to essential services to host fundraisers and other community events, including a roomy facility, parking, seating and a place to prep food. Knowing this, Evans Brothers regularly partners with groups that use its space, from after-hours yoga and pilates, to a children's carnival, adult prom party, children's orchestra and a regularly hosted dog-centric fundraiser for the Panhandle Animal Shelter called Yappy Hour.
Sandpoint's Trinity at City Beach is also a Yappy Hour supporter that, like Evans Brothers, gives back as a matter of course. The restaurant was one of three North Idaho businesses honored this year by the Idaho Nonprofit Center.
"Our core mission is to do right by the community that has given so much to us," says Trinity owner Justin Dick, under whose leadership the restaurant has supported area food banks, animal shelters, chamber and business events, hospital programs, schools, arts and culture organizations and the outdoors through the Idaho Conservation League's Pend Oreille Bay Trail Run.
Though Sandpoint is unique due to its high number of nonprofits for a relatively small population, most of its charitable organizations are collaborative, says Dick. His restaurant often becomes a platform for in-kind and cash donations and sees ongoing volunteerism from its staff and management.
For Dick, who's owned several restaurants in Sandpoint and grew up in a restaurant-owning family, the opportunity to support others hits very close to home.
"We have employees and customers dealing with drug/alcohol dependency, struggling to raise a family below the poverty line," he says. "It makes it very easy to pick up the call to action to help when you're personally affected or know someone that is dealing with these issues."
Affected employees were also the connection for some of the recent community outreach efforts by Spokane's No-Li Brewhouse, including the brewery's involvement in the Spokane Veterans Memorial Arena project on behalf of its many veteran employees.
Upon hearing that Rogers High School fell short of the funds needed to purchase new football uniforms — one of No-Li's employees is a Rogers alum — the staff also produced and sold Rogers-themed T-shirts, raising $12,000 for the program.
No-Li's staff also like to support organizations that might otherwise not receive the necessary help, says marketing and design manager Bill Powers, such as three youth-oriented groups for which they raised $40,000 this year: Crosswalk Youth Shelter, Odyssey Youth Movement and Teen & Kid Closet.
"It's part of our DNA to give in a way that when we see a need, as a member of the community, we can react to it," Powers says.
Sometimes, the community affected is more than close to home; it's in the family.
For Jonathan Sweatt, who co-owns Downriver Grill and the Flying Goat with Juli Norris and Republic Pi with Darrin Gleason, his nephew's experience through the Spokane Guilds' School and Neuromuscular Center — the boy defied diagnoses that he would never speak — motivated Sweatt to support its work.
"I've seen a lot of generosity by [business] owners actually come out of personal pain and loss," says Kevin Finch, who in 2009 founded Big Table, a Spokane-based nonprofit focused on working with hotels and restaurants to identify and support employees in need.
Once identified, Big Table works to build a community of support around that person in addition to addressing tangible and immediate concerns, such as financial support for medical treatment or past-due rent.
"Some need in the community personally impacts [owners], and for years to come they become a champion for that cause," Finch continues.
Although the Downriver Grill's Sweatt only casually knew Steve Gleason, the Spokane native and WSU and New Orleans Saints player who formed Team Gleason to help others battling ALS disease, he understood the impact of such a debilitating disease on someone he calls "the nicest guy you can imagine." Now Republic Pi donates $1 from every purchase of its "#37" pizza to support Team Gleason, whose approach to giving back, Sweatt says, embodies the notion that "charity starts at home."
Sweatt also shares the restaurants' successes with his employees in multiple ways, starting with a year-end get-together during which they all celebrate the community impact they've been able to offer; this year it was around $80,000. Sweatt wants employees to know that they're the key to all of it. He offers health insurance to his staff and also tries to help with other unexpected needs when he can, like medical bills.
"It's about taking care of our employees so they can take care of our customers," he says. "It's really full circle." ♦
GIVING MORE
Other regional restaurants and chefs giving back:
Twigs Bistro & Martini Bar has three give-back options: corporate sponsorship, in-kind donations and its SHARE-GIVE-HOPE program, whereby a nonprofit receives a percentage of every dollar spent by diners who pre-register.

Anthony's Restaurants allows individual locations to direct charitable giving through its corporate donation program, including to local school districts.

Prohibition Gastropub regularly offers diners the opportunity to help the pub help others by either adding a donation to their check or purchasing items requested by such charities as the Union Gospel Mission Crisis Center for Women and Children.

Numerous chefs and restaurateurs regularly donate their time, facilities

and/or food, including Adam Hegsted, Jeremy Hansen, Laurent Zirotti, Peter Tobin and Chad White.

Many area chefs and restaurants partner to support Big Table's efforts to address systemic issues in the food and beverage industry, including Downriver Grill, Twigs, Hop Jack's, Park Inn, Eat Good Group and Tortilla Union.

Providence Sacred Heart Children's Hospital partners with numerous Spokane restaurants during October to raise funds through its Soup for the Soul campaign.