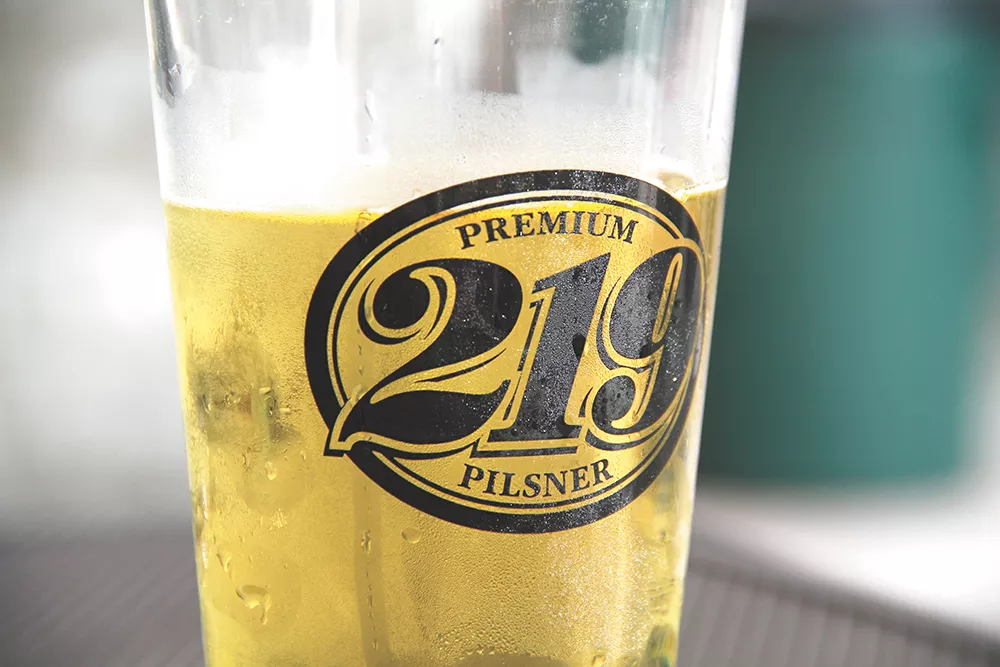 If Sandpoint's bar scene looks a little different and maybe a little bigger, don't adjust your beer goggles.
Although MickDuff's (312 N. 1st Ave.) definitely has you seeing double. The craft brewery split its restaurant and commercial brewing operation into two locations, keeping the smaller two-barrel brewing system at the First Avenue pub. MickDuff's Brewing Company Beer Hall and Brewery (220 Cedar St.) features 10 taps, free organic popcorn and live music on a regular basis.
According to sales and marketing manager Mack Deibel, the Beer Hall is where they'll test new batches — a dry-hopped blonde or oak-aged IPA, for example — to see if they're ready for wider consumption. The goal is to get more seasonals into production, and triple output — with a new 20-barrel system — by year's end.
You can expect more of your favorite wines from Pend d'Oreille Winery (301 Cedar St.), which formerly occupied the space now home to MickDuff's Beer Hall. The winery's production facility near Sandpoint's airport increases its capacity from 5,000 to 8,000 cases, according to Steve Meyer, who owns POW with wife Julie.
POW's new tasting room and retail are housed inside the former Belwood furniture building, which the Meyers spent more than a year renovating. Featured is an expanded version of the Bistro Rouge Cafe from their original location. Slated for a September opening, says Meyer, they'll serve small plates, lunch specials and dinner seven days a week.
At the 219 Lounge (219 N. 1st Ave.), renovation turned into revelation when a bathroom remodel and outdoor patio project uncovered this 80-year-old Sandpoint establishment's colorful past.
While restoring the facade to its original 1930s style — an Art Deco outside with exposed brick inside — owners Mel and Claudia Dick discovered numerous murals. Mel Dick figures that one featuring mountains, a stream, elk, trees, etc., dates to the 1930s. A South Pacific-themed mural with grass huts, palm trees and the remnants of the word "dancing" might be from the late 1940s, when Farragut Naval Training Station was in its heyday. The 1971 cabin scene mural is from millworker Eugene Hayes, who only had use of one arm, but was still able to sign (and date) his artwork.
The 219's new outdoor patio features additional taps, tables and new murals by local artists Maria Larson and Nan Cooper that celebrate the area's beauty: scenes of the rope swing that used to hang over Sand Creek, overlooking Memorial Field, bicycle riders and Schweitzer Mountain.
Look for more activities at 219, including karaoke, comedy and an open mic night. You can also get the bar's signature beer created by nearby Laughing Dog Brewing, the 219-er in a convenient can.
And speaking of the can, don't forget to check out the bathrooms — the remodel of which started all the changes — and their unique, uh, fixtures made from beer kegs. ♦