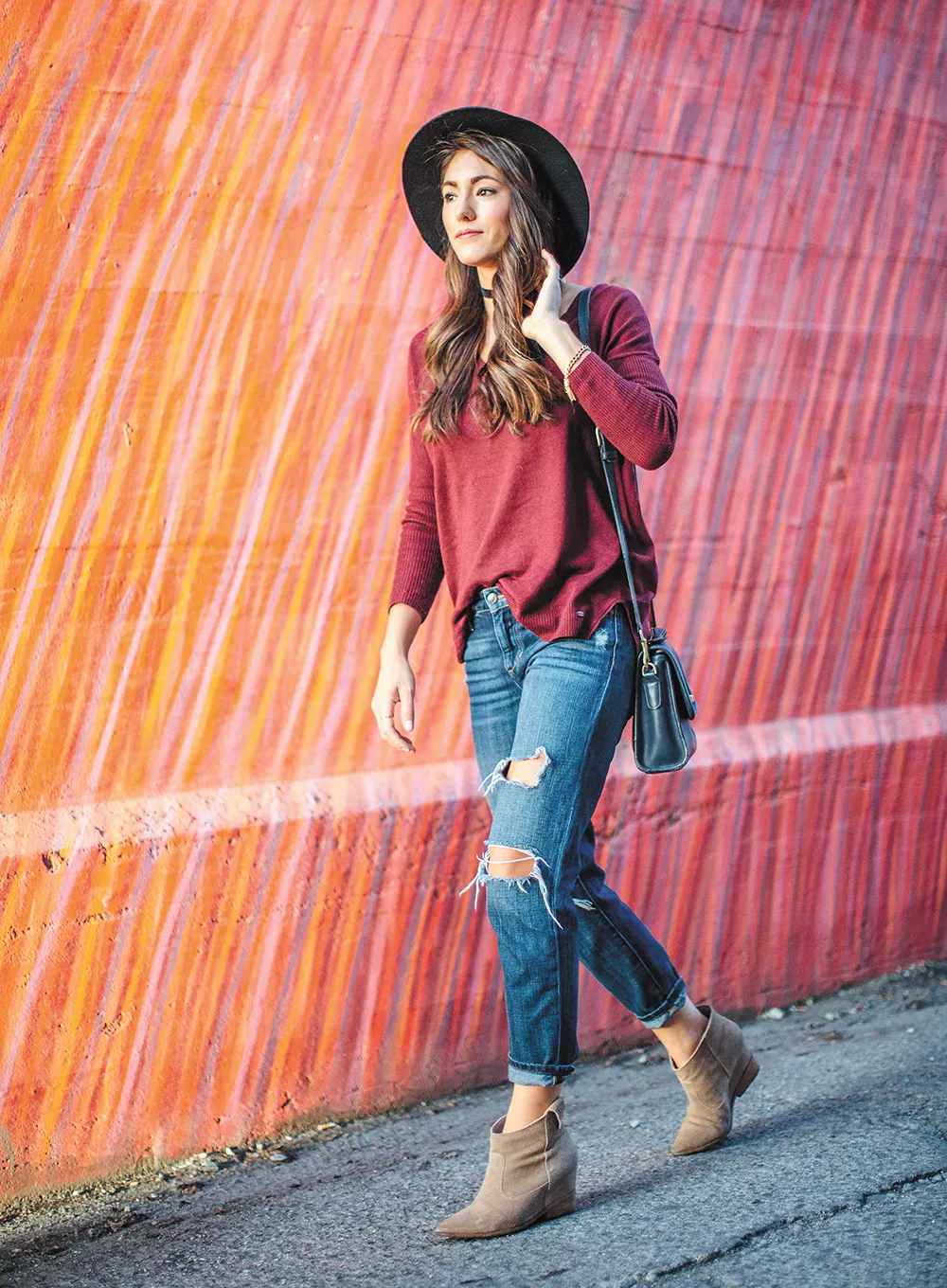 Three weeks ago, Annessa Smith found out that her small family was moving again. Her husband had been asked to join a German hockey team at the last minute, and that meant packing up their bags quickly and leaving their South Hill home behind. Smith is used to this. A Spokane resident for two years now, she and her hockey-playing husband, Jeff, have already lived in Denmark, Germany and all around the U.S. Through it all, she's blogged on her site Seeking Sunshine about the styles she's been inspired by across the world.
Originally from New Jersey, the 28-year-old appreciated the laid-back feel here in Spokane, Jeff's hometown. She likes that you can get any place in about 20 minutes. She says the area has improved dramatically from the first time Jeff brought her here on college break. But she still hasn't met any other fashion bloggers. Mom-preneur and wedding bloggers, sure, yet no one strictly focused on style and how it applies to the Inland Northwest woman.
"Fashion doesn't seem to be as big here, I don't know what the deal is," she admits. "But I do like that the style is unpretentious. That you can wear whatever, whenever.
"I dress up more than a lot of people here," she continues. "One time I wore sweats to Target and was feeling frumpy, and no one gave me a second look. That's the norm here in Spokane."
While overseas, she tends to dig in and make the blog her job. She usually posts stories about three times a week, with at least one being more personal. Her pictures, snapped by Jeff, often feature items that will work with a variety of outfits while still being fashion-forward — she's recently been into A-line skirts, ripped skinny jeans and bomber jackets.
"It's like one big experiment," she says. "It depends how I'm feeling that day; that's what I'll wear and put on the blog."
Once she gets back from Lindau, Germany, probably in March, she plans to build her online presence (she currently has 3,000 Instagram followers, but only about 800 on Facebook) even more. She also wants to continue showing off Spokane to the rest of the world.
"Blogging creates a community," Smith says. "This is my consistent community. Even though I've never met most of my followers and collaborators, these are people I'm interacting with socially. It helps, when I move somewhere new, to have them."
Admittedly, keeping up with trends can get expensive. Through the beautiful street-style photos on her site, she says she tries to show off her personality. She wants people to see her as a real person, and that she's not perfect.
"You can't really do this unless you're confident," Smith says. "This has helped me to come out of my shell a lot." ♦
Find out more at seekingsunshine.com.