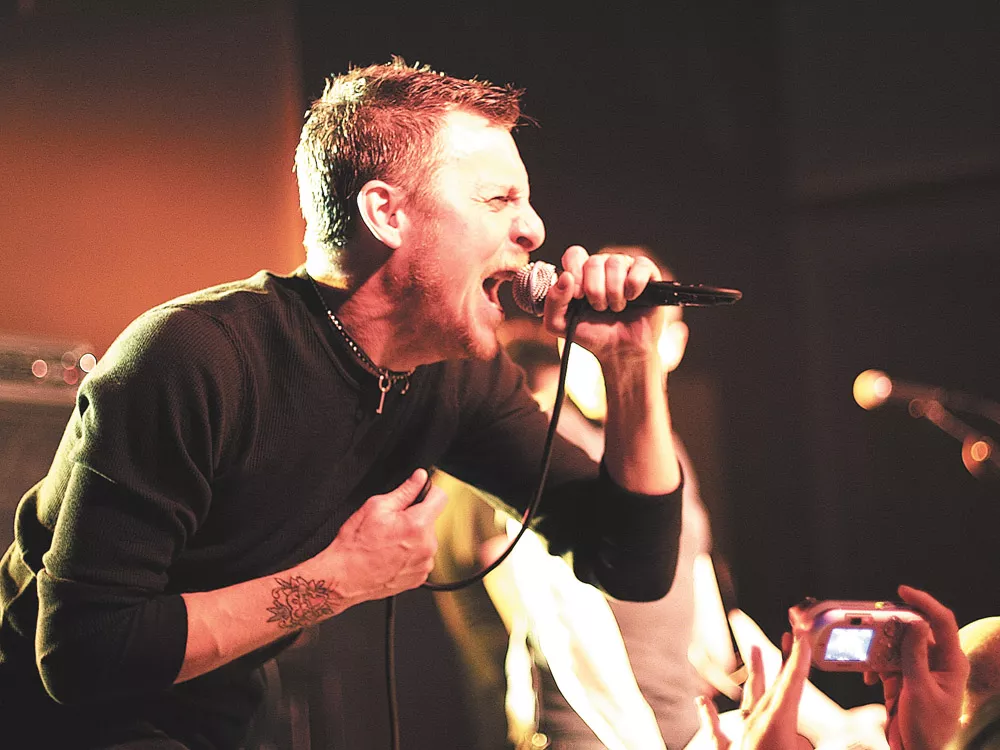 It's funny how history gets sunnier the further into the past it slides.
And that's a little how it feels when the music and culture of the 1990s comes up in conversation. It was this golden era, when bands were back-patted for experimentation and creativity. There was Nirvana, Weezer, Smashing Pumpkins, Snoop Dogg, all that awesome Britpop — but there were also horrible things. The Spice Girls. Hanson. Shaggy. Ugh.
Maybe there's some truth in the nostalgia, that the mid-'90s — with a soaring economy, third-wave feminism and an empowered youth culture — were just a little bit better. The '90s saw the rise of lots of young, energetic talent, like Texas-bred band the Toadies. And it also saw some older bands — like Social Distortion — surge into the spotlight.
But more than just getting huge in those years, both bands embraced the rich, youthful spirit of the '90s with their music — the Toadies more along the lines of grunge, Social D in a California punk way. We decided to put them head to head, just to see how being a band in the 1990s was a little bit different from today. (Leah Sottile)
Social Distortion

THE HISTORY: Every band has that member who's the public face and driving force: the dude who shoulders the load while everyone else sits at home, drinks beer and waits to be told what's up. Thin Lizzy had Phil Lynott; Dave Mustaine steers Megadeth. Social Distortion has Mike Ness. Ness formed SD in 1978 and has racked up quite the history, including Herculean drug use throughout the '80s — which actually resulted in the band breaking up for a spell so he could rehab and fulfill his, ahem, court-appointed correctional-facility commitments. In the '90s, Social Distortion transformed hardcore/punk into its own invention: "cowpunk." Thirty four years (and as many ex-members turning the turnstile) and seven albums later, the band — fronted by Ness and his gravelly vocals — continues to churn out the rocking goods with new album Hard Times and Nursery Rhymes.
THE HITS: SD has the consistency of granite. Every album since 1990's Social Distortion has found a solid home on Billboard and somewhere — amid Ness's collection of American traditional tattoo art books, classic car memorabilia and discarded Pomade tins — are two gold records. If you watched MTV in the 1990s, you likely remember it being an exercise in patience as you waited for something cool. You probably, then, are familiar with "Ball and Chain," "Story of My Life," "Bad Luck," "When She Begins" and Social D's cover of "Ring of Fire." Their new single, "Machine Gun Blues" has an awesome, filmic, '30s-era gangster-themed video that would have been worth the wait, if anyone had to wait for anything these days.
CASHING IN: Ness reached legend status when "Story of My Life" became a playable song on Guitar Hero III: Legends of Rock.
ULTIMATE '90s BAND: Two things the 1990s were notable for: major labels going on an underground music signing spree and being an era of post-Bush Sr. prosperity. Majors injected money into previously off-limits genres — a fact that wasn't lost on SD. They used major bucks to release and tour three of their best albums while bankrolling pet projects. As well, the economic bulge of Clinton's '90s fostered a feeling of safety. Fans of aggressive music often rail on the '90s' lack of urgency, especially toward the end of the decade, but that sense of security also allowed for experimentation. This is how SD existed throughout the '90s. Without hesitation, Ness's songwriting injected Americana into punk rock. SD had already established themselves as forward thinkers who'd ignore the edge of the cliff, whether it came to their music, getting conspicuously tattooed or covering Johnny Cash before everyone bought shirts with that classic middle-finger photo. (Kevin Stewart-Panko)
The Toadies

THE HISTORY: Rising out of Fort Worth, Texas, in the late '80s, the Toadies struck gold early with their 1994 debut album, Rubberneck. That one album produced six singles — all equally simple and pointed, all foreboding and, occasionally, creepy in their lyricism.
Like Social Distortion, the Toadies — while driving and undeniably rocking — will always be defined by Todd Lewis' through-the-nose voice, screeching outbursts and often-bothersome lyrics.
But while Social Distortion is anchored by one member, the Toadies needed all of their members to truly make the band. After their second album was rejected by their record label, then revised, then released, the Toadies fizzled under the pressure. That stuck until five years ago, when Lewis got the old band back together (with a new bassist) and started writing again. The band started their own festival for the fans that never went away: Dia de Los Toadies.
THE HITS: Without "Possum Kingdom," there would be no Toadies. The song still, 18 years later, is just as unsettling as it was when it first came out — a plodding, dark, story-like song about walking around a lake to see someone's "dark secret." Lewis waits to reveal the song's secret — his incessant questioning "do you want to die?" — until the perfect moment. It's a quality that drives the Toadies in "Tyler," another hit song, too, as Lewis creepily talks of kidnapping the girl he loves in order to whisk her away to Mexico. The band also saw "I Come From the Water," "Mister Love," "Away" and "Backslider" get solid airplay on alternative radio.
CASHING IN: "Possum Kingdom" got a new jolt of life on the Xbox 360 edition of Guitar Hero II.
ULTIMATE '90S BAND: While bands like Social Distortion thrived under major labels, acts like the Toadies squirmed under their iron thumbs. After the success of Rubberneck, David and Co. produced Feeler, an album Interscope flat-out rejected in its initial stages, making the already-shaky band even more unsteady.
Internally, the band adhered to the same image as several '90s rock bands: unlikely singer (Davis, a Billy Corrigan-esque frontman), mysterious guitarist, female bass player (Kim Deal, D'arcy Wretzky), technical drummer. The Toadies also experimented, weaving some of their Texan roots into a heavier sound, giving it a twang that most other music of the era didn't have. And, capturing the kicked-back mentality of Slacker and Reality Bites, the Toadies never were ones to show their hand too quickly on songs. They exhibit patience on songs like "Possum Kingdom" — patience in the bass lines, patience in the way distortion slowly changes the whole mood of the song. (Leah Sottile)
Social Distortion with the Toadies and Lindi Ortega • Tue, May 15 at 8 pm • Knitting Factory • $32 • All-ages • ticketfly.com • 244-3279