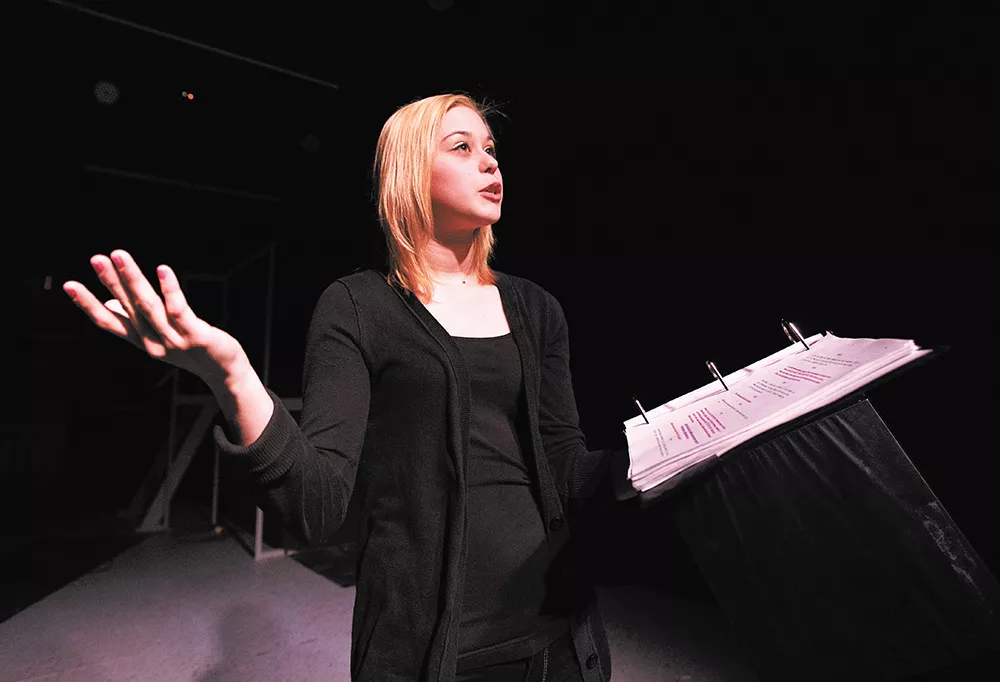 After more than two decades in gestation, The Clink went from a staged reading to a full-blown production in relatively short order.
It was only this past June that local composer Tom Cooper and Kristin Cooper Herby, the father/daughter pair who co-wrote the musical, gave it a scaled-down trial run at Stage Left. But that was enough to pique the interest of John Allred of Onstage Repertory Theatre in Martinez, California. Under his direction, The Clink is now receiving the props-and-costumes treatment on the same stage as it prepares to make a leap to the San Francisco Bay Area in the spring of next year.
Anika Bryceson remains in the role of Fifi, a sheltered and self-pitying young blonde who gets sentenced to two days in jail after a DUI arrest (loosely based on Cooper Herby's own experience some 20 years ago). Her brief incarceration is enlivened by cellmates Deana LaCoco (Stacia Bruner), Norma Rae Strong (Faith Mitchell) and Lula (Morgan Keller), each of whom has a story to share and wisdom to impart.
If The Clink crosses the line into afterschool special — albeit an R-rated one — it does so knowingly and in good humor. Fifi's patronizing moralizing is the subject of the song "Preacher Woman," and it sets her up for Deana's foul-mouthed put-downs, which Bruner, covered in fake tattoos, delivers with all the requisite sneer and swagger. Not only is her character a welcome antidote to Fifi's enervating whining, Bruner's bluesy vocals (showcased well in songs like "Queen of Mean") offset the high sopranos nicely.
Though Act 1 is solid, the second still feels like a work in progress. The penultimate song, "Fast Food Blues," comes out of nowhere and leads in the same direction. Confessions and bonding moments seem hasty, and some — though certainly not all — serious issues are addressed with an unsatisfying superficiality. Yet the fact that The Clink is already as mature as it is, and that Stage Left successfully packs all of this into barely one-third of its performance space, suggests that it has considerable potential to ripen in the California sun. ♦
The Clink • Fri, Oct. 31 and Sat, Nov. 1, 7:30 pm • $20 • Stage Left Theater • 108 W. Third • 838-9727