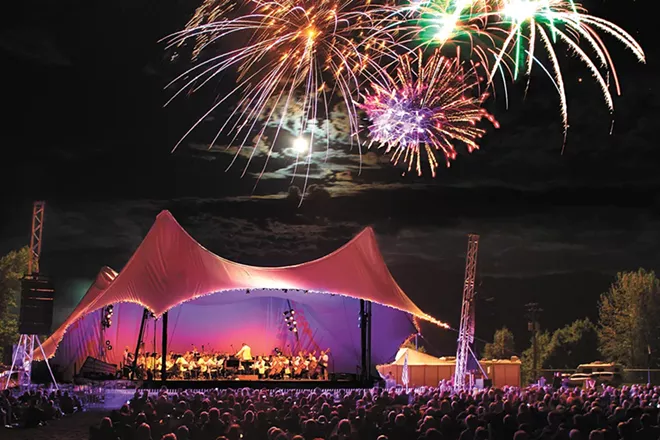 Ever since I was a kid, the indoors have been my safe haven. I can still recall my parents essentially forcing me to go outside, threatening me with a grounding if I didn't turn off the TV and go outside, for God's sake. And I still am that way, I'll admit: On a beautiful summer day, I really don't mind looking up from a book in my comfortably air-conditioned apartment and admire what a beautiful summer day it is out there.
Since turning a lifelong fascination with film and music into a career has cemented my status as a professional indoor kid, I've decided to retrofit my less-than-active hobbies into some potential experiences in the great outdoors.
Go to an outdoor music festival. There aren't as many to choose from as there once were, but there are still a few out-in-the-open music events out there. A day trip out in Colville, which I haven't visited since I was a kid, might do the trick: Their FarmJam festival runs from Aug. 30 through Sept. 2. Or a jaunt up to the Festival at Sandpoint (Aug. 1-11), to hear the Avett Brothers or — if I can score a ticket — Jackson Browne. Or Moscow's Rendezvous in the Park (July 18-20), which will feature sets from jam and funk bands like Jelly Bread, Orgone and Dash in East City Park.
Take a movie-themed road trip. A few years ago, some friends and I drove across the state and hit up a bunch of landmarks from the David Lynch series Twin Peaks, and it was a surreal and memorable experience to wander around in one of my favorite TV towns. Maybe it's time for another excursion. Astoria, Oregon, where Kindergarten Cop and The Goonies were famously filmed, is a go-to destination, but there are some more offbeat choices, like the Rosalia wheat fields through which Robin Williams cavorts in the infamous 1992 flop Toys. Or the Sky Valley region of Western Washington where parts of the Viggo Mortensen film Captain Fantastic were shot. Or downtown Roslyn, featured prominently in the opening credits montage of the quirky '90s TV show Northern Exposure.