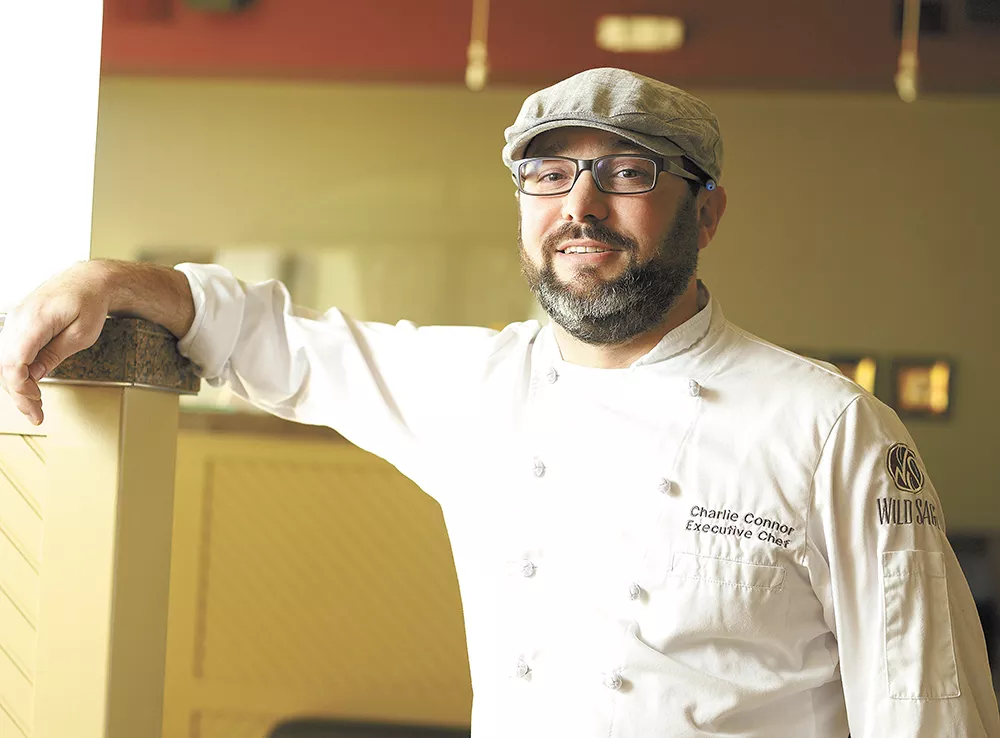 Charlie Connor's love of fishing and cooking goes back decades. Now, at 34 and working as the executive chef of downtown Spokane's Wild Sage bistro, Connor has combined these two early influences in the restaurant's kitchen, where he's worked since 2008. Connor shares a detailed annotation on one of Wild Sage's menu mainstays, the Silver Creek Golden Trout, a favorite for its flavor, local story and nostalgic connection. It's served with a lemon chive beurre blanc, Connor's variation on a classic butter sauce, over a bed of steamed wild rice and quinoa tossed with sweet roasted onions, peppers, arugula and heirloom tomatoes. Topping off the dish is a fresh chive garnish and edible marigold blossoms.
CONNOR: After taking the helm as executive chef, I was ready to contribute to the menu and represent my culinary experiences and what I've learned through the years. I wanted to add to what Wild Sage has become known for, and that was true to our concept of regionally inspired Northwest cuisine — food that is approachable, yet unique.
Our Golden Trout dish is just one of many favorites we have crafted at the Wild Sage. I grew up loving to fish, and I have many great childhood fishing memories. As a young teen on a cross-country road trip with my dad, after my persistent requests to go fishing, he pulled our VW camper up to the boat launch at Donner Lake in California. I caught my limit of rainbow trout within about an hour, mainly because of the Fish and Wildlife Department truck dumping stockies into the lake right next to us.
The fun part was over, and wanting to encourage good ethics and good-tasting fish, my dad insisted that we prepare and eat what we harvested right away. He pulled us over on the side of the highway and we filled the camper with aromas of pan-fried trout. That fish wasn't exactly my favorite, but the memory of the aroma of the fish fry never left me.
Jump ahead about 20 or more years, when there was a need to add another seafood choice to our menu. I thought of trout as an option and remembered what I'd learned about cooking trout in culinary school, and in the kitchens I have been in over the years. I also remembered back to my early days, cooking with my dad on the side of the road in that VW camper. I saw this as a great opportunity to take trout to another level and was excited to give it a try.
I figured most people have had rainbow trout, so I did some research and found there is also a rainbow trout that has different pigment and is golden in color. This trout happens to be available in Idaho — I source it out of Buhl, Idaho. It is sustainably raised in clear, cold, spring-fed water pools along the Snake River. The producers follow strict guidelines for water cleanliness, feed, etc., which in turn produces a consistently great-tasting, clean, fresh fish. I learned to cook trout first at Beverly's [at the Coeur d'Alene Resort] about 13 years ago. I prefer to score the skin and descale it; to me, the skin is the best part if cooked properly.
I try to encourage guests to eat it the way it's prepared, with the skin, and we get great feedback from it. It really imparts and reflects our concept as far as the ingredients used. We like to use the best ingredients we can, and sometimes keeping it simple and using some restraint in your cooking is the best way to represent the food you're making, so the guests can really taste the food and understand what's going on. ♦