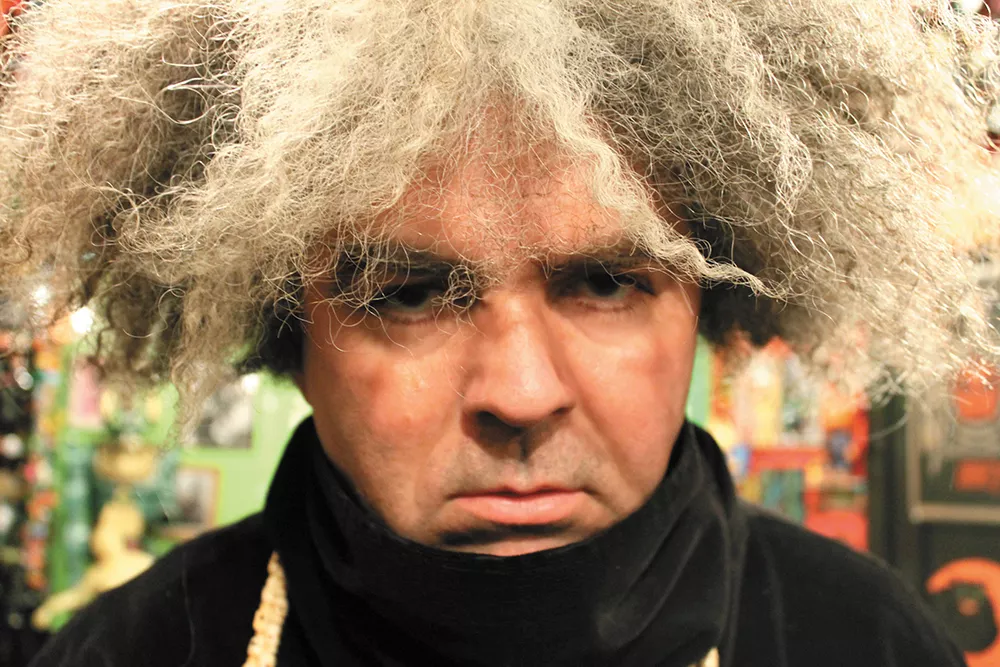 After 31 years, you'd think King Buzzo would stop answering the phone.
Nope. After a day of fielding questions about his guitars and his favorite foods and questions like "does the carpet match the drapes?" on a Reddit "Ask Me Anything" last week, Buzz Osborne — aka King Buzzo, the singer and guitarist and chief gadfly in the Melvins, a band with a cult-like following — picked up the phone to do an interview with a weekly newspaper in Spokane.
"Never heard of it!" he says. I interviewed him for the Inlander four years ago, but that's OK. He says there are actually very few interviews he won't do, no paper too small. No matter what, they all help promote his band. He needs the help, he says.
Interesting. Both times we've talked, Osborne has been insistent — adamant, even — that the Melvins will never sell a million records. He'd like to, but he isn't hopeful.
In the four years since the Melvins last came to Spokane — a four-piece on the Knitting Factory stage in long tunics — they've released three more albums (that's 19 total) and gone on multiple tours. Just this month, Osborne released This Machine Kills Artists, his first solo acoustic record. He says another Melvins record is slated to be out this fall.
Coming up with new ideas never seems to have been an issue for the Melvins, a band admired for its experimentation. So when Osborne released a solo record after all this time, it raised the eyebrows of many a Melvins fan — was something wrong with the band?
"I never really felt the need to branch out on my own and do a record, because most of the stuff on our records is my voice anyway," he says. "Ninety-nine percent of all the stuff on a Melvins record, maybe more, is my voice."
Doing a solo thing is just more of Osborne simply doing as he pleases.
"This is just another thing that we could do, or I could do, that is every bit as viable as anything else I've ever done. New and exciting and fun," he says. "If you like the Melvins, you'll like this. What will the fans think? I don't know. If I took people's ideas about that kind of thing to heart, I would never make a single decision in my career."
If you haven't checked out Osborne's solo record, imagine what the Melvins would be like if you took away the pedals, took away Dale Crover, took away the Big Business guys, and handed Osborne an acoustic guitar. It's nowhere near folk or anything mellow. On This Machine, Osborne's guitar playing echoes from the belly of an acoustic, his voice swinging from melodic to his trademark guttural low end. Song titles ring with cynicism: "How I Became Offensive," "The Spoiled Brat," "The Blithering Idiot."
The record's title is a nod to the famous sticker Woody Guthrie placed on his guitar: "This Machine Kills Fascists." Osborne says not to read into that.
"If you're a Melvins fan and you heard this record, you'll like it," he says. "It doesn't sound like John Denver or James Taylor or a half-assed version of Woody Guthrie."
As we talk, it seems Osborne actually has more in common with those old folkies than most Melvins fans would like to admit. "I always figure if I'm making something that I think is good, other people will like it," he says. "Millions of people will not buy this record. I've never sold 500,000 copies of a record. I'm also not worrying about it if it doesn't happen. I don't think Woody Guthrie sold a million records. Neither did Pete Seeger. The vast majority of people in the world will not give a shit about what we're doing.
"If people don't get the kind of music moves we make, that means they don't have an intimate understanding of what we're doing," he says. "It's not even my business to worry about that. Millions of people like stuff that I don't like every single day of the week."
He's OK that the Melvins, or his solo work, isn't for everyone. And he's not worried that he'll run out of ideas. The Melvins and Buzz Osborne won't ever stop. That's because they're sure about every move they make, every choice. They've been doing this for 31 years, and even though a million people aren't listening, a lot of people are.
"I'm sure about what I'm doing," Osborne says. "I'm also not stupid." ♦
King Buzzo with Adam Faucett • Sun, June 22, at 8 pm • $12 • All-ages • The Hop! • 706 N. Monroe • thehopevents.com • 328-5467