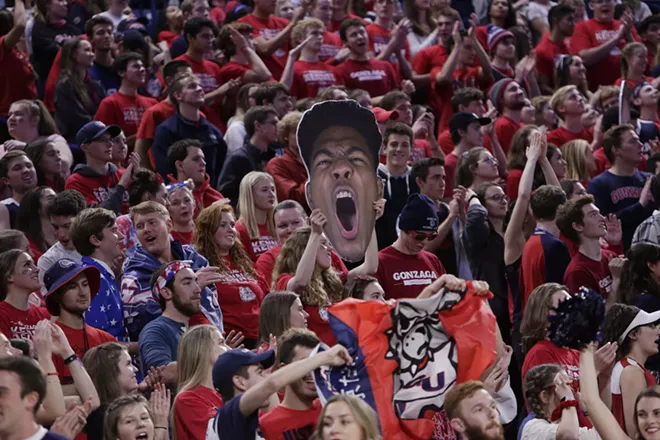 A
merica, meet Rui Hachimura
. You're late to the party and that's on you.
Here in the Inland Northwest, we've known about the special basketball talent that has graced our presence for the past two-plus seasons.
Inlander
readers even voted him Best Athlete in this year's readers poll. But, America in general? They're just catching on. Even those people who should've known by now.
ESPN talking head Stephen A. Smith, co-host of the daily sports debate show
First Take
, had this to say about the starting power forward on the No. 1 ranked team in the country:
"They [Gonzaga] had a couple of nice players by the way. That kid [Zach] Norvell is nice. Uh… uh..."
His co-host, and fellow sports loudmouth, Max Kellerman, chimed in: "Hachimura."
"Hachimura, that's him," Smith said. "You know, he had about 20 [points] yesterday as well."
We do know. Hachimura scored 20 points, to go along with seven rebounds, five assists and three blocks as then No. 3 ranked Gonzaga defeated then No. 1 ranked Duke 89-87 and won the Maui Invitational Championship. But, again, America is still learning.
Bill Simmons, a former ESPN columnist who now operates sports site the Ringer, said in a video posted after the game,
"I liked the guy from Japan."
It only took five minutes, all of which was dedicated to talking about Duke, for the author of
The Book of Basketball
to mention a player from the winning team. He did so without remembering said player's name, and only after someone else in the video prompted him to talk about the Zags.
It wasn't just those two, either, though they're very easy to single out. The general consensus around sports media was that Duke, the best thing since sliced bread, somehow lost a game. It wasn't that Gonzaga, an equally high-level program and apparently the better team, won.
Here in the Inland Northwest, we're used to this. Americans in general can't pronounce Spokane correctly. Some Americans still don't pronounce Gonzaga correctly. We're overlooked and forgotten about, until some of our boys make a splash in Maui. Seriously. This isn't the first time this has happened.
Adam Morrison scored 43 points against Michigan State in the 2005 Maui Invitational, which still stands as the tournament's single-game scoring record, and put himself on the national radar as a result. Morrison became a national sensation that season and was named college basketball's player of the year by the National Association of Basketball Coaches and the United States Basketball Writers Association.
And now it's Rui's turn to head down that path.
Sleep on him, and his team, at your own risk. Gonzaga returns to Spokane Monday night to play North Dakota State. Nationally speaking, nobody cares. Gonzaga will be heavily favored and North Dakota State is as unimportant as Gonzaga was in the mid-1990s. Which, honestly, is perfect. This gives the nation, which just realized how good Gonzaga and Rui Hachimura are, a chance to forget about them for a minute.
And then the chance to get shocked all over again as Rui and the Zags take on powerhouse programs like Creighton, Washington, Tennessee and North Carolina over the first 15 days of December.
Perhaps more importantly, it gives us here in Spokane the chance to catch our breath and calm down. We know how lucky we are to be watching Rui Hachimura play basketball at Gonzaga. Even if the rest of America isn't with us just yet.