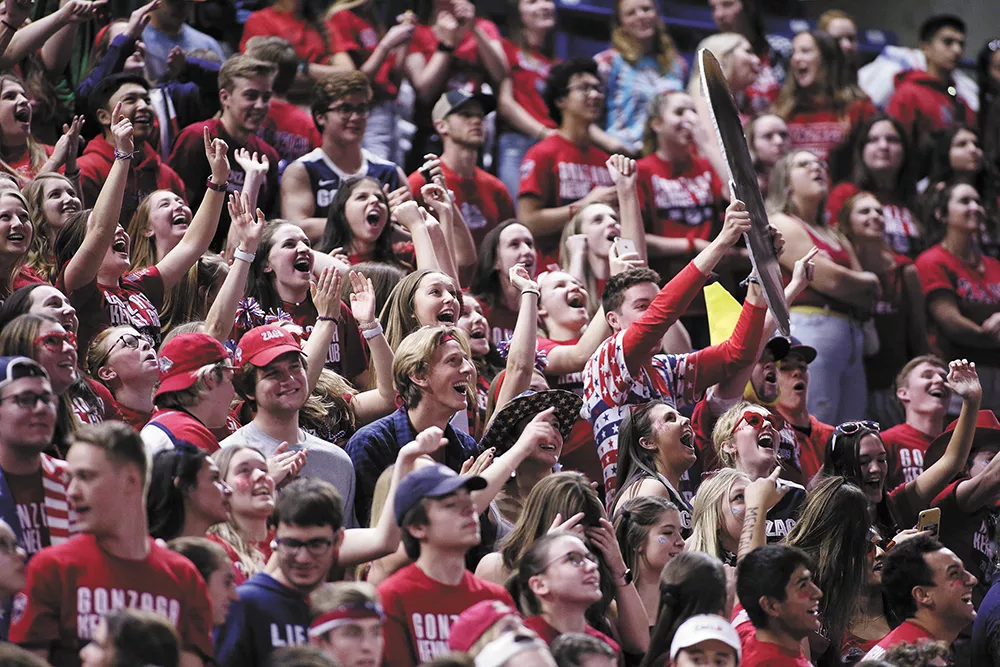 It's almost always a given that any athlete or coach, if asked, will say that every game the team plays is important, that they don't overlook any opponent.
But for Gonzaga men's basketball, we know that's not exactly true. GU's home matchup with the University of North Carolina Tar Heels Dec. 18 in the McCarthey Athletic Center is unequivocally the most important game in this young season so far for GU — and arguably the most significant home game in program history.
The Bulldog-Tar Heel rivalry stems back to their first meeting in 2006, an 82-74 GU upset win in New York's Madison Square Garden. But it began in earnest in 2017, when UNC broke the hearts of Zags fans by stopping them just short of their first NCAA championship. UNC has won six national titles and made a whopping 20 Final Fours, while that 2017 run was the first time GU had made it that far. Most of GU's current seniors were freshmen for that matchup, and they haven't forgotten.
"After the buzzer rang, it was silent among everyone for the first time that game," says Lindsey Gallop, a senior who traveled to Phoenix her freshman year to see that championship game in person. "God, it sucked. People around us were crying. It was so sad."
"I don't even care if this isn't the same UNC team that beat us back then," she adds. "I still want us to crush them."
It's certainly good for entertainment value, but it's good for value value too, with the cheapest tickets selling online for a minimum of $800 and most going for upwards of $1,000.
Lucky for GU students, the price of admission is free, and close to 1,000 have gotten their student tickets.
But there's a problem.
The game is Dec. 18, but the semester ends Dec. 12, and those living on campus — almost all underclassmen — must vacate the dorms by Dec. 14. As The Gonzaga Bulletin reported, the school is firm on keeping the dorms closed. As exciting as squatting in the dorms and hiding from custodial staff may seem, campus-dwelling students have to find another place to stay for four days if they want to attend the game.
Those passionate students make up GU's rowdy student section, and they're a huge reason why the Bulldogs win almost 93 percent of their games in McCarthey. Calling themselves "the Kennel Club," they take pride in making home games hazardous for the Bulldogs opponents.
Between ridiculous red, white and blue outfits, a coordinated pregame group dance to a song by German DJ Zombie Nation and a surplus of chants and cheers, the student section has given the McCarthey Athletic Center an entirely different feel since the club's inception in 1984.
"No one can replicate the energy the students have," says senior Matt Cranston, the club's president. "Without us, they would lose a bit of that home court advantage. That's what makes playing in the Kennel so special."
Sophomore Austin Versteeg, the Kennel Club's Tent City coordinator, is one of the faithful. He didn't go to GU during their run to the championship game, but he understands its significance.
"It's really cool to see the program grow, between the seniors feeding off that chip on their shoulder and the underclassmen wanting to help take this program and get it established just as much as North Carolina," he says. "I think that combination is going to create a chemistry in the Kennel that, frankly, I don't think we've felt before."
Another sophomore, Cassie Lee, is a resident assistant in GU's Madonna dorm, and she plans on using her status to stay in the dorms over break.
"I hate North Carolina, so this is a once-in-a-lifetime opportunity for me," she says. "The Kennel better be full, because I told my dad I couldn't fly home until the 19th, just for this game."
Coach Mark Few at one point estimated the students give his team roughly a seven-point advantage in any given game, and while it's a bit dubious to try and quantify it in that way, if the coach says it's a thing, you ought to believe it's a thing.
"Once the students get back in here, the band is going, the people are on their feet, then it becomes one of the best venues in college basketball," Few said back in 2017 after thumping archrival St. Mary's at home.
So yes, if it's going to be a legit game, the students should be there.
And those freshmen and sophomores have a few options to make staying for the game a reality. Versteeg is planning on crashing with some upperclassmen who live in a house off campus, but he knows other sophomores and freshmen who are splitting Airbnb's or staying with family in the area. A few, though, had to give up their tickets to other students or decided to head home and come back just for the game because they couldn't stay for the intervening few days.
"People have approached me, asked to stay at my house, my buddy's houses, and we're taking them in as we can," says Cranston, who lives in an off-campus house. "We want as many people here as possible."
As for the upperclassmen who largely live in off-campus houses in the Logan Neighborhood, it's worth holding off on going home. The seniors are the largest group staying by far, hoping to get the most out of the biggest game in their four years on campus.
"I wanted to stay because I've been a Zag fan since the Adam Morrison days," says Brian Bowers, a senior from the Seattle area who also lives in the Logan Neighborhood. "I've never seen a game this big come to the Kennel."
Everyone on campus expects a student section stuffed with 20-somethings ready to lose their voices for a win.
"In terms of what this game means for GU and for our class, it can't be put into words very easily," says Curtis Baker, another senior and one of Bowers' housemates. "We've gotta take this opportunity when they come to town and show them we remember 2017." ♦
Gonzaga vs. North Carolina • Wed, Dec. 18 at 6 pm • The game will air on ESPN2, and Hoopfest organizers are hosting a free Watch Party at the Pavilion in Riverfront Park; visit hooptownusa.com for tickets.